NADI- On 15 August 2023, Fiji Airways (FJ) officially received a new Airbus A350-900XWB (A350), marking a significant step in its ongoing efforts to modernize the fleet of the National Carrier.
Named the "Island of Beqa," this freshly acquired aircraft stands as the third A350 to become part of the Fiji Airways fleet. Recognized as a leader in the realm of long-range flights, it represents a new level of capability.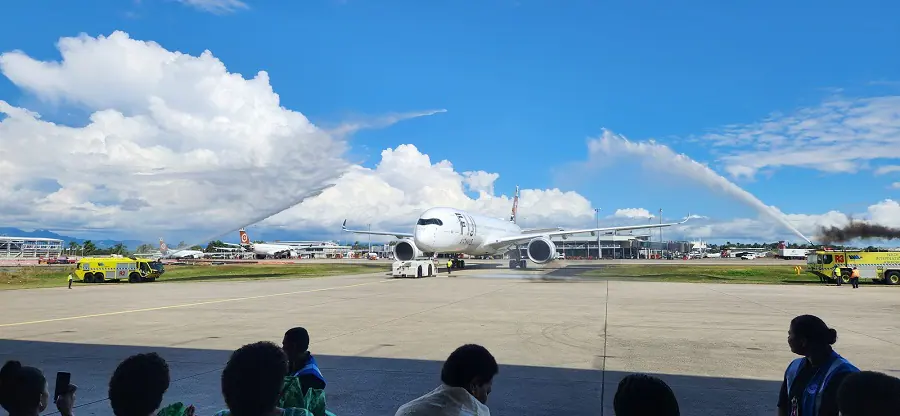 Fiji Airways New A350
According to Andre Viljoen, the Managing Director and Chief Executive Officer of the company, one of Fiji Airways' five pivotal "Game Changer" strategies, diligently pursued since 2017, has centered on the modernization of their aircraft.
This transformation involves the incorporation of "new generation" planes such as the Airbus A350.
"The A350, boasting its exceptional cabin design, remarkable fuel efficiency, and substantial cargo capability, has swiftly become a source of pride for our airline and a source of delight for our travelers.

The Island of Beqa, a newly minted aircraft, was placed in storage directly after manufacturing. We successfully brokered a favorable agreement to procure it.

This aircraft harmonizes the most advanced aerodynamics, the latest-generation engines, and the integration of lightweight materials, resulting in a remarkable 25% enhancement in fuel efficiency, carbon dioxide (CO2) emission reduction, and operational cost advantages over preceding generation planes."

Andre Viljoen, the Managing Director and Chief Executive Officer, Fiji Airways
Strong Growth
According to Mr. Viljoen, the airline is currently better poised to venture into uncharted territories.
"Fiji Airways is accountable for attracting 70 percent of Fiji's total visitors. We hold a pivotal role in ensuring the enduring and viable expansion of the tourism sector, which accounts for 45 percent of our Gross Domestic Product and stands as the nation's most significant employment source.

As the National Airline, we comprehend that our responsibility surpasses merely connecting the world to Fiji. It encompasses fostering the advancement of the tourism sector. One effective approach to this is by unveiling new destinations that offer substantial potential for flourishing tourism prospects."

Mr. Viljoen
New US, Australia, and Other Routes
These advanced and cutting-edge aircraft open up avenues for us to consider new destinations that extend beyond our present network.
To illustrate, the A350 XWBs possess the capability to cover significantly greater distances, allowing us to reach deeper into regions like the United States and Canada.
We are consistently delving into future possibilities, which encompass potential locations such as Dallas, Seattle, Beijing, Shanghai, Seoul, and even Noumea, Wallis, Rarotonga, and Port Moresby, along with numerous other destinations in Australia.
The incorporation of the Island of Beqa will augment the capacity offered to our major source markets in Australia and New Zealand.
It will also serve to strengthen North American long-haul routes to San Francisco and Vancouver, in addition to Hong Kong, which presently serves as our gateway to China.
Photos By: Harsh Tekriwal (@avgeekwithlens) • Instagram photos and videos
Stay tuned with us. Further, follow us on social media for the latest updates.
Also Read: US Airlines, Including American, United, Delta, and Southwest, want you to Dress Properly – Aviation A2Z
Join us on Telegram Group for the Latest Aviation Updates. Subsequently, follow us on Google News.