DALLAS- World's leading low-cost carrier, Southwest Airlines (WN), patrons selecting the top-tier Business Select fares (which currently grant access to the first 15 boarding positions – A1-15 – and a free drink) will also enjoy complimentary in-flight WiFi services.
Furthermore, all customers will soon have the opportunity to avail themselves of complimentary standby options for alternative flights, mirroring the privilege currently granted to elite passengers, those with full fares, and those who upgrade to the Wanna Get Away Plus fares, reports Viewfromthewing.
Southwest to Provide Free WiFi
The following chart outlines the revised benefits for each fare level. Further encompassing complimentary standby for the lowest fare and complimentary Wi-Fi for the highest fare. Noteworthy is the inclusion of free Wi-Fi for up to 3 devices.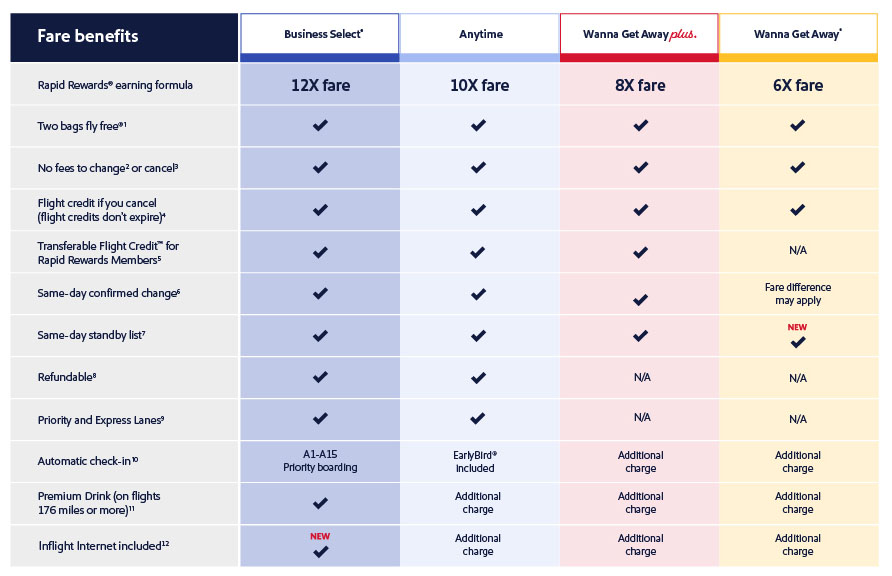 As the practice of providing complimentary standby gains traction as a standard flexibility offering among airlines, Southwest's decision to incorporate it into their services could be attributed to the need to maintain competitiveness in the market.
To enhance this feature, Southwest is introducing the option of standing by via its official website and mobile app. Subsequently making the process even more accessible.
Interestingly, this move also serves to narrow the gap between the most budget-friendly fare and the subsequent fare tier that Southwest actively encourages customers to consider.
This situation suggests that there might be room for improvement in the range of benefits offered within the Wanna Get Away package.
Furthermore, the inclusion of complimentary Wi-Fi follows the example set by Delta Air Lines (DL) and JetBlue (B6). It aligns with United (UA)'s intent to provide a similar amenity in the future.
While Southwest is enhancing its Wi-Fi capabilities, expanding this perk beyond Business Select fares to include Anytime and Wanna Get Away Plus fares could function as a middle-ground solution.
Also, potentially enhance the distinctiveness of the fare type that offers additional benefits. Particularly as standby becomes an evolving feature in their fare structure.
New In-Flight Connectivity Fare
As of February 21, 2023, Southwest has implemented changes to its onboard internet pricing structure. Transitioning from an $8 all-day pass to a charge of $8 per individual flight segment, the airline confirmed.
According to a spokesperson from the airline, this alteration is a component of their ongoing enhancement of in-flight internet service. This entails the introduction of upgraded hardware to facilitate swifter speeds on existing aircraft and a shift to a new provider for newly acquired planes.
Presently, Southwest's existing aircraft feature internet provided by Anuvu, while planes equipped with Viasat technology began integrating into the fleet in March.
"As we incorporate two connectivity vendors across our fleet, we are introducing a fresh pricing structure for onboard internet. Commencing on Tuesday, February 21, passengers will purchase onboard internet access per individual flight segment from takeoff to landing. This marks a shift from our current per-day DayPass model. Our ongoing efforts have already led to the upgrade of over 350 aircraft, and we anticipate completion of the entire fleet by the third quarter of this year."

Southwest Airlines Statement
Stay tuned with us. Further, follow us on social media for the latest updates.
Also Read: Indian Students Deported Back to Delhi from USA on Delta Flight – Aviation A2Z
Join us on Telegram Group for the Latest Aviation Updates. Subsequently, follow us on Google News.