HANEDA, TOKYO- All Nippon Airways (ANA), Japan's largest and highly esteemed 5-Star airline for a decade, has unveiled the inaugural flight schedule for its specially painted Boeing 777-300ER aircraft, "Eevee Jet NH."
The aircraft is set to commence operations on August 31, 2023, promising a captivating journey into the skies for passengers flying to new destinations.
Eevee, known for its potential to evolve into various forms, along with its Evolutions such as Vaporeon, Jolteon, and Flareon, is depicted moving decisively into the future alongside Pikachu.
Together, with an air of hope, they embark on a remarkable adventure, symbolizing the joy of exploration shared with passengers.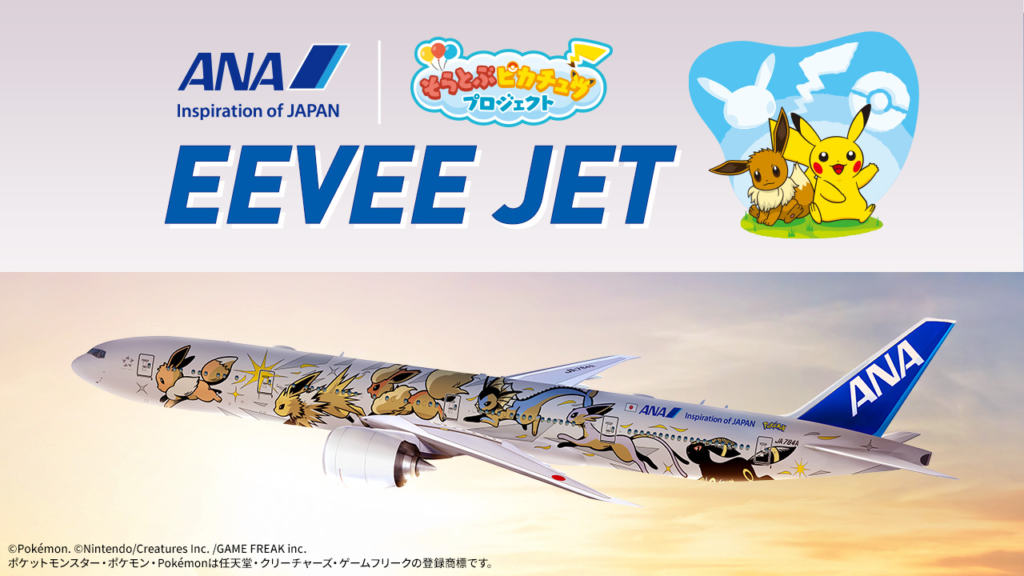 ANA Eevee Jet First Flight Schedule
"The first Eevee Jet NH flight reflects our commitment to empowering passengers to explore endless possibilities and creating unforgettable experiences," stated Junko Yazawa, Executive Vice President, Customer Experience Management & Planning of ANA.
This unique aircraft embodies the captivating world of Pokémon, providing travelers with a unique journey.
Here is the Flight Schedule for "Eevee Jet NH" (Boeing 777-300ER aircraft, JA784A) on August 31, 2023. The NH211 will fly from Haneda (HND), Tokyo, to London Heathrow (LHR). While NH212 will be a return flight to HND.
As part of the ANA Group's efforts to unite the world in wonder through travel and unforgettable experiences, the introduction of "Eevee Jet NH" and the existing "Pikachu Jet NH" aims to rekindle the delight of traveling for its valued customers.
The airline will also deploy the aircraft to the USA, including New York and San Francisco.
EEVEE JET NH Schedule (From August 31, 2023)
| Eligible Flights | Flight Number |
| --- | --- |
| Haneda⇔London | NH211/NH212 |
| Haneda⇔New York | NH110/NH109/NH160/NH159 |
| Haneda⇔San Francisco | NH108/NH107 |
ANA Eevee Jet Flight Schedule
A Legacy of Excellence
Founded in 1952, All Nippon Airways (ANA) has transformed from a humble beginning with just two helicopters into Japan's largest airline.
ANA HOLDINGS Inc. (ANA HD), established in 2013, stands as the largest airline group holding company in Japan. Subsequently, encompasses ANA and Peach Aviation, the country's leading LCC.
With a substantial fleet of Boeing 787 Dreamliners, ANA is a launch customer and the world's largest aircraft operator, making ANA HD a prominent Dreamliner owner globally.
As a member of Star Alliance since 1999, ANA has forged joint venture agreements with prominent airlines. This includes United (UA) Airlines, Lufthansa (LH), Swiss International Airlines (LX), and Austrian Airlines (OS), thus extending its presence worldwide.
Renowned for its outstanding service, ANA has earned SKYTRAX's prestigious 5-Star rating consistently since 2013. Further standing as the only Japanese airline to achieve this recognition for ten consecutive years.
Additionally, ANA has been honored with the esteemed title of "Airline of the Year" by Air Transport World on three occasions (2007, 2013, and 2018). Further, joining a select few airlines to receive this accolade multiple times.
Bottom Line
With the grand unveiling of "Eevee Jet NH," ANA reaffirms its dedication to delivering exceptional travel experiences. Subsequently capturing the imagination and delight of passengers from around the globe.
As the first flight approaches, anticipation builds for a voyage that promises to unite travelers with the magical world of Pokémon, all aboard the ANA EEVEE JET London.
Stay tuned with us. Further, follow us on social media for the latest updates.
Also Read: US Airlines, Including American, United, Delta, and Southwest, want you to Dress Properly – Aviation A2Z
Join us on Telegram Group for the Latest Aviation Updates. Subsequently, follow us on Google News.