BOSTON- United States-based JetBlue Airways (B6) flight from Santiago de los Caballeros Cibao International Airport (STI) to Boston (BOS) operated by Airbus A321 is declaring an emergency.
The JetBlue flight B61924 is now turning back to STI. The flight is currently at 6,000 ft and is expected to land back at STI in a few minutes.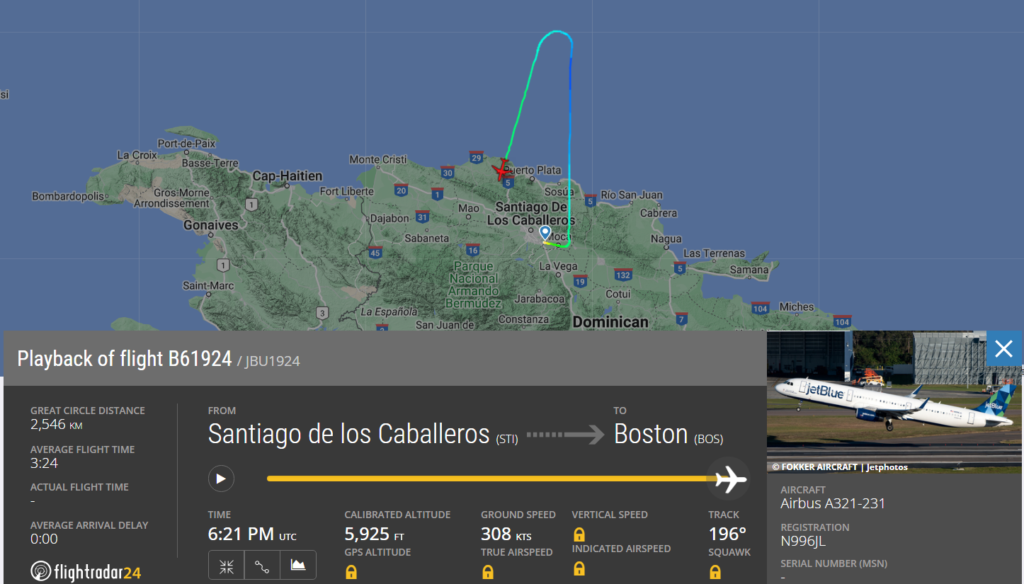 JetBlue A321 Emergency
According to Flight Radar 24, the JetBlue flight took off from STI at 5:54 PM. Around 12 minutes later, the flight was climbing quickly to a lower Flight level.
The Pilot contacted the ATC and decided to divert back to STI. The reason for this diversion is not known at the time of writing.
But we know that the aircraft operated by B6 is Airbus A321-200 and has registration N996JL. Further, it is five-year-old aircraft delivered by Airbus in July 2018. According to the schedule, the A321 is also deployed for BOS to Orlando (MCO) and back to BOS.
We will keep you posted, so stay tuned for the latest updates.
UPDATE 1: JetBlue plane made an emergency landing a few seconds back. Following this emergency, the Delta (DL) flight is on hold to take off.
Stay tuned with us. Further, follow us on social media for the latest updates.
Also Read: US Airlines, Including American, United, Delta, and Southwest, want you to Dress Properly – Aviation A2Z
Join us on Telegram Group for the Latest Aviation Updates. Subsequently, follow us on Google News.