DELHI- Tata Air India (AI) flight from Delhi (DEL) to San Francisco (SFO), operated using Boeing 777 that diverted to Magadan, Russia, due to engine problems, is returning to India.
The aircraft involved in the incident is Boeing 777-300 ER. Further, it is powered by one of the most powerful General Electric-developed GE 90 Engines. It has the registration VT-ALH. Additionally, it is approx 14 years old aircraft that AI took delivery of back in 2009.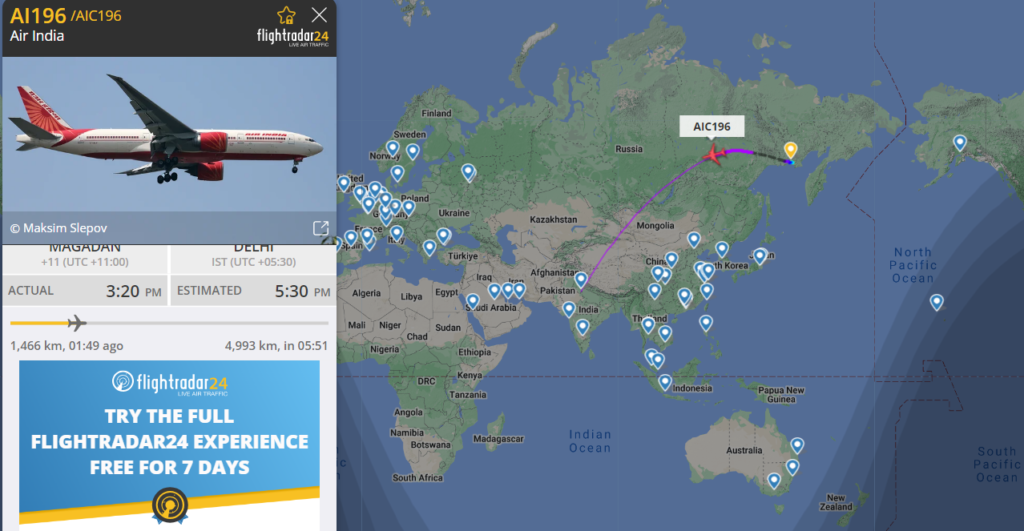 Air India 777 Diverted to Russia is Returning to India
According to FlightRadar 24, the Air India flight AI1196 performed certain ground tests for engine endurance at Magadan (GDX). After getting clearance from AIESL Engineers, the aircraft rolled down for Takeoff.
The flight crew asked for ATC clearance, and the flight took off from GDX at 4:20 AM UTC after four days. The Air India Boeing 777 VT-ALH is live; you can track it from here.
The flight will arrive in Delhi (DEL) at 5:30 PM UTC (11 PM IST). The aircraft will then be thoroughly inspected and undergo maintenance and repairs, if any.
Kudos to all the Air India staff and management involved in this great mission. Further, the great work by the Indian and Russian governments, especially during this difficult time.
Flight Diversion Details
According to Flight Radar 24, the aircraft took off from Delhi Int'l Airport at 10:35 PM UTC on Jun 6, 2023. The AI 173 flight en route to San Francisco International Airport (SFO) over Russian Airspace.
However, the aircraft reported a technical snag in one of its engines. Subsequently, the pilot diverted the flight to one of the nearest airports.
The aircraft landed safely at Magadan Airport (GDX) in Russia around 8:36 AM UTC. The plane was airborne for almost 10 hours from its Takeoff from DEL.
According to an Air India spokesperson, 216 passengers and 16 crew members were on board Flight AI173.
The spokesperson stated, "The passengers are given necessary assistance at the airport and will be offered alternative options to reach their intended destination as soon as possible. Meanwhile, the aircraft is currently undergoing required inspections on the ground."
Air India deployed another Boeing 777 VT-ALF for the ferry flight. The aircraft took from Mumbai (BOM) and landed at GDX; from there, it took the stranded passengers and crew to SFO.
Overall, the Air India crew and management made headlines and did historical work. This mission is now part of our rich aviation history and will always be remembered.
Stay tuned with us. Further, follow us on social media for the latest updates.
Also Read: US Airlines, Including American, United, Delta, and Southwest, want you to Dress Properly – Aviation A2Z
Join us on Telegram Group for the Latest Aviation Updates. Subsequently, follow us on Google News.