Mumbai – Eknath Shinde, Chief Minister of Maharashtra, along with his deputy Devendra Fadnavis, assessed Navi Mumbai Airport by inspecting the under-construction International Airport ahead of launch. They expressed confidence that the airport will commence operations in 2024.
Fadnavis mentioned that they conducted a comprehensive site inspection via helicopter to gain a holistic understanding. "We proceeded to the runway and examined the terminal building as well. Subsequently, a presentation was delivered to us," he remarked.
The execution of this project will be having significant consequences for air travel in India, along with boosting the transportation infrastructure in the region.
The authorities have planned the operational launch of the airport in just over a year, envisioning it as a significant driver of economic growth in the region and an additional travel option for domestic travelers.
Navi Mumbai Airport Construction
The Navi Mumbai International Airport is positioned to establish itself as one of Maharashtra's most remarkable infrastructure endeavors. It is a direct reaction to the Chhatrapati Shivaji Maharaj International Airport (CSMIA) surpassing its capacity.
Its construction has been in progress since the 1990s. Presently, the greenfield project covers approximately 1,160 hectares. The estimated cost of the undertaking is INR 16,700 crores. In February 2018, Prime Minister Narendra Modi inaugurated the project by laying its foundation stone.
The airport construction follows a public-private partnership model. Further, it is employing the DBFOT Model to execute the project in four sequential phases. The target completion year is 2032.
During the initial phase, the project will focus on building two runways capable of accommodating 80 aircraft per hour. Additionally, developers are currently working on a six-lane Mumbai Trans Harbour Link project.
Establishing connectivity between Mumbai and the Navi Mumbai International Airport. This ongoing construction project aims to link the two locations. Upon completion of the first phase, authorities anticipate that the airport can handle an annual passenger volume of over ten million.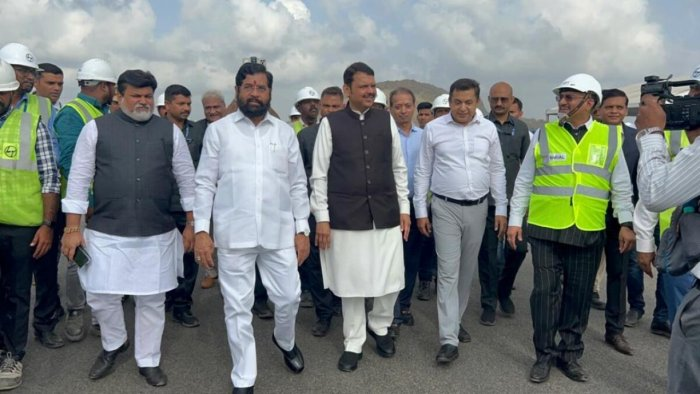 Minister's Comments
The project progressed rapidly, aiming to make it operational by 2024. Since its initiation in 2017, the team actively worked to expedite the construction of the airport and overcome any obstacles, including conducting site visits.
Fadnavis emphasized the seamless connectivity of the airport with the Mumbai Trans Harbour Link, the coastal road, and the metro system.
The airport designers envision a multi-modal facility meticulously tailored to accommodate an impressive volume of 90 million passengers. Subsequently, this ambitious development is widely recognized as a substantial advantage for the city of Mumbai.
Stay tuned with us. Further, follow us on social media for the latest updates.
Also Read: US Airlines, Including American, United, Delta, and Southwest, want you to Dress Properly – Aviation A2Z
Join us on Telegram Group for the Latest Aviation Updates. Subsequently, follow us on Google News.