INDONESIA- Middle East carrier Emirates (EK) Airline's iconic Airbus A380 aircraft has achieved a significant milestone by making a historic landing at Bali's I Gusti Ngurah Rai International Airport. This marks the first-ever scheduled A380 service to Indonesia.
The momentous journey began with Emirates' flight EK368 departing from Dubai at 03:10 hrs and gracefully arriving in Bali at 16:20 hrs. The return flight, EK369, is scheduled to depart Bali at 19:40 hrs and reach Dubai at 00:45 hrs. Please note that all times mentioned are local.
This remarkable feat showcases Emirates' commitment to providing exceptional travel experiences. Further expanding its connectivity to exciting destinations around the world.
Introducing the A380 to Indonesia reflects the airline's dedication to offering passengers a luxurious and unforgettable journey.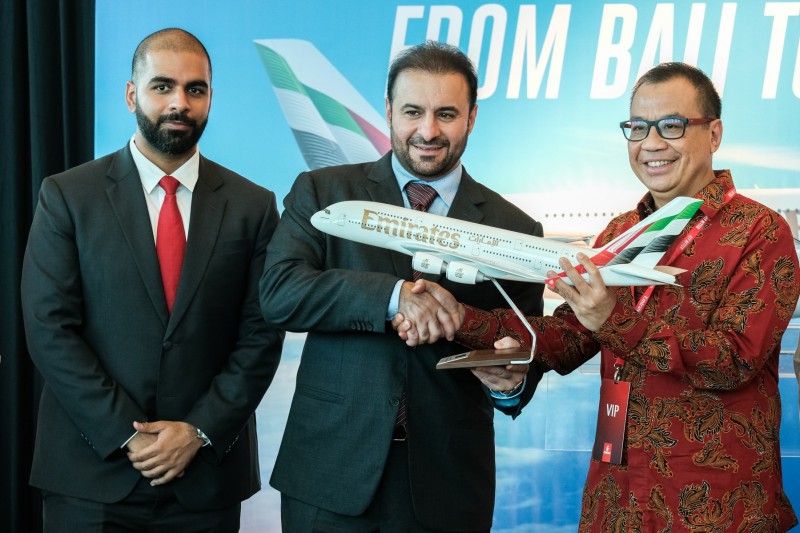 Emirates First A380 flight to Indonesia
Amidst the enthusiastic cheers of passengers and onlookers, the world's largest passenger aircraft was greeted with a breathtaking water cannon salute upon its smooth landing.
Leading the reception committee were esteemed individuals, including His Excellency Abdulla Salem AlDhaheri. Further, the UAE Ambassador to Indonesia, and Orhan Abbas, Emirates Senior Vice President, Commercial Operations, Far East.
The presence of distinguished guests, such as Professor Wihana Kirana Jaya, Special Staff for Economic Affairs & Transportation Investment, to the Minister of Transportation, also graced the occasion.
Also, Ni Made Ayu Marthini, Deputy Minister for Marketing at the Ministry of Tourism and Creative Economy, and Faik Fahmi, President Director of PT. Angkasa Pura I, I Wayan Koster, Governor of Bali Province, and Zubin Karkaria, Chief Executive Officer of VFS Global.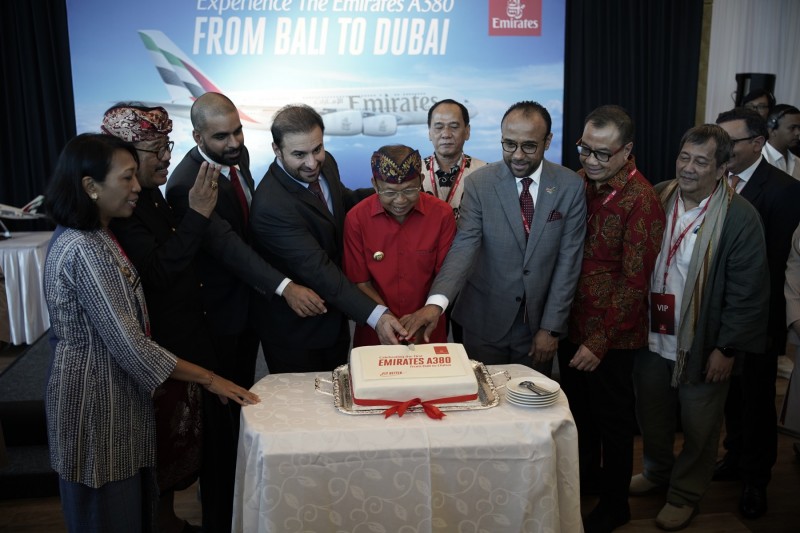 Executive Comments
Orhan Abbas expressed his utmost excitement and enthusiasm regarding this momentous occasion: "We are thrilled to welcome our iconic A380 aircraft to Bali."
This achievement is the culmination of meticulous planning and flawless execution over the past several months.
Introducing our A380 operations in Indonesia is a testament to our longstanding commitment to the market. Further a reflection of our strong partnership with the I Gusti Ngurah Rai Airport and local authorities.
We are eager to provide our valued customers traveling to and from Denpasar with the exceptional services offered by our A380, meeting the growing demand for international travel. Subsequently, Superjumbo now operates two daily services to the island. We are well-equipped to deliver a world-class travel experience.
Mohammad Al Attar, Emirates Country Manager for Indonesia, expressed his satisfaction with the deployment of the A380 aircraft on flights to Denpasar, stating,
"The introduction of our iconic A380 aircraft to Denpasar will significantly cater to the growing demand from our customers. This milestone strengthens our operations in Indonesia and lays the groundwork for our future commercial plans in the market."
Faik Fahmi, President Director of PT Angkasa Pura I, expressed his delight in welcoming the Emirates A380 aircraft to Bali's I Gusti Ngurah Rai Airport, saying, "We are pleased to receive the Emirates A380 aircraft at Bali's I Gusti Ngurah Rai Airport. This achievement is a significant milestone for Indonesia's aviation industry, particularly for Angkasa Pura I."
We hope this positive momentum will catalyze the recovery and revitalization of tourism and the economy in Bali and throughout Indonesia.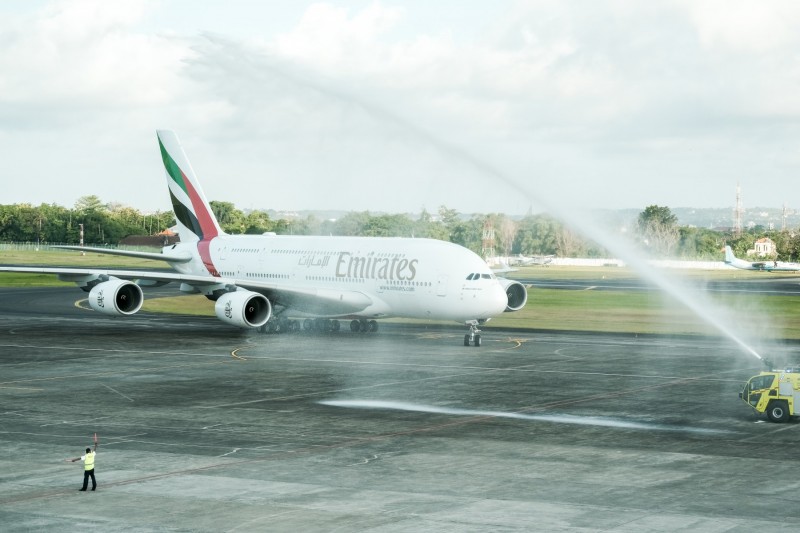 Historical Flight
Emirates' inaugural A380 flight to Bali featured a three-class aircraft, allowing passengers, VIP delegations, and airport officials to experience the unique offerings of the double-decker aircraft, including the renowned First Class suites.
Further, The airline will continue operating A380 flights to Bali with a two-class configuration, providing 58 lie-flat seats in Business Class and 557 seats in Economy Class.
Since launching its non-stop daily service from Dubai to Bali in 2015, Emirates has expanded its presence in Indonesia.
Alongside its scheduled flights to Jakarta since 1992, the airline currently operates 28 weekly flights to both Bali and Jakarta. Offering enhanced connectivity to 29 domestic cities through Garuda Indonesia and Batik Air partnerships.
Emirates' commitment to Indonesia's travel and tourism sector extends beyond introducing the A380. The airline signed a Memorandum of Understanding (MoU) with Indonesia's Ministry of Tourism and Creative Economy in May. Further, to collaborate on joint marketing campaigns and programs promoting Indonesia as a preferred travel destination.
Passengers from Indonesia can look forward to the spacious and comfortable cabins of the A380. Along with signature amenities like the Onboard Lounge and an award-winning inflight entertainment system. Subsequently, with over 6,500 channels of on-demand content.
Currently serving 46 destinations, including Dubai. The Emirates A380 is expected to expand its reach to nearly 50 destinations by the end of the summer.
Stay tuned with us. Further, follow us on social media for the latest updates.
Also Read: US Airlines, Including American, United, Delta, and Southwest, want you to Dress Properly – Aviation A2Z
Join us on Telegram Group for the Latest Aviation Updates. Subsequently, follow us on Google News.