Berlin Brandenburg Airport and Lufthansa (LH) have launched a new facial recognition service called BER Traveller, which enables biometric access control. Further, Passengers flying with Lufthansa Group Airlines, including Lufthansa (LH), SWISS, Austrian Airlines, Brussels Airlines, and Eurowings' HON Circle Members and Senators, can now benefit from this service in Berlin.
Previously, these passengers had to present their boarding pass to access the priority lane at the security control. However, with the introduction of BER Traveller, this step is no longer required.
Using facial recognition technology, these passengers can conveniently and easily access the priority security control through a separate lane.
To use the service, passengers must register their biometric data in the FastID app, which the service provider provides. The airline will send an invitation via email to passengers, prompting them to complete the registration process.
Lufthansa Facial Recognition Service at Berlin
In a collaborative effort, the Lufthansa Group and Berlin Brandenburg Airport (BER) are expanding their digital services to enhance the passenger experience.
As part of this joint project, a new service has been introduced. It is initially targeting Lufthansa Group Airlines' HON Circle Members and Senators.
The aim is to gradually extend the service to include self-service machines at BER, boarding at the gate, and access to the Lufthansa Group Lounge. All are facilitated through facial recognition technology.
Heike Birlenbach, Head of Customer Experience at Lufthansa Group, expressed the long-term objective of enhancing passengers' travel experience through contactless and biometric services, simplifying and streamlining airport processes.
Introducing this innovative service for HON Circle Members and Senators in Berlin has been met with positive feedback from customers. Who appreciate the convenience and efficiency of biometric checks at various locations.
According to Thomas Hoff Anderson, the Chief Operations Officer of Flughafen Berlin Brandenburg GmbH, they are delighted to have convinced the Lufthansa Group, one of their key customers, about the significant potential of facial recognition technology in enhancing passenger processes at BER.
This successful collaboration serves as a solid foundation for extending the "BER Traveller" product to passengers of other airlines in the future.
Anderson further mentions that FastID, the chosen partner, will play a crucial role in leveraging digital facial recognition to make departures from BER faster and more convenient, aligning with their goal of improving the overall travel experience.
New Biometric Service
The utilization of the new biometric service is entirely optional. Subsequently, the passenger's personal and biometric data is stored in a decentralized manner within their own app.
Before each journey, passengers who have registered in the app can decide whether they want to avail the service for their upcoming flight.
Only when they opt-in the encrypted data, including flight data, biometric identifiers, and photos captured at the airport, are transmitted to FastID for comparison.
Once the flight is completed, the data is promptly deleted from FastID's system and remains exclusively within the passenger's app. Passengers have complete control over the data stored in the app. Further, they can delete it entirely at any time.
Photos are captured through permanently installed cameras to ensure verification at various process points. Furthermore, FastID carries out the matching process by comparing these photos with the biometric passenger data stored in the app. Subsequently, utilizing facial recognition technology.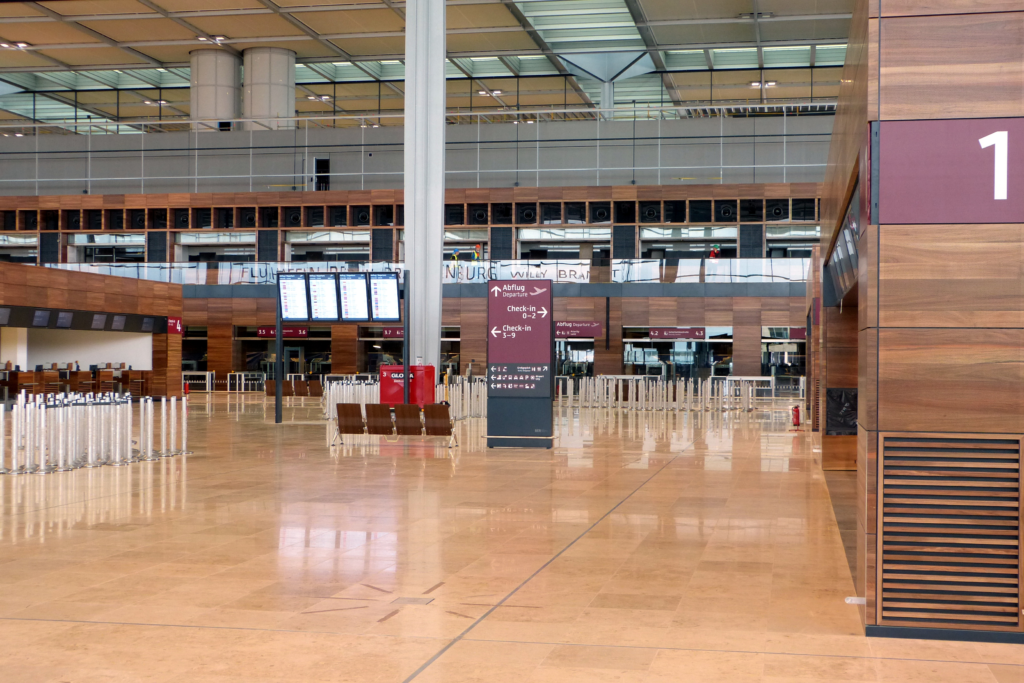 Berlin FastID
Albert van Veen, the Managing Director of FastID, expressed his enthusiasm about the implementation at BER Airport. He stated that it signifies a new era of identity control in the travel industry.
This era is characterized by decentralization, granting individuals the power to control their own data. Through FastID, BER Airport empowers passengers by allowing them to take responsibility for their journeys. Subsequently, offering biometric identification for a more expedited and seamless travel experience.
FastID's approach prioritizes the passenger, placing them at the heart of the journey. Further facilitating a highly convenient and secure experience.
Stay tuned with us. Further, follow us on social media for the latest updates.
Also, read FIRST LOOK: Air India Airlines New Possible Branding, Livery, Logo and More | Exclusive – Aviation A2Z
Join us on Telegram Group for Latest Aviation Updates. Subsequently, follow us on Google News.