MUMBAI- Tata-owned Indian FSC Air India (AI) operates the first flight of recently inducted Boeing 777 200LR aircraft from Delhi Airport (DEL) to Mumbai Airport (BOM) today, on 13th May 2023.
The aircraft has the registration VT-AEE, and The airline took delivery of the aircraft earlier this year. Further, it sent it to Singapore for interiors and other installations. Subsequently, on May 1, the aircraft ferried back to Delhi and is deployed today for its first commercial flight.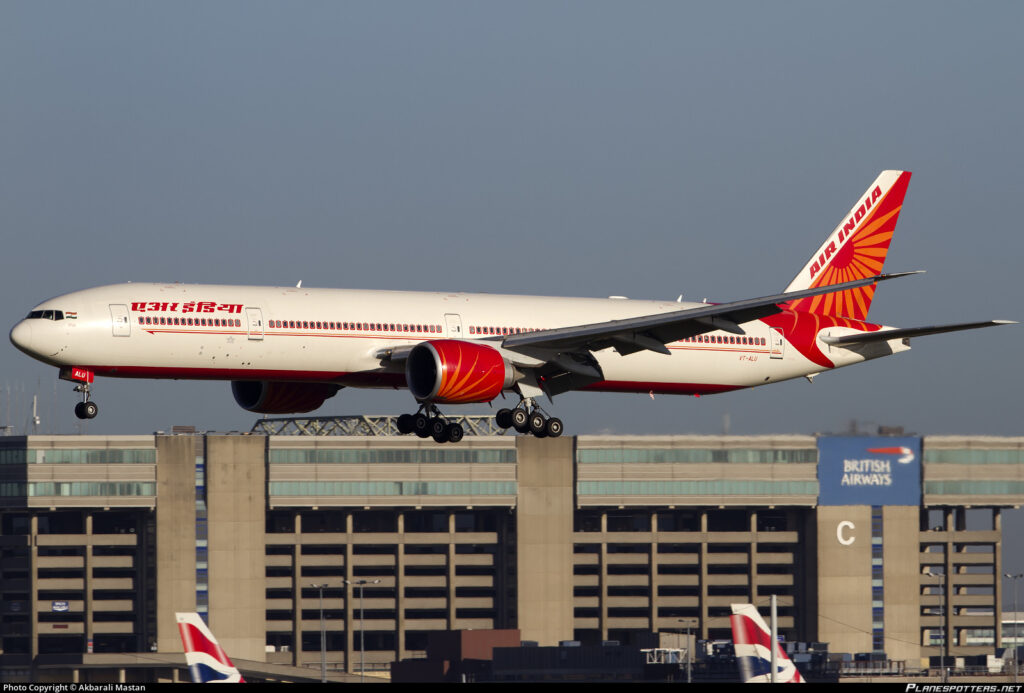 Air India Boeing 777
---
According to Flight Radar 24, a flight tracking website, the Air India Flight AI678 operating Boeing 777-200LR, having registration VT-AEE operated its maiden flight today.
The VT-AEE took off from Delhi (DEL) at 9:00 AM IST. After covering a distance of 1135 Km and being airborne for one hour and 52 minutes, it landed in Mumbai. The plane landed at BOM at 11:20 AM IST.
Boeing 777 VT-AEE went for cabin and other necessary modifications in Singapore in Feb of this year.
Today marks a special day for India as Star Air operated the first revenue and commercial flight of its New Embraer E175, the first of its kind for the Indian Market.
Air India now has a fleet of 7 Boeing 77-200LR aircraft and, in total, 20 Boeing 777s. Further, its total fleet reached 118. Subsequently, the airline has the second-largest fleet in India.
The airline has recently launched a brand new website interface today. This is the second major change to the official website after Tata's takeover of the airline from the government of India.
Air India Launches the New Website
---
The New website looks simplistic and has a really good User Interface. Furthermore, the Homepage of the website features a slider that shows what's new and what offers are available for the customers.
Instead of AirIndia.in the airline will use AirIndia.com. This shows Air India's commitment to becoming a leading global airline and not just for Domestic passengers. There are various sections on the website, and we will see them individually.
The company has divided the Homepage into five main sections. Furthermore, this includes the landing page and first look where they have added the five stories scroll.
Other Aircraft Update
---
So far, Airbus has transferred four A350 registration from Aeroflot (SU) to Air India. While remaining will be added shortly to the Indian carrier. Furthermore, this A350s Manufacturer's Serial Number (MSN) is MSN 554, 558, 585, and most recently added, MSN 589.
It has secured a lease of six ex-Etihad (EY) Boeing 777-300ER. It is in the United States and will be ready for delivery in the coming days.
Four of the six ex-Etihad Boeing 777s are currently at Victorville Airport, USA. The MSN number of these planes are MSN 39687; MSN 39700; MSN 39689; and MSN 39690. Furthermore, the Indian FSC is in the stage of receiving its first B777-300ER, which bears MSN 39686.
Stay tuned with us. Further, follow us on social media for the latest updates.
Also, read FIRST LOOK: Air India Airlines New Possible Branding, Livery, Logo and More | Exclusive – Aviation A2Z
Join us on Telegram Group for Latest Aviation Updates. Subsequently, follow us on Google News.