Tata Owned Air India (AI) has been continuously changing its working, most recently by adding a new In-flight food menu.
"We focus on serving Indian' Ghar ka Khana' in the flight with some unique fusion culinary touch, elevating the in-flight dining experience of Air India passengers," said Chef Abhijeet, the Executive Chef of Air India during a talk at the Ambassador's Sky Chef in Delhi.
The airline gradually establishes its new character under Tata Group ownership, occasionally unveiling new initiatives. The former national airline, often known as the "Maharaja," experienced its darkest period under government control.
Air India Under Tata
After all, Air India continues to serve approximately 40 different nations as a representative of India on the international stage. However, new ownership brings with it fresh communications and issues. Tata Group quickly recognized the fundamental problems with the airline and announced to the world that a new Air India would be appearing soon.
An enormous agreement was revealed for 840 airplanes (470 firms + 370 options). The resurgence of Air India, however, includes much more than that. The in-flight eating experience is one of many areas of the brand's 360-degree reinvention that are now under development. Being a full-service airline, Air India provides excellent food, which significantly influences the overall flying experience.
A recent tweet from a famous chef added salt to the wounds of the passengers of Air India, who have been dealing with this issue for the airline for the longest period.
But the airline wants to change its image, so in October 2022, it revealed a whole new in-flight menu for domestic flights. The revised menu was then made available on all of its foreign flights starting in April 2023.
Ambassador's Sky Chef
A small media group was recently invited to tour the Ambassador's Sky Chef facility in Delhi's Aerocity. Thanks to this provision, thousands of Air India passengers departing from Delhi's Indira Gandhi International Airport now have an in-flight meal.
One of Air India's largest and most established catering partners is the Ambassador's, Sky Chef. The company was founded in 1942, and at least in India, it is credited with launching in-flight food. The Delhi facility was established in the 1980s and served over 35 airlines. Including 25 international and 10 domestic ones. As one of the airline's major revenue generators. Air India is given a special space inside the facility for food processing and packing.
The facility operates as a legitimate production plant and prepares the food by all applicable international safety standards. According to one of the senior executives, the corporation barely has a 0.05 percent output mistake. However, the major issue with in-flight meals in aviation continues to be Foreign Objects on Board (FOB).
Almost every President and Prime Minister of India have used the facility while traveling abroad. The Russian Prime Minister, Vladimir Putin, also used it while visiting India. Starting at the section where raw materials are unloaded, examined for quality and freshness, and sorted into baskets with corresponding colors, we were taken on a tour of the facility's many wings and all the kitchens where food is prepared.
Different dishes are prepared in each hot, cold, bakeries, and confectionery area of the main kitchen. Further split into categories for each type of cuisine (Western, Asian, Indian, etc.). Visiting a facility like this helps you understand the scope of work that goes into producing even one meal tray.
Air India In-flight Menu
Regarding the Air India flight's upgraded menu, on October 1, 2022, Air India introduced new menus for all domestic flights. Then, beginning on April 1, 2023, Air India rolled out updated in-flight food and beverage menus for all foreign flights departing from India.
Air India In-flight Menu for domestic flights
With vegetarian and non-vegetarian alternatives available, the meal selections now provide a variety of foreign and contemporary Indian dishes. Breakfast, lunch, snacks, and dinner are all on different menus. The menu cycles are changed every other day to prevent boredom for often returning visitors.
Croissants, Dark Chocolate Muffins, Cheese and Truffle Oil Scrambled Eggs with Chives, Cheese Mushroom Omelette, Mustard Cream-coated Chicken Sausage, Dry Jeera Aloo Wedges, etc., are available as options for breakfast, as well as dishes like Aloo Parantha, Medu Vada and Podi Idly.
For lunch, choices include Mumbai Batata Wada, Fish Curry, Chicken Chettinad, Potato Podimas, Chicken 65, Vegetable Pulao, Grilled Sliced Pesto Chicken Sandwich, Vegetable Fried Noodles, Chilli Chicken, etc.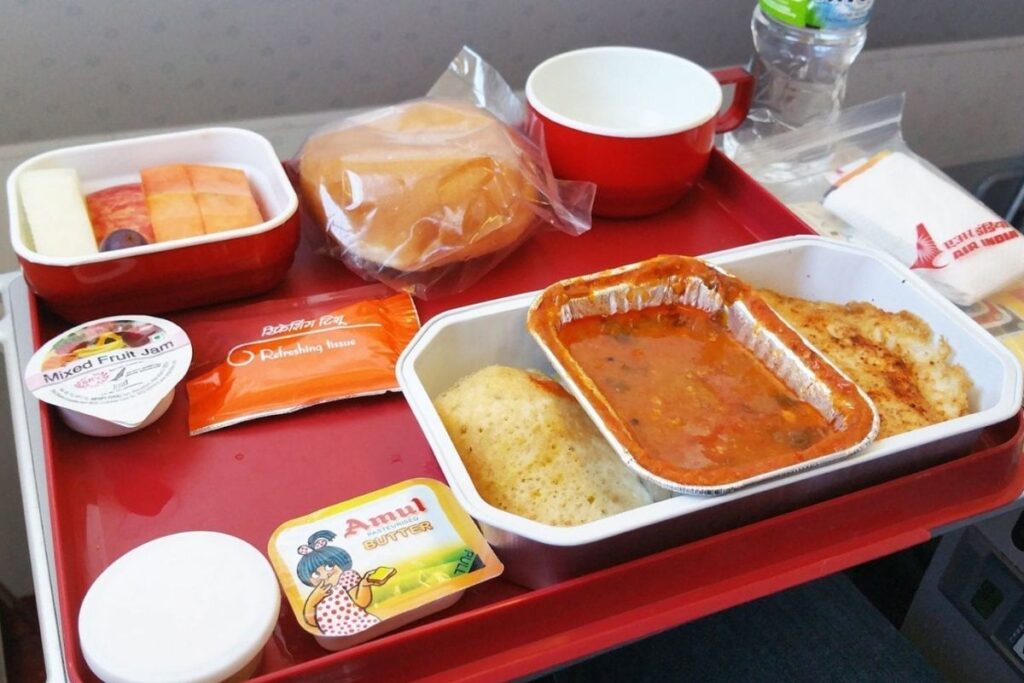 Menu for international flights
A new breakfast, lunch, and dinner menu will be available to Air India passengers in all cabin classes. It will include various fusion dishes like mushroom scrambled eggs, turmeric chili omelets, mixed vegetable parathas, Achari paneer, mental sandwiches on multigrain bread, grilled shrimp in fennel cream sauce, murgh rezala koftas, murgh elaichi kormas, classic chili chicken, chicken.
Various dessert options will also be available to Air India passengers, including Mango Passionfruit Delight, Quinoa Orange Kheer, Espresso Almond Crumble Mousse Cake, Khajur Tukda with Kesar Phirni, Single Origin Chocolate Slice, Chum-Chum Sandwich with Blueberry Sauce, and a seasonal fruit selection.
Subz Seekh Kebab, Thai Red Curry with Tofu and Vegetables, Broccoli and Millet Steak, Lemon Sevaiyan Upma, Medu Wada, and Masala Uttapam are just a few of the plant-based dinner alternatives available to those who live a vegan diet.
Air India In-flight dining experience
According to Air India's Head Chef Abhijit, the new menu acknowledges products that may be procured due to the seasonal change from winter to summer. In addition to redesigning the menu as part of a change in ownership.
When questioned about the process of creating a menu for a company like Air India, Chef Abhijit responded that the new menu is a tribute to our regional food and that he believes in putting Indian cuisine on the map globally.
He thinks providing "Ghar Ka Khana"-inspired food enhances the comfort of air travelers' journeys. Further, the scope of innovation should be constrained.
It's crucial to adhere to the fundamentals because flavor changes at 36,000 feet above sea level when the pressure causes the salt and sugar to sink. He continued, "After all, you can't change the menu in the air. It's a challenge to make everyone happy but the same food items."
Bottom Line
In terms of presentation, the chef said he concentrated on using as many colors as possible to make the trays look delicious and worthy of eating.
In addition to the meal portions being smaller, the menu cards now list each dish's nutritional information. To keep passengers' stomachs happy, less spice should be used.
My recent trip to the Ambassador's Sky Chef in Delhi to see the redesigned Air India in-flight menu was eye-opening. No words adequately capture the sensation of visiting a huge kitchen.
Recall the effort it took to transport your food from a production plant to the aircraft while keeping its quality and hygienic conditions the next time you are on a flight and having a hot meal delivered to you at 36,000 feet.
Stay tuned with us. Further, follow us on social media for the latest updates.
Also, read, Pakyong Airport In Sikkim Resumes Flight Operations | Exclusive
Join us on Telegram Group for Latest Aviation Updates. Subsequently, follow us on Google News.