On Sunday, Alliance Air 's first fixed-wing commercial passenger flight from Lilabari, Assam, to Ziro, in Lower Subansiri, under the UDAN programme of the central government, was officially launched.
Pema Khandu, the chief minister of Arunachal Pradesh, signalled takeoff.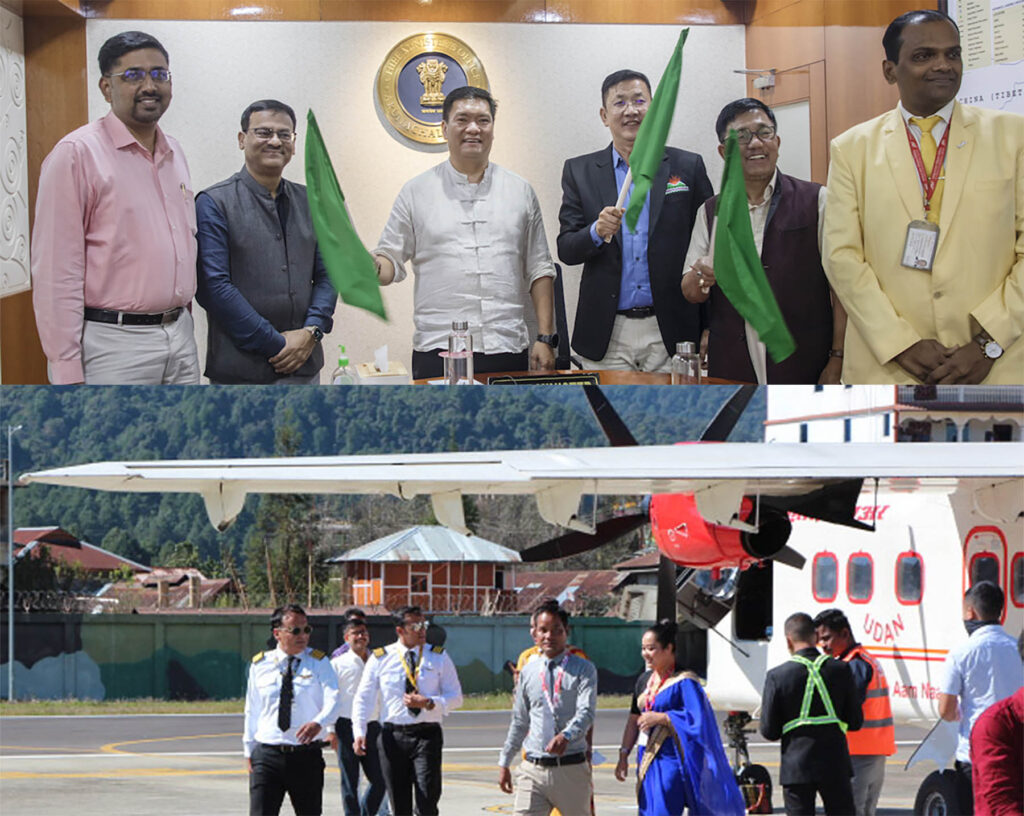 During the virtual opening ceremony, which was attended by the chief ministers of Assam, Meghalaya, and Mizoram as well as Union Minister of Civil Aviation Jyotiraditya M. Scindia, two additional flights were also launched: Shillong-Lilabari-Shillong and Imphal-Aizawl-Imphal.
Khandu stated, In the previous eight years of the Modi government, the North East has witnessed tremendous improvement in all domains of connection—road, rail, aviation, and digital connectivity.
The region, which was previously ignored and underdeveloped, is now on par with other developed states in the nation, according to Khandu.
He stated that nine advanced landing sites that had been abandoned and in disrepair might now be developed by Arunachal Pradesh and made airworthy.
Ziro has now been added, however Pasighat and Tezu already have fixed-wing commercial air connectivity.
Three of the remaining six ALGs can accommodate fixed-wing aircraft landings, and Tawang, Aalo, and Walong will all be used as heliports, according to Khandu.
He claimed that once the airport in Hollongi is opened and put into use, both interstate and intrastate aviation connections will significantly improve.
He stated that Arunachal Pradesh is waiting for Prime Minister Narendra Modi to visit and dedicate the Hollongi airport to the people and that it is finished and ready for use.
The Alliance Air operations will increase air connectivity in the North East, notably between the states of Assam, Arunachal Pradesh, Meghalaya, Mizoram, and Manipur, according to Sarma, who called it a significant day.
"I consider the start of these flying operations not simply an extension of airline lines but more significantly a futuristic gesture, which will go a long way in boosting people to people interaction, tourism, and trade," the speaker stated.
He expressed his gratitude to Prime Minister Narendra Modi at the time.
In the last eight years, he claimed, the North Eastern states had seen an unheard-of improvement in connection because to his policy of "Transformation by Transportation."
Sarma added that the North East is now boosting aviation development in India.
Also read : Spicejet Reports The Death Of A Passenger Who Was Hurt During Turbulence | Exclusive
Stay connected with Aviation a2z.
Join Our Telegram Group For Latest Aviation Updates
Follow us on Google News.