Singapore Airlines Ltd (SIA) is in confidential discussions with the Tata Group to explore a potential merger of Vistara, their joint venture airline, with Air India to give the Singaporean carrier a bigger foothold in South Asia. The conversations aim to strengthen the current SIA-TATA collaboration and may also cover a potential merger between Air India and Vistara.
Tatas owns 51% of Vistara, with the SIA owning the remaining 49%. Air India is also owned by Tatas.
In a statement, SIA stated that no final agreements had been reached on a transaction that would create a more potent challenger to the leading airline in the nation, IndiGo, as well as Middle Eastern rivals that transport a significant portion of India's overseas traffic.
According to its multi-hub strategy, SIA is now having private talks with Tata to investigate a potential transaction involving the stock of Vistara and Air India Ltd, a Tata subsidiary.
According to the filing with the Singapore Stock Exchange
"The discussions seek to strengthen the current collaboration between Singapore Airlines and Tata, and may involve a prospective merging of Vistara and Air India."
In comparison to its more developed home market, India has strong domestic and international traffic flows that are anticipated to quadruple in ten years, according to the Singaporean carrier, which runs full-service carrier Vistara.
After completing its acquisition of the once state-owned Indian national carrier in January, Tata now fully owns Air India.
SIA did not participate in the bidding process because it was concentrating on improving its balance sheet, but Campbell Wilson, a former senior official at the Singaporean airline, began serving as Air India's new CEO in July.
In order to restore its reputation after years of losses, the Indian airline is rebuilding its fleet and aiming for a domestic market share of at least 30% over the next five years.
Additionally, it is offering new routes to North America, where it has a quicker travel time than competitors since Moscow started its invasion of Ukraine in February due to its use of Russian airspace.
Brendan Sobie, an independent analyst based in Singapore, stated that SIA's decision to convert its investment in Vistara into a stake in the airline company run by Tata made sense. "This group's formation will strengthen the position of all Tata Airlines and SIA's investment in the Indian market."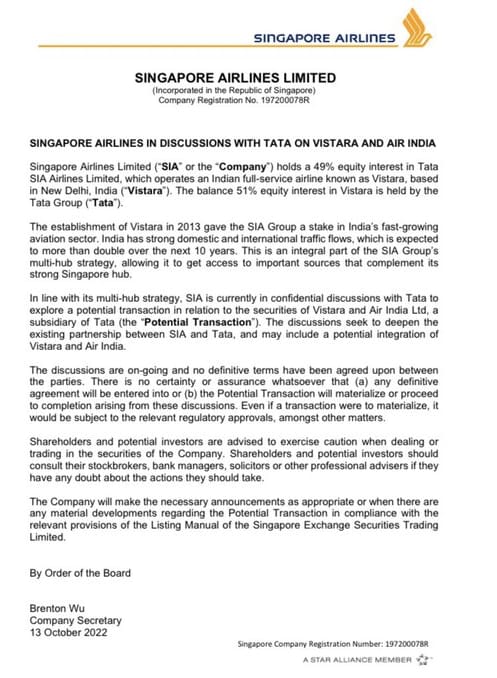 Requests for comment from Air India and Tata, which also owns low-cost airline AirAsia India, were not immediately fulfilled.
Shukor Yusof, CEO if the aviation consulting firm Endau analytics in Malaysia, claimed that SIA has a poor history of mergers and acquisitions.
When Virgin Australia entered voluntary administration in 2020, the 20% share it had in that company was lost.
At a price of $360 million, far less than its initial purchase price of 600 million pounds in 2000, SIA sold its 49% ownership in Virgin Atlantic to Delta Air Lines in 2012.
Although the agreement with Tata regarding Vistara seems to be succeeding, Shukor warned that taking on Air India might be too much for the company. "However, with China closed and slowing, India is the next frontier in aviation, and SIA can afford to punt and lose millions if it doesn't work out."
Also read:
Boeing 747 Dreamliner loses a wheel after takoff, video caught on camera | EXCLUSIVE
Follow us on Google News for latest Aviation Updates
Join us on telegram group
Stay tuned…