Amelia Earhart, who was born on this date in 1897, is one of the nation's most adored aviation pioneers, and today, on National Amelia Earhart Day, July 24, we honor her life and accomplishments.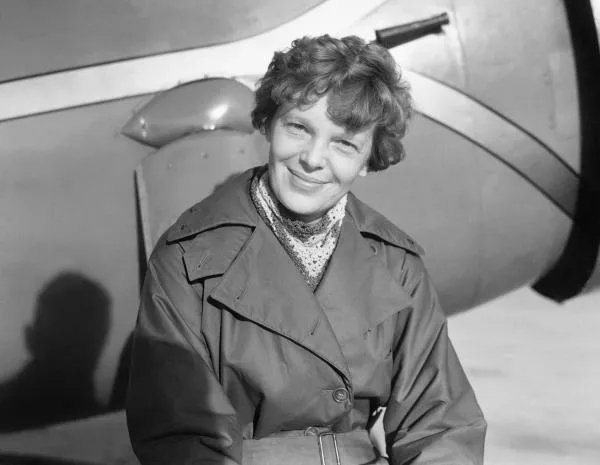 Although many only know her for her enigmatic disappearance during her much-awaited journey around the globe, she had a life full of accomplishments and trailblazing.
It would have been Earheart's 125th birthday. She is honored for her efforts in the promotion of women in aviation as well as her accomplishments in breaking flying records.
History Of National Amelia Earhart Day
National Amelia Earhart Day celebrates the inspiring life of famous American pilot, Amelia Earhart. July 24 was chosen in honor of her birthday but no other details of how the holiday came about are known.
She was born in Atchison, Kansas, in 1897, and at the age of ten, she witnessed her first flight at a state fair. The young girl allegedly wasn't thrilled by the jet, and her interest in aviation wasn't ignited until she attended a stunt-flying show.
According to reports, Amelia Earhart once remarked of a trip she did in 1920, "By the time I had gone two or three hundred feet off the ground, I knew I had to fly."
She started taking flying lessons in 1921 and later that year bought a used Kinner Airster that she dubbed "the Canary." In Pasadena, California, two days after receiving her National Aeronautics Association license in December 1921, she took part in her maiden flight demonstration.
Defying gender roles for her time, she played basketball, took an auto repair course, and even attended college. When World War I broke out, she served as a Red Cross nurse's aid and later enrolled at Columbia University in New York.
When Amelia Earhart took her maiden flight in California with World War II pilot Frank Hawks in December 1920, she developed a love for aviation. Earhart began taking flight lessons with female pilot Neta Snook in January 1921, just a few months after this momentous encounter. Later on in the year, she purchased a yellow Kinner Airster, which she dubbed "The Canary," as her maiden aircraft.
One year after her very first flight, in December 1921, she obtained her National Aeronautics Association license, and from that point on, the sky was the limit! She set numerous milestones throughout her life, the first of which she accomplished in 1922 when she became the first female pilot to fly solo at 14,000 feet.
In 1932, Amelia Earhart became the first woman to fly alone across the Atlantic. Charles Lindbergh was the only other person in the world to have done this up until that moment. Earhart received the Distinguished Flying Cross for the first time from Congress.
Earhart participated in the establishment of The Ninety-Nines in 1929, a global nonprofit group whose goal was to promote women in aviation. The Ninety-Nines, an organization founded at the time by 99 female pilots, continues to encourage the next generation of female pilots through support, mentoring, and education.
On June 1, 1937, Earhart set out on her doomed journey around the globe from Oakland, California. On July 2, she and navigator Fred Noonan set out from New Guinea with 7,000 miles still to go. But this would be the last time anyone would see them alive. Despite several possibilities being put up, the mystery surrounding their disappearance has not yet been solved.
She established a number of aviation records over her time, including:
the very first female pilot exceeding 14,000 feet
the first female pilot to cross the Atlantic alone
the first female recipient of the DFC, a military decoration given for gallantry or exceptional performance during an airborne flight.
first female pilot to cross the country unassisted on the first solo flight from Hawaii to the continental United States.
The crash of Earhart's aircraft
Earhart and Fred Noonan set out from Oakland, California in 1937 in an effort to become the first individuals to complete a complete circumnavigation. By the time they arrived in Lae, New Guinea, on June 29, they had traveled just 7,000 miles more and would soon be returning to Oakland.
On July 2, Earhart and Noonan were last observed in their natural state. They disappeared after losing radio contact. On July 19, 1937, they were declared lost at sea since they were never discovered.
Amelia Earhart Quotes
Along with leaving a lasting legacy behind, Earhart also left the world with a number of inspirational words of wisdom.
"Anticipation, I suppose, sometimes exceeds realization."
"…decide…whether or not the goal is worth the risks involved. If it is, stops worrying…."
"The most difficult thing is the decision to act. The rest is merely tenacity. The fears are paper tigers. You can do anything you decide to do. You can act to change and control your life and the procedure. The process is its own reward."
"Women must try to do things as men have tried. When they fail, their failure must be but a challenge to others."
"Adventure is worthwhile in itself."
"The most effective way to do it is to do it."
Stay tuned with Aviation a2z