Recently, at Farnborough Aviation Show in the United Kingdom, Boeing Forecasts optimistic news about Planes Demands.
Farnborough International Exhibition & Conference Centre for one of the world's biggest aerospace events.
With International Air Travel recovering as Countries Ease restrictions placed earlier due to COVID 19 Pandemic.
Boeing Forecasts on Aviation Industry Demands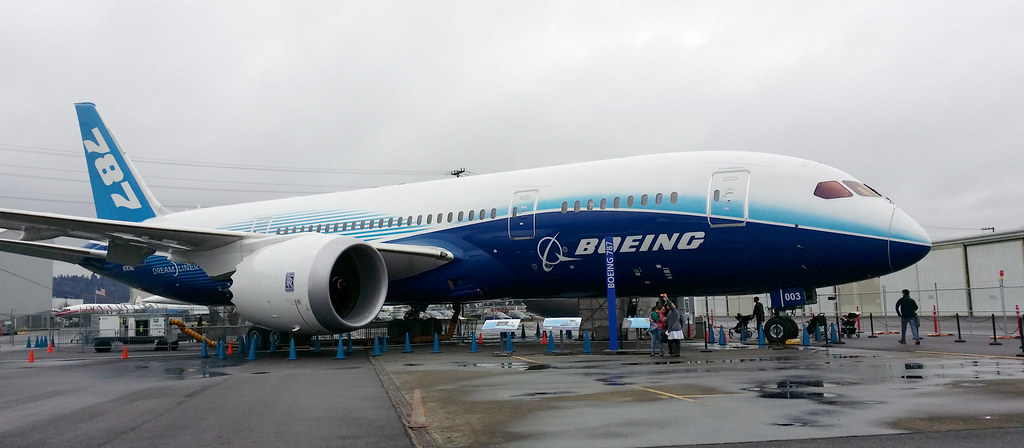 As Air Travel rebounds, Boeing Predicts that in the Next 20 years there is Great Demand for Whooping 41,000 New Planes.
Boeing shared the stats in its Commercial Market Outlook (CMO) which forecasts long-term growth before Farnborough International Airshow.
CMO released by Boeing Company forecasts a market value of $7.2 Trillion for New Airplanes and with the global fleet Increasing by 80% through 2041 compared to 2019.
The Half of Global fleet will replace today's models to Improve fuel efficiency and Sustainability.
Additionally, Boeing Global services expect a $3.6 trillion demand in its market segments over the next 20 years.
The segment includes strong demands for Maintenace and modifications such as converted freighters; digital solutions that increase efficiency and reduce cost; and effective training to enable the supply of pilots and technicians.
Ihssane Mounir, Boeing's senior vice president of Commercial Sales and Marketing says
Despite the unprecedented disruption over the past two years, the aviation industry has shown incredible resilience adapting to the challenge.

The 2022 CMO draws upon our expertise forecasting market trends to demonstrate the strong demand for new airplanes and related services in the coming decades, providing a waypoint as the industry continues to navigate its recovery.

Ihssane Mounir, Boeing
Boeing CMO projections for the Next 20 years
Asian Market will play a key role with 40% of New airplanes orders and Europe and North America will account for 20% each while 15% for other regions across the Globe.
South Asian market, especially India with Fleet quadruple from 700 airplanes in 2019 to more than approx 2,600 by 2041.
Southeast Asia is projected to see the second-fastest growth with a near-tripling of its commercial fleet to 4,500 airplanes
This year's CMO does not include a forecast for plane deliveries to Russia due to war sanctions against aircraft exports.
Discussing the type of aircraft, Single-aisle planes will account for about 75% of New Plane deliveries and only 18% of Widebodies.
The CMO Also Projected robust demand for dedicated freight planes to support global supply chains and growing express networks.
| | |
| --- | --- |
| NEW DELIVERIES (2022-2041) | |
| Regional Jet | 2,120 |
| Single Aisle | 30,880 |
| Widebody | 7,230 |
| Freighter | 940 |
| Total | 41,170 |
Credits To As Air Travel Rebounds, Boeing Forecasts Demand for More than 41,000 New Airplanes by 2041 | Boeing Company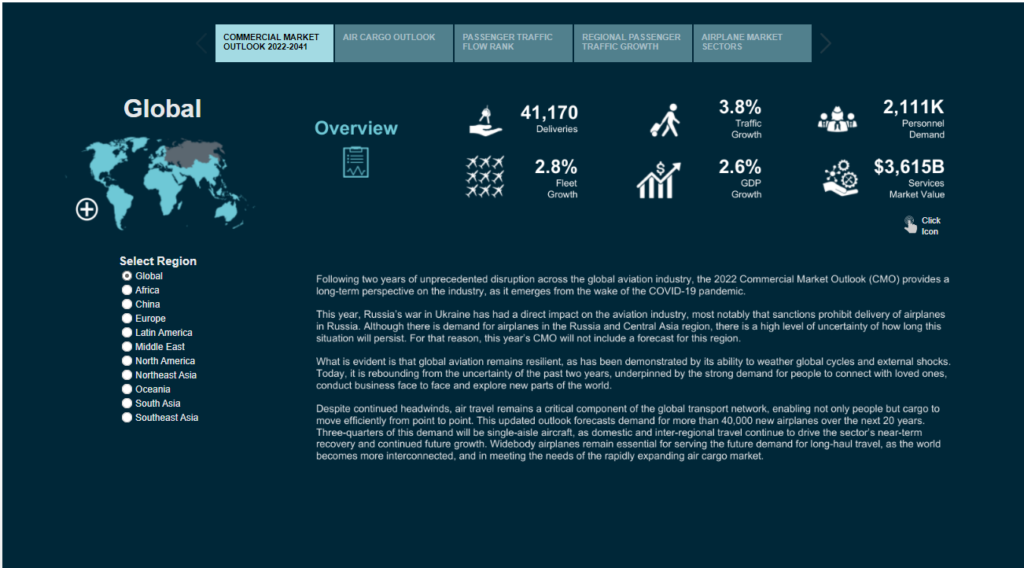 Boeing has Projected CMO for over 60 years making it the most comprehensive analysis of the global commercial aviation industry.
As a leading global aerospace company, Boeing develops, manufactures and services commercial airplanes, defense products and space systems for customers in more than 150 countries.
We will keep you updated about Boeing and Farnborough International Airshow.
Also Read: Akasa Air Second Boeing 737 conducts customer Acceptance Flight | Exclusive
Check Out: As Air Travel Rebounds, Boeing Forecasts Demand for More than 41,000 New Airplanes by 2041
Join Our Telegram group for Latest Aviation Updates:-https://t.me/aviationa2z