LONDON- RAF Typhoon jets were urgently deployed for a midair interception of a British Airways (BA) flight as part of a counter-terrorism hijacking exercise on Friday night.
Departing from RAF Coningsby in Lincolnshire, the Eurofighter jets accompanied the passenger plane to Heathrow Airport (LHR), where the Metropolitan Police greeted Specialist Units.
British Airways RAF Hijack Drills
As a component of the operation, codenamed Exercise Night Star, armed police officers, and hostage negotiators executed a swift entry onto the 160-seat aircraft. The exercise commenced around 10 pm on the specified night.
In a joint exercise simulating a hostage-taking scenario, an RAF wing commander supervised the air force's response from the British Airways plane.
Residents in the vicinity reported hearing a distinct noise as the jets flew overhead, and data from the plane tracking website FlightRadar displayed the flight path of the Typhoons.
The coordination of the exercise involved collaboration between Heathrow staff, police officers, air traffic control operators NATS, and the RAF's National Air and Space Operations Centre.
A spokesperson from the Metropolitan Police clarified that any specific threat or intelligence did not prompt the exercise. Instead, it constituted a routine training program designed to assess procedures and enhance collaboration among the involved agencies.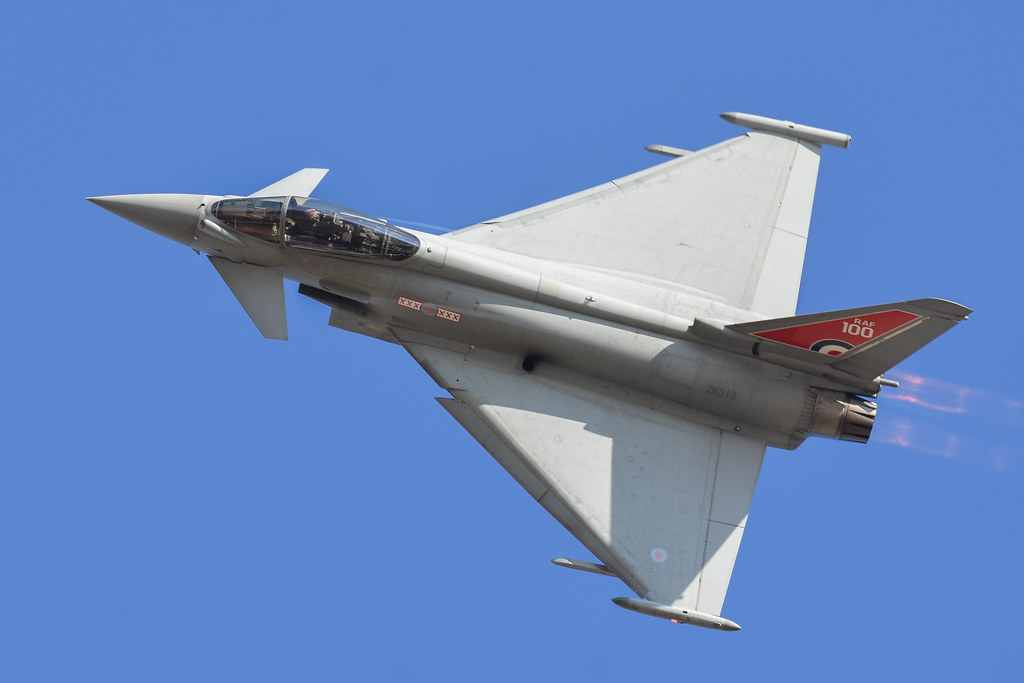 RAF Protecting UK Skies
Following a significant live-play exercise conducted in December 2022 at a disused terminal building at Heathrow, involving over 200 participants, the recent interception of a British Airways flight is part of ongoing preparedness efforts.
The earlier exercise featured anti-terror officers, firefighters, and paramedics testing their response to a simulated terror bombing at a fictional concert. Volunteers portrayed injured concertgoers caught up in the imaginary blast.
RAF Typhoons maintain a constant state of readiness to address potential threats in or near UK airspace. They are routinely called upon to swiftly respond to suspicious aircraft and actively participate in planned training exercises.
In a recent incident, RAF fighter jets intercepted a Kenya Airways plane en route from Nairobi to Heathrow, diverting it to Stansted Airport due to a perceived security threat.
Over the past few years, RAF Typhoon fighter jets have been deployed to intercept Russian aircraft that breached UK airspace.
Official Insights
Wing Commander Wilkinson, overseeing the RAF's role from the passenger aircraft, expressed, "Exercise Night Star presents a rare opportunity for a comprehensive joint and multi-agency assessment of the UK's Air Defence and Counter Terrorism response. Each participating unit utilized the exercise to refine skills and enhance procedures, contributing to the ongoing assurance of aviation safety."
Met Police Chief Superintendent Ian Howells, heading the force's Aviation Policing Command, stated, "Throughout the year, the Met conducts and participates in exercises to challenge the specialized training of officers in various scenarios. Such exercises ensure that, in collaboration with our partners, we are well-equipped to respond to diverse emergencies, whether at airports or elsewhere in the Capital. This provides valuable experience for our officers and staff, allowing us to enhance our plans and contribute to public safety continually."
Dale Reeson, Heathrow's Director of Operations, emphasized the importance of simulating realistic scenarios at the airport, describing it as "an essential part of our preparedness planning."
He highlighted the close collaboration with the Met Police and RAF during the recent scenario, expressing confidence that the insights gained from the joint exercise would strengthen their crisis response capabilities.
Stay tuned with us. Further, follow us on social media for the latest updates.
Also Read: US Airlines, Including American, United, Delta, and Southwest, want you to Dress Properly – Aviation A2Z
Join us on Telegram Group for the Latest Aviation Updates. Subsequently, follow us on Google News.