DUBAI- Emirates (EK) and Boeing have entered into a Memorandum of Understanding (MoU) to harness advanced digital technologies and expedite enhancements in maintenance operations.
The collaborative efforts will concentrate on various crucial areas, including drone-assisted aircraft inspections, refining the precision and efficiency of maintenance tasks through virtual and augmented reality, and the implementation of next-generation prognostic and predictive maintenance.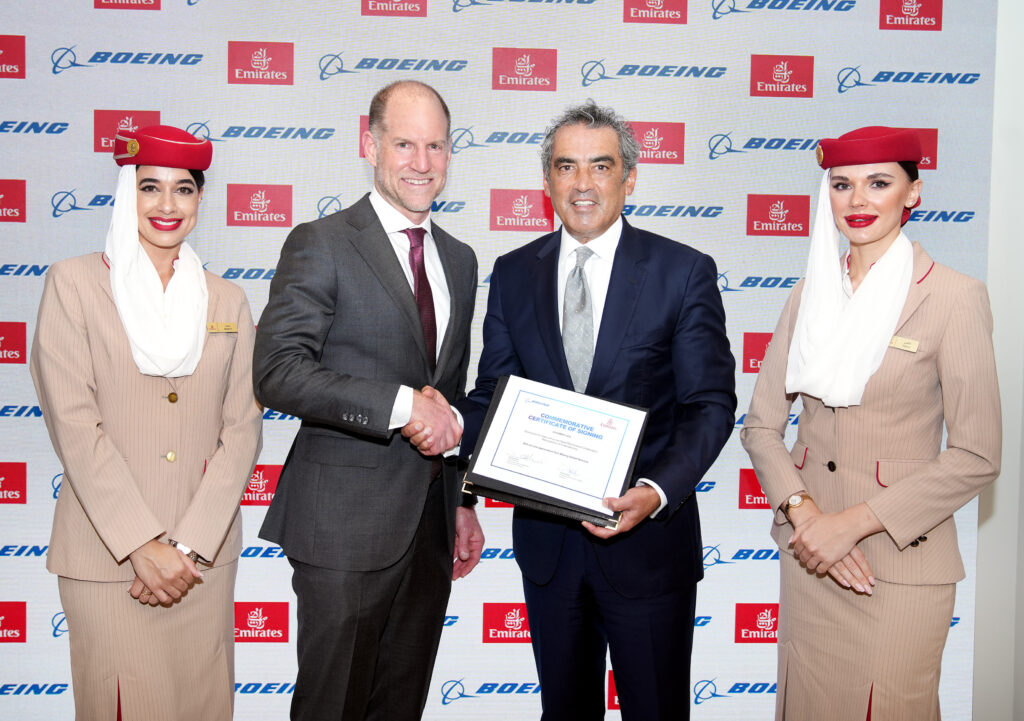 Executive Insights
Ahmed Safa, Divisional Senior Vice President of Emirates Engineering, expressed, "Our partnership with Boeing will empower us to capitalize on advanced technologies and digital excellence, enhancing operational reliability, minimizing disruptions, and ensuring our fleet maintains the highest standards. This ultimately translates to a superior travel experience for our customers. Whether it's drones conducting agile inspections or AR visualizations aiding engineers in identifying potentially defective components without dismantling them, we are taking significant strides to optimize aircraft maintenance fully on our Boeing 777 fleet."
Brad Surak, Vice President of Digital Aviation Solutions at Boeing Global Services, highlighted, "Supporting our customers on their digital transformation journey goes beyond improving maintenance operations. It involves applying innovation to meet their requirements for optimal operations today and in the long term."
Emirates Boeing Aircraft Maintenance Partnership
The incorporation of drone technology for maintenance tasks marks a significant advancement for the airline, expediting exterior inspections on wide-body aircraft through the use of ultra-high resolution cameras capable of covering every angle to detect surface imperfections.
The collected imagery and data serve as the foundation for highly detailed reports, enhancing precision and aiding in future inspection audits.
The utilization of Mixed Reality, augmented reality, and virtual reality visual tools empowers engineers to explore the inner workings and intricacies of any aircraft part.
These technologies promise more accurate and comprehensive aircraft inspections, reducing the risk of human error and significantly minimizing the time aircraft spend out of service. This optimization enhances fleet availability and performance.
Boeing's next-generation prognostic and predictive maintenance technology leverages advanced analytics and insights, enabling Emirates to make well-informed decisions regarding fleet maintenance.
Emirates Engineering stands out as one of the world's most technologically advanced aircraft maintenance facilities, supporting the largest fleet of Boeing 777 and Airbus A380 aircraft globally.
The team oversees all aspects of maintenance, engineering, quality, planning, and logistics within the 400,000-square-meter facility, featuring 12 hangars, forming the largest free-spanned structures in the Middle East.
Stay tuned with us. Further, follow us on social media for the latest updates.
Also Read: US Airlines, Including American, United, Delta, and Southwest, want you to Dress Properly – Aviation A2Z
Join us on Telegram Group for the Latest Aviation Updates. Subsequently, follow us on Google News.