BRISBANE- China Eastern Airlines (MU) flight MU715 touched down at Brisbane Airport (BNE), re-establishing the crucial connection with Queensland's most valuable tourism market.
After a lapse of 3 years, 8 months, and 21 days without a direct flight from China to Queensland, that dry spell came to an end today.
China Eastern Brisbane Flight
Gert-Jan de Graaff, the Chief Executive Officer of Brisbane Airport Corporation, expressed the significance of this day for Queensland's tourism industry, stating, "We are thrilled to welcome China Eastern Airlines back to Brisbane and witness the return of Shanghai on BNE's destination map. Shanghai, being China's largest city and a commercial center, holds a pivotal role for both business and leisure travel."
In just 17 days, another Chinese airline will resume its service. Both services are scheduled to increase to daily flights starting in December, just in time for the peak travel season.
This development indicates that China is likely to reclaim its position as Queensland's primary source of inbound tourism income in 2024, which is highly significant news for Brisbane, the Gold Coast, and North Queensland.
Over the coming three years, the services provided by China Eastern are projected to yield 181,014 inbound international seats, resulting in an economic impact of $314 million and providing employment for 1,270 individuals in Queensland.
China Eastern's connectivity from Shanghai extends to over 80 cities across China, as well as 10 European destinations, 16 in North Asia (comprising 14 in Japan and 5 in South Korea), and 4 cities in North America.
This reinstatement of direct flights by China Eastern is expected to be well-received by Queensland exporters, as it reestablishes a direct route to serve the discerning consumers in China with high-quality fresh food.
Notably, this achievement marks the 26th strategic international connection secured through the Attracting Aviation Investment Fund, a collaborative initiative between the Queensland Government and airports.
Minister Insights
Tourism Minister Stirling Hinchliffe expressed his appreciation for the steadfast collaboration between the Brisbane Airport Corporation and the Palaszczuk Government in reinstating direct international airline services to Queensland.
He highlighted the strategic significance of China Eastern in re-establishing the connection between Brisbane and Shanghai's aviation hub. This connection is poised to play a pivotal role in the revitalization of Queensland's international tourism, boosting exports and creating employment opportunities for the local workforce.
Minister Hinchliffe emphasized the attractiveness of Queensland's exceptional lifestyle and world-class holiday offerings, particularly for Chinese visitors. He underscored their importance in achieving the government's objective of developing an $11 billion international visitor economy by the time of the 2032 Olympic and Paralympic Games.
Jim Young, General Manager of China Eastern Airlines Oceania, expressed his great satisfaction in inaugurating the reestablished direct route between Shanghai and Brisbane operated by China Eastern Airlines. He emphasized that this service would have a positive impact on trade and tourism between Queensland and China.
Mr. Young highlighted the longstanding sister-state relationship between Shanghai and Queensland, which spans over three decades. He acknowledged the potential for cultural exchange and business opportunities resulting from this service, facilitating the growth of trade, tourism, education, and more. He extended his best wishes for the success of this service and eagerly anticipated welcoming passengers on board.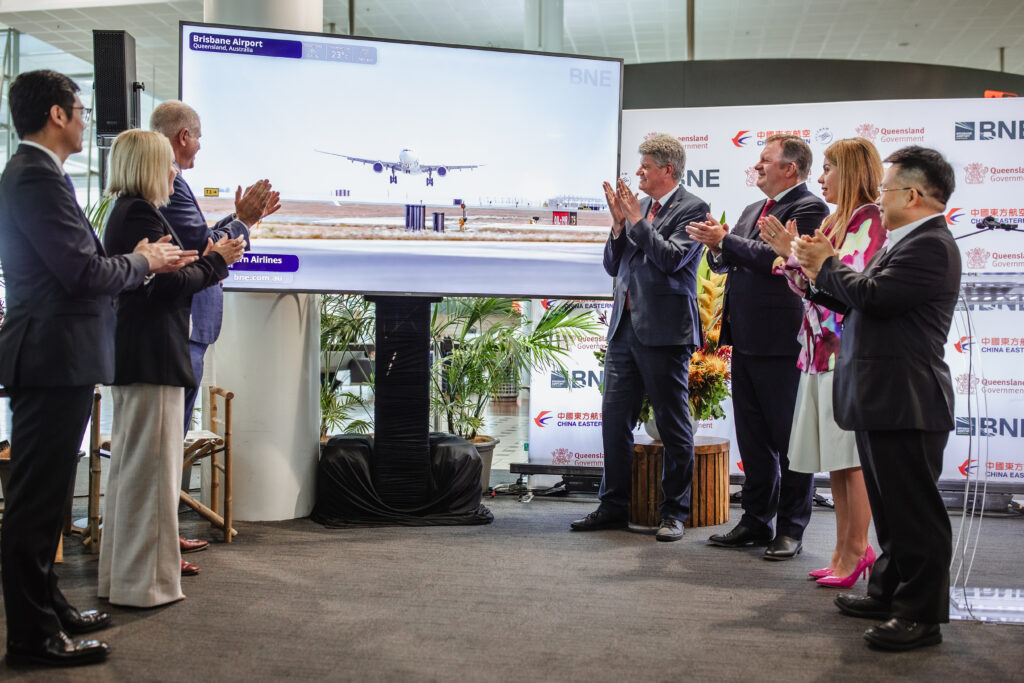 CEO Remarks
From Anthony Ryan, CEO of the Brisbane Economic Development Agency (BEDA):
"We are eagerly anticipating the return of visitors from Shanghai with the resumption of China Eastern Airlines' service today. Brisbane represents the best that Australia has to offer, with the nation's top-ranked hotel and restaurant, as well as a wide array of exceptional tourism experiences. We extend a warm invitation to Chinese visitors to immerse themselves in our amazing city and contribute to the growth of our dynamic visitor economy."
From Rachel Hancock, Acting CEO of Experience Gold Coast:
"The reestablishment of connectivity between China and Southern Queensland is another significant step in our journey to revive our largest international market in terms of visitors and spending, as it was before the pandemic. Our campaigns in the Chinese market are rekindling the enthusiasm of Chinese travelers, making the Gold Coast their top choice when planning a vacation, study, or visit."
Stay tuned with us. Further, follow us on social media for the latest updates.
Also Read: US Airlines, Including American, United, Delta, and Southwest, want you to Dress Properly – Aviation A2Z
Join us on Telegram Group for the Latest Aviation Updates. Subsequently, follow us on Google News.