SYDNEY- Tim Jordan, the CEO of Bonza (AB), A New Australian Airline, has been leading in advocating for more affordable domestic air travel. He has made a public appeal on LinkedIn, focusing on the need for peak time slots at Sydney Airport (SYD).
Jordan highlighted the irony that current airfare prices for a round trip to Sydney would cost him approximately $1,000. As a result, he opts for an eight-hour train journey to attend meetings aimed at addressing this very issue.
Bonza Airline CEO Travel by Train
According to Jordan, these meetings have the potential to pave the way for cost-effective airfares for approximately 2 million residents in various regional locations across Australia and nearly 6 million individuals in the Sydney metropolitan area.
As of now, Bonza does not possess any slots at Sydney Airport, a matter that came to light during a recent senate hearing on Australian aviation. It was disclosed that while Bonza has not officially submitted applications for these slots, the airline has engaged in discussions to assess their feasibility.
Bonza's CEO, Tim Jordan, clarified that the airline could potentially operate flights during midday hours. However, he emphasized that such a scheduling approach is not financially feasible for an airline aiming to transport a high volume of passengers cost-effectively during peak periods.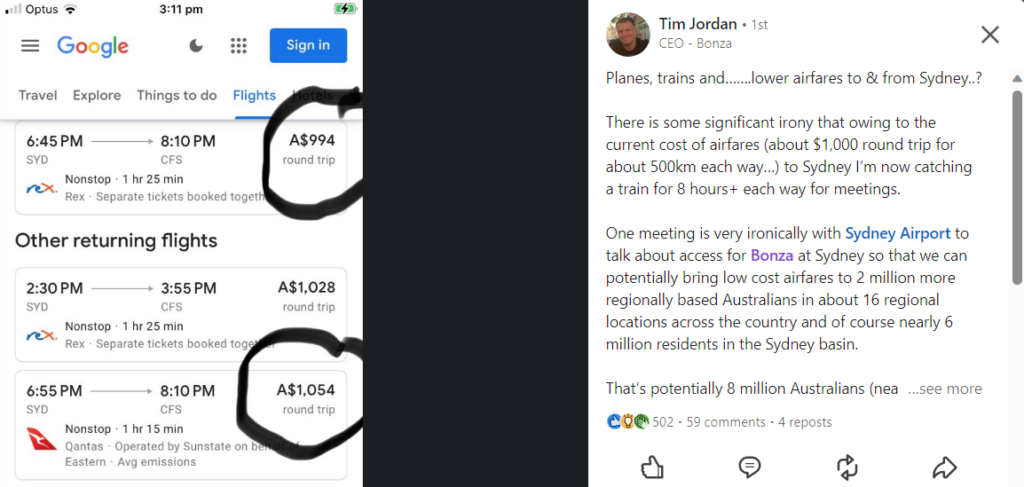 LinkedIn Post
In a LinkedIn post, Tim Jordan emphasized the high cost of a round trip from Sydney to Coffs Harbour Airport. Qantas' lowest fare for these flights is $1,054, while passengers flying with REX could stay under the four-figure mark at $994.
According to Bonza's CEO, when the airline commenced operations at Melbourne's Tullamarine Airport, providing seven routes that weren't offered by other carriers, such as Toowoomba and Port Macquarie, travelers enjoyed average savings of over $400 per round trip.
These savings are both substantial and tangible, especially when communities most need them. The hope is that similar savings can be achieved in Sydney in 2024, provided that access to the limited peak-time slots required for Sydney-based aircraft becomes available.
Stay tuned with us. Further, follow us on social media for the latest updates.
Also Read: US Airlines, Including American, United, Delta, and Southwest, want you to Dress Properly – Aviation A2Z
Join us on Telegram Group for the Latest Aviation Updates. Subsequently, follow us on Google News.