NEW DELHI- The Ministry of Civil Aviation is actively pursuing the creation of six 'Twin City airports by the year 2030 to alleviate congestion at existing major city airports and to meet the growing demand for air travel by expanding airport infrastructure.
This 'Twin City' airport development initiative has already been initiated in the Delhi-National Capital Region, with the forthcoming Noida International Airport (DXN) in Jewar (Greater Noida) complementing the Delhi International Airport (DEL).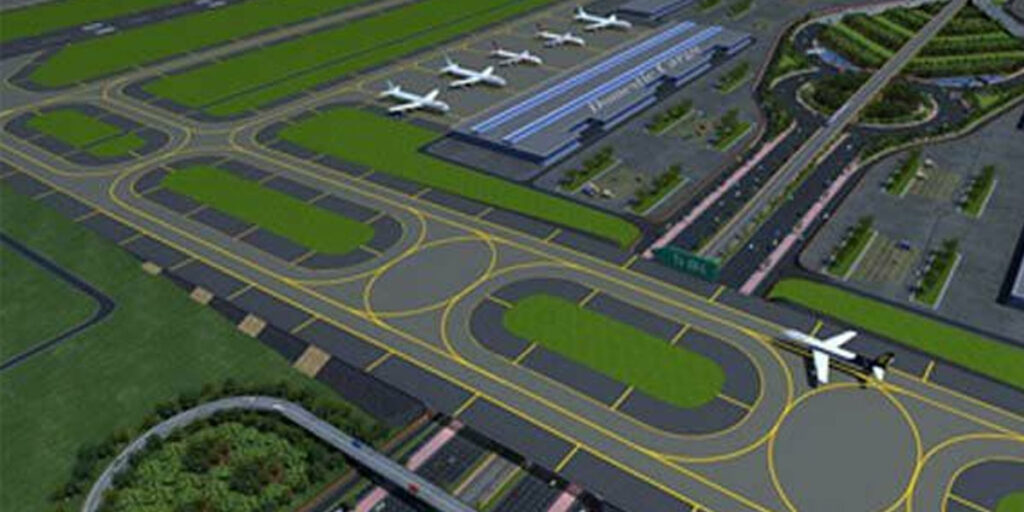 State Governments Seek Approval for New Greenfield Airports
State Governments, Including Tamil Nadu, Express Interest in Establishing New Greenfield Airports, Says Ministry Official
According to a representative from the Ministry of Civil Aviation, several state governments, including Tamil Nadu, have formally approached the ministry with proposals for the establishment of new greenfield airports, supplementing the existing ones in their major urban centers.
Joyanta Chakraborty, Director at the Ministry of Civil Aviation, revealed this development during a roundtable conference on the airport sector organized by India Infrastructure Finance Company Ltd.
Chakraborty compared this initiative to the model seen in Delhi-NCR, where both Delhi and Jewar have airports, and in Mumbai, where Mumbai and Navi Mumbai each have their own airports. He further elaborated that the ministry aims to establish approximately six such twin city airports by 2030, 15 by 2040, and potentially over 30 by 2047.
In a response provided in July during a parliamentary session, General V. K. Singh (Retd), the Minister of State for Civil Aviation, disclosed that Tamil Nadu had formally submitted an application to the ministry, seeking site-clearance for the development of a greenfield airport in Parandur, Kancheepuram District, Tamil Nadu. Parandur is situated approximately 60 kilometers away from the Chennai International Airport.
Joyanta Chakraborty further noted that this proposal has been communicated to relevant authorities, including the Airports Authority of India and the Directorate General of Civil Aviation (DGCA).
A steering committee specializing in greenfield airports, chaired by the Secretary of the Ministry of Civil Aviation, will undertake an evaluation of the proposal.
India's Major Airports Expand to Meet Rising Demand
"As Air Travel Demand Surges, Indian Airports Expand and Aim for Ambitious Capacity Targets
With a noticeable increase in air travel demand for domestic and international flights, major airports throughout India are actively engaged in expanding efforts to enhance their capacity.
Joyanta Chakraborty, speaking at a roundtable conference, emphasized the substantial growth in capacity at Indian airports.
By the end of the current fiscal year, it is anticipated that Indian airports will have the capability to accommodate up to 500 million passengers annually, a significant leap from the existing 350 million capacity.
Chakraborty elaborated on the ministry's ambitious vision: "Today, we have a capacity of around 350 million passengers and are closing in on 400 million. Our target is to reach 500 million passengers per annum by the end of this financial year."
Furthermore, he outlined even more ambitious plans, envisioning a staggering 900 million passengers annually by 2030 and an astounding 2,000 million passengers by 2047.
Notable airport projects are contributing to this growth, with the first phase of Navi Mumbai International Airport set to be finalized by December 2024, boasting an initial passenger capacity of 20 million per annum.
Similarly, Noida International Airport, scheduled to open by September 2024, will add an initial capacity of 12 million passengers per annum.
India boasts 149 operational airports, encompassing 30 international airports, 12 customs airports, and 107 other domestic airports, alongside a few civil enclaves.
Stay tuned with us. Further, follow us on social media for the latest updates.
Also Read: US Airlines, Including American, United, Delta, and Southwest, want you to Dress Properly – Aviation A2Z
Join us on Telegram Group for the Latest Aviation Updates. Subsequently, follow us on Google News.