DELHI- India's rapidly expanding civil aviation sector offers the opportunity to incorporate 130-150 additional widebody jets as airlines expand their operations.
According to Vikram Rai, CEO of GE Aerospace South Asia, there is also potential for deploying more of these aircraft on densely populated domestic routes.
India Needs 150 Widebody Jets
GE Aerospace, a prominent aircraft engine manufacturer, recognizes the significant potential in India's aviation market, which is currently the world's third-largest. Indian domestic airlines have approximately 1,500 aircraft on order.
While underscoring India's status as a focus and priority market for GE Aerospace, Rai believes that domestic airlines will consider expanding their fleets with more wide-body aircraft and deploying them on congested domestic routes. He described this strategy as mutually beneficial for both GE Aerospace and the airlines.
India's commercial aviation fleet currently consists of approximately 700 planes, with only around 50 being wide-body aircraft. Air India operates a fleet of approximately 49 wide-body aircraft, while IndiGo has two wide-body planes under wet lease agreements.
Given the need for replacements within the existing wide-body fleet, there is significant potential to introduce 130-150 more wide-body planes in India's aviation market, according to Rai. The increasing number of international passengers originating from India also presents favorable conditions for the growth of the wide-body segment.
The government is actively exploring strategies to establish international aviation hubs in India in response to the rising air passenger traffic. This initiative aims to enable domestic carriers to offer direct flights to various overseas destinations.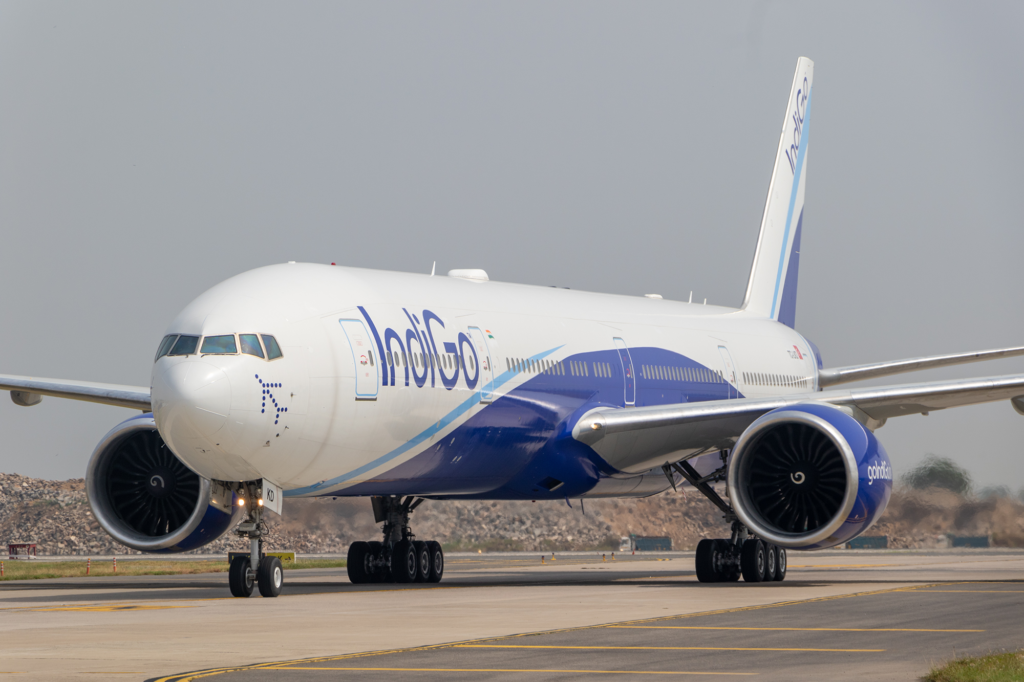 Strong Growth
"At present, a significant portion of travelers flying from India to international destinations rely on connecting flights offered by foreign airlines.
"We aim to reach a stage where we can provide end-to-end travel solutions for our passengers. This represents the next phase of our growth strategy," Rai remarked.
India's Ministry of Civil Aviation has been advocating for Indian carriers to expand their fleets of wide-body aircraft to secure a larger share of the long-haul travel market.
Rai highlighted the potential for deploying wide-body planes on densely traveled domestic routes, which could help alleviate congestion issues at airports.
Drawing examples from the Japanese and Chinese markets, where wide-body aircraft are commonly used for domestic operations, he suggested that airlines could consider employing wide-body planes instead of two narrow-body aircraft on busy routes like Delhi-Mumbai. This approach would optimize airport parking slots.
"In densely traveled domestic routes, given the surge in passenger traffic and India's ranking as the third-largest civil aviation market, it's likely that wide-body aircraft will also operate on domestic routes. The future isn't limited to international wide-body operations; it includes deploying wide-body aircraft on densely traveled domestic routes."

Vikram Rai, CEO of GE Aerospace South Asia
The Indian market is expected to receive approximately 1,100 aircraft powered by GE Aerospace or CFM engines over the next eight to nine years. CFM International is a joint venture between GE and Safran Aircraft Engines.
GE Aerospace has firm orders for 40 GEnx-1B and 20 GE9X engines to power Air India's 20 Boeing 787 and 10 Boeing 777X aircraft, which are on order. They have also established a multi-year TrueChoice engine services agreement.
Furthermore, Air India has placed orders for over 800 LEAP engines from CFM. This engine order covers the airline's entire narrow-body fleet, comprising 210 Airbus A320/A321neo aircraft and 190 Boeing 737 MAX-family aircraft. It also includes a multi-year CFM services agreement."
Dupoly but Space for Others
Regarding concerns about a possible duopoly in the Indian airline market, Rai emphasized that significant consolidation is currently taking place, and there will continue to be opportunities for additional carriers.
"I wouldn't necessarily describe it as a duopoly… there will always be room for third or fourth carriers. India's market is too vast to be characterized as a duopoly," he stated.
IndiGo held a domestic market share of 63.3% in August, while the Air India group accounted for 26.7%, according to the latest official data. The Air India group comprises Air India, Vistara, and AirAsia, which has been rebranded as AIX Connect.
Stay tuned with us. Further, follow us on social media for the latest updates.
Also Read: US Airlines, Including American, United, Delta, and Southwest, want you to Dress Properly – Aviation A2Z
Join us on Telegram Group for the Latest Aviation Updates. Subsequently, follow us on Google News.