DUBAI, UAE- Emphasizing the significance of the journey alongside the destination, Emirates (EK) holds the belief that the experience in transit matters greatly.
Central to this experience is the exceptional cabin crew who bring Emirates' distinctive inflight service to life at an altitude of 38,000 feet.
Emirates' cabin crew team has achieved a significant milestone, reaching a remarkable strength of 20,000 members. This accomplishment comes as Emirates actively continues its global recruitment of cabin crew to align with its ambitious growth plans.
Emirates 20,000 Cabin Crew Members
From the year 2022, the airline has orchestrated recruitment events across 340 cities spanning 6 continents. This extensive outreach reflects the diverse composition of Emirates' cabin crew team and the wide-ranging destinations it serves.
Over the course of three decades, the iconic Emirates cabin crew uniform has undergone four notable transformations. Notably, in 1997, the renowned Spanish designer Paco Rabanne contributed to the design.
While evolving over time, the iconic beige hue has remained consistent, and the subtle modern refinements have faithfully preserved the elegant and timeless style that the uniform has epitomized through the years.
Embracing the thrill of flying – Emirates' dedicated veteran crew
Among those who have witnessed the evolution of these uniform styles, two cabin crew members stand out as the airline's most enduring representatives – an Emirati male purser who embarked on his Emirates journey in 1987 and the longest-serving female cabin crew who became part of the Emirates family in 1994.
Moosa Mubarak, an Emirati Purser, and the airline's longest-serving cabin crew shared his sentiments:
"I have been a part of Emirates' cabin crew for 36 years, having taken to the skies on more than 3,500 flights. Even now, my enthusiasm to embark on each duty onboard remains undiminished after all these years. Guiding and mentoring my fellow crew members while acting as an ambassador for both Emirates and my country fills me with immense pride. I can look back on a long and rewarding career, enriched with remarkable experiences and unforgettable memories, all while engaging in what I am truly passionate about."
Vibrant 140 nationalities
With a mosaic of backgrounds spanning 140 nationalities and fluency in 130 languages, Emirates boasts a dynamic cabin crew team that operates in an ever-shifting environment, alternating between a 38,000-foot view and the diverse cities they visit each week.
This unique blend of allure and constant change continues to nurture and challenge the Emirates cabin crew, empowering them to realize their full potential.
Many crew members have played an integral role in Emirates' growth narrative, with over 4,000 having served between 5 and 9 years; nearly 3,000 contributing between 10 and 14 years; more than 1,500 dedicating 15 to 19 years; and approximately 400 reaching the remarkable milestone of 20 years of dedicated service.
Notably, there are three crew members who have been steadfastly associated with the airline for over three decades.
The career path for cabin crew is rich in progression opportunities, encompassing advancements to higher cabin levels, roles as cabin supervisors, trainers, or pursers.
Presently, the airline boasts over 1,100 pursers who have ascended the ranks, starting as junior cabin crew members and undergoing comprehensive training and assessments.
Emirates ensures that its cabin crew stays at the forefront of its field, offering access to cutting-edge training programs, LinkedIn courses, and the chance to apply for internal positions across the broader Emirates Group.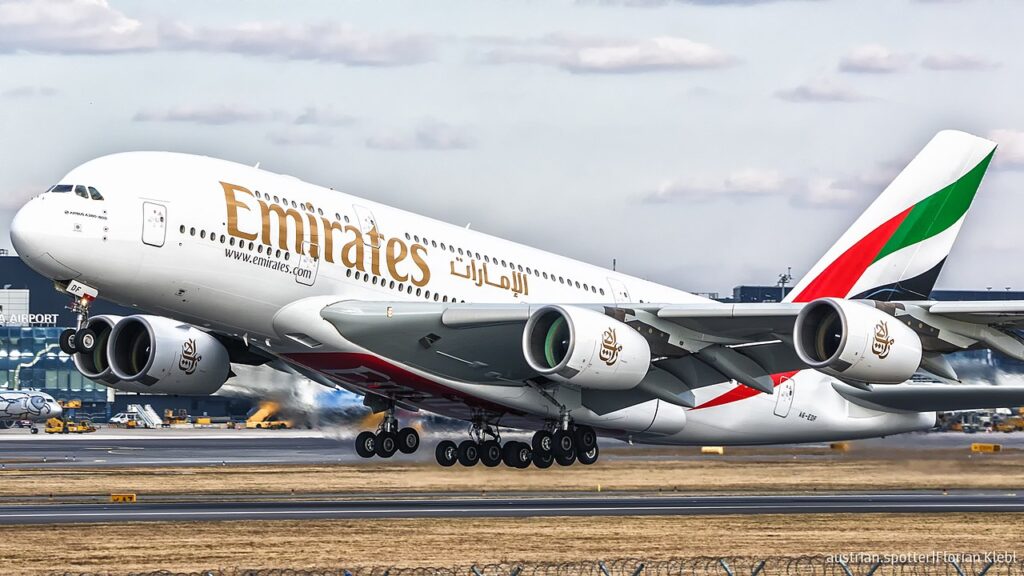 Attracting Talent Worldwide
Gearing up for its upcoming expansion phase, the airline is set to host extensive global recruitment events spanning numerous cities throughout the year.
Emirates' cabin crew truly epitomizes a cosmopolitan lifestyle based in Dubai – a dynamic city serving as a melting pot for 200 nationalities. Renowned for its hotels, restaurants, diverse food scene, leisure offerings, and status as one of the world's safest cities, Dubai provides an ideal backdrop for the crew.
Emirates extends to its cabin crew a competitive, tax-free salary and flying pay, eligibility for profit sharing, accommodation during layovers, concessional travel, and cargo benefits, annual leave, an annual leave ticket, furnished housing, transportation to and from work, comprehensive medical, life, and dental insurance coverage, laundry services, and a range of other perks.
Furthermore, Emirates cabin crew can access heavily discounted tickets for friends and family. With Dubai's strategic geographical location and the airline's extensive network encompassing over 130 destinations, creating cherished memories with loved ones is just a flight away.
All incoming cabin crew members undergo an intensive 8-week training program that upholds the highest hospitality, safety, and service excellence standards.
This comprehensive training takes place in Emirates' cutting-edge facility in Dubai, providing job-specific skills and valuable life skills through interaction with a diverse crew community and exposure to new cultures and destinations within the Emirates network.
The opportunity for those aspiring to join the Emirates cabin crew is just one recruitment event away. To learn more about eligibility criteria, benefits, the training program, and the global recruitment event schedule, and to apply, please visit the Emirates cabin crew careers page here.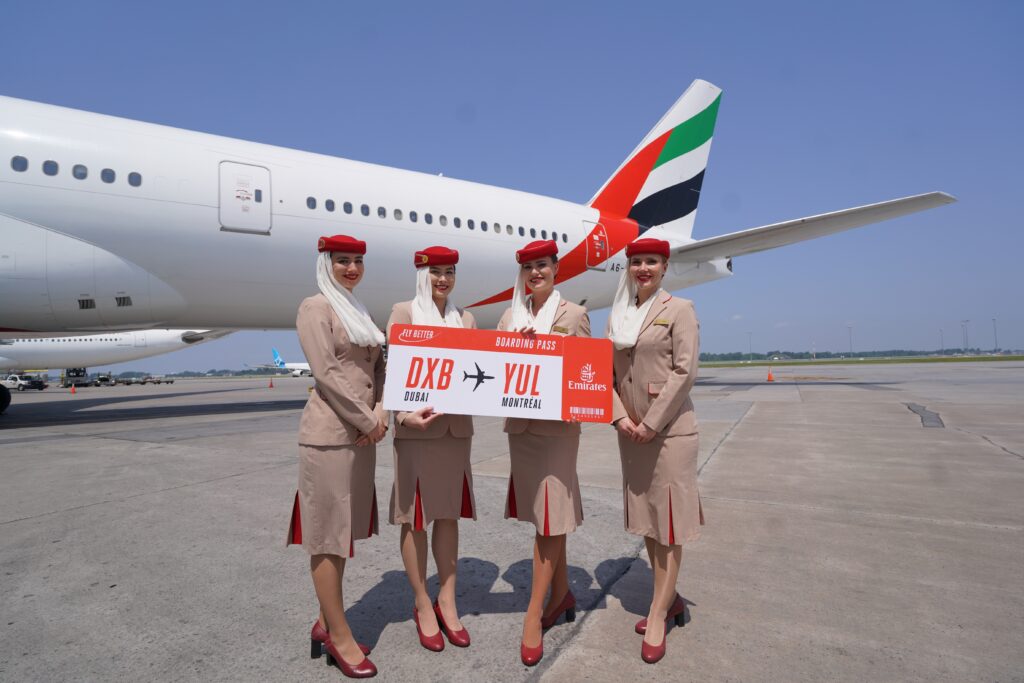 Emirates' Distinctive Cabin Crew Attire
Interesting Facts:
The beige hue of the Emirates' uniform symbolizes the UAE's radiant golden sands.
The cream-colored Emirates scarf, adorned with 7 pleats, mirrors the 7 emirates of the UAE.
Crafting uniforms for the 20,000-strong Emirates cabin crew requires an impressive 1,627,000 meters of fabric, an extensive 153,000 kilometers of thread, and a staggering 1,815,000 buttons.
Stay tuned with us. Further, follow us on social media for the latest updates.
Also Read: US Airlines, Including American, United, Delta, and Southwest, want you to Dress Properly – Aviation A2Z
Join us on Telegram Group for the Latest Aviation Updates. Subsequently, follow us on Google News.