KOCHI- Tata-owned low-cost carrier Air India Express (IX) flight from Cochin Int;l Airport (COK) to Sharjah Int'l Airport (SHJ) made an emergency landing back at COK after one of the passengers reported a burning smell inside the cabin.
The incident occurred on August 2, 2023 (Yesterday), and following this, the airline arranged alternative aircraft.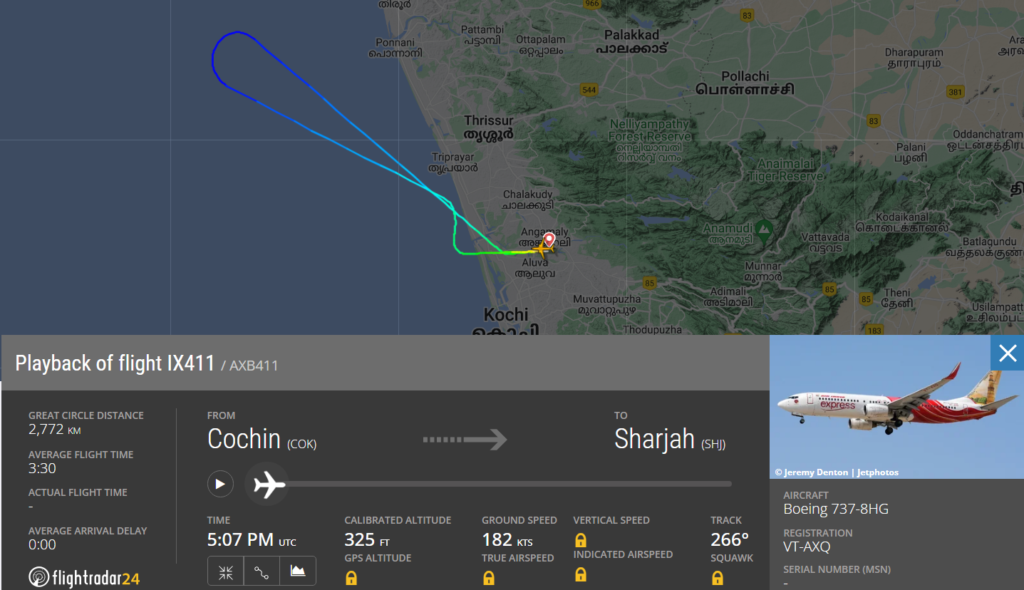 Air India Express Burning Smell Incident
Now let us establish the flight timeline using FlightRadar24 data. The Air India Express flight IX411 took off from COK at 5:06 PM UTC (10:36 PM IST).
Shortly after takeoff, the passenger onboard the Boeing 737 reported a burning smell. Subsequently, a passenger reported it to the cabin crew, and the flight crew was immediately notified. Forcing the plane to make a precautionary landing at Cochin.
The flight crew decided to land immediately at COK without burning extra fuel. The flight landed safely at COK at 5:37 PM UTC. The aircraft remained airborne for just 30 minutes.
Air India Express engineering team inspected the aircraft on the tarmac but found nothing odd with the plane. The smell can come from leakage of lubricants or fuel inside the engine.
The aircraft involved in the incident is a Boeing 737-800, registered as VT-AXQ. Further, it is a 16.3-year-old aircraft; Boeing delivered it to IX in 2007.
The airline arranged an alternative Boeing 737-800, registered as VT-AXJ. The flight took off in the early morning at 5:45 AM IST, carrying around 175 passengers to Sharjah, reported ET.
The passenger faced a seven-hour delay due to this minor incident, but the delay is better than any major mishap.
Similar Incident
On July 31, 2023, Air India Express (IX) flight from Tiruchirappalli (TRZ) to Sharjah (SHJ), UAE, made an emergency landing at Thiruvananthapuram (TRV) due to a technical snag.
The Indian carrier focused on gulf routes have a fleet of all Boeing 737NG aircraft. Further, the flight is operated using Boeing 737-800, registered as VT-AYD.
Immediately after takeoff, the flight crew declared a full emergency. Subsequently, they wanted to burn extra fuel, and they have a better maintenance facility at TRV. Following this, they contacted TRV ATC and asked for a diversion.
Stay tuned with us. Further, follow us on social media for the latest updates.
Also Read: Indian Students Deported Back to Delhi from USA on Delta Flight – Aviation A2Z
Join us on Telegram Group for the Latest Aviation Updates. Subsequently, follow us on Google News.