NEW YORK- According to a lawsuit filed in Brooklyn Federal Court, a passenger on a Delta Air Lines (DL) flight allegedly consumed numerous alcoholic drinks, including at least 10 vodka drinks and a glass of wine, before inappropriately touching a 16-year-old girl and her mother.
The lawsuit claims that during the almost 9-hour flight from New York (JFK) Airport, the flight attendants "blatantly ignored" the pleas for help from the affected passengers, even when they requested the passenger's alcohol service to be stopped.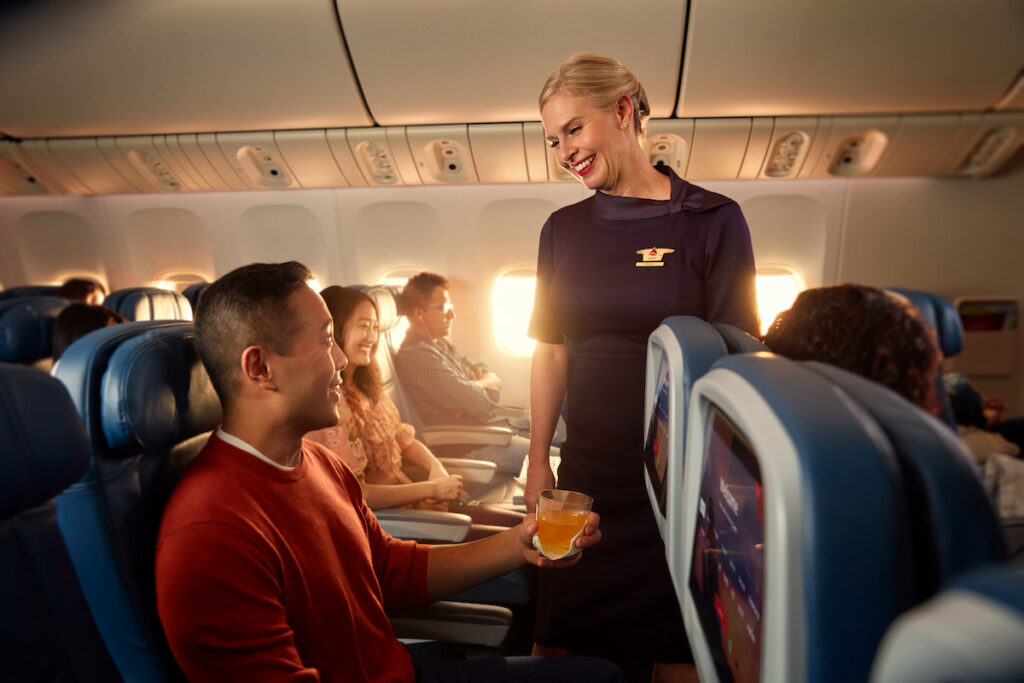 Delta Drunk Passenger Assaults Mother and Teen Girl
"What happened to them during a flight was not just a nightmare. It was completely preventable," said the family's lawyer, Evan Brustein, of the July 26, 2022 trip.
According to lawsuit documents submitted on Tuesday in a Brooklyn Federal lawsuit, flight attendants on a nightmare journey out of JFK Airport "blatantly ignored" the couple's cries for assistance. This also includes a demand to stop providing the abuser with alcohol.
Despite his state, the flight staff is facing accusations of serving vodka to a visibly intoxicated man.
According to media reports, when the mother expressed her concern, a flight attendant dismissed her complaint and told her to "be patient."
The man, whose identity remains unknown but claimed to be from Connecticut. He went to the restroom and could be heard vomiting before returning with a glass of wine, as stated by the mother and her daughter.
Rather than relocating the intoxicated man to a different seat, a flight attendant allegedly instructed him to stop communicating with the victims.
This resulted in an angry and profanity-laden outburst from the drunk passenger. Using offensive language, He verbally abused the mother and her 16-year-old child.
Two Million Dollar Lawsuit
As per the $2 million lawsuit, the teenager experienced a panic attack and described the intoxicated Delta passenger touching her inappropriately, with his fingers under her shirt and over her body, including her bra strap.
Delta declined to offer detailed comments on the lawsuit but stressed that they have a "zero tolerance" policy for customers who engage in inappropriate or unlawful behavior.
Southwest Drunk Passenger Incident
According to authorities, an aggressive and Drunk woman passenger from Kansas bites and kicked deputies from the Jefferson Parish Sheriff's Office, who had to intervene and remove her from a Southwest (WN) Airlines flight.
The incident occurred at Louis Armstrong New Orleans International Airport, leading the flight to return to the gate.
Multiple passengers recorded the arrest of Kamaryn Gibson on video during the May 29 flight. In a separate incident, a married couple from Washington was arrested by Sheriff's Office deputies four days later after they engaged in a fight during a flight to New Orleans.
According to authorities, she repeatedly placed her feet on the seat in front of her. Further kicking the passenger sitting there in the head.
Despite the authorities' instructions, Gibson refused to remove her feet. Prompting the pilots to bring the taxiing plane back to the gate, as explained by Rivarde.
Stay tuned with us. Further, follow us on social media for the latest updates.
Also Read: US Airlines, Including American, United, Delta, and Southwest, want you to Dress Properly – Aviation A2Z
Join us on Telegram Group for the Latest Aviation Updates. Subsequently, follow us on Google News.