VARANASI- India's largest carrier, IndiGo (6E) Airlines, has introduced a new flight route to enhance domestic connectivity and support mobility in Uttar Pradesh.
The decision comes in response to the state's surging demand for air travel. Further fueled by business and leisure travelers and those embarking on spiritual journeys.
IndiGo New Lucknow Varanasi Flights
With the launch of this new route, IndiGo is expanding its domestic reach and offering customers increased flight options for travel between two of the most frequented destinations in Uttar Pradesh.
The airline will operate daily flights on this route during winter. Further boosting accessibility between Lucknow and Varanasi.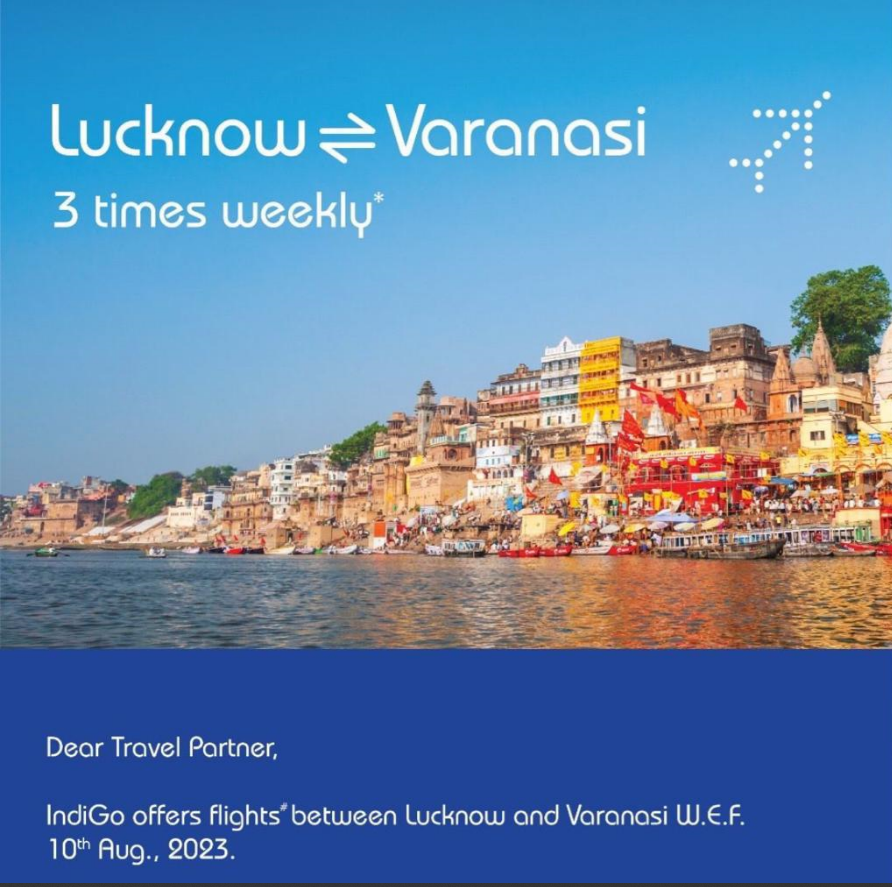 Vinay Malhotra, Head of Global Sales at IndiGo, expressed excitement about the new flight connections. This will link the culturally and historically rich cities of Uttar Pradesh – Lucknow, and Varanasi.
These densely populated cities in North India attract a significant number of both domestic and international tourists. The demand for air connectivity within and to/from Uttar Pradesh has witnessed remarkable growth in recent months.
IndiGo, as India's preferred carrier, aims to meet this demand and facilitate seamless travel experiences between Varanasi, Lucknow, and other destinations through its extensive network of domestic flights.
Further, the airline is committed to its promise of providing on-time, affordable, courteous, and hassle-free travel experiences to customers across its wide network.
Promising Future
The introduction of this new flight route comes at a time when Lucknow and Varanasi are poised for increased tourist and business traveler influx. This is due to ongoing growth and development in the travel, tourism, and mobility sectors.
The cities are focused on enhancing railways, airways, and greenfield expressways. Further to cater to the rising demand for travel options and improved transportation.
As travelers seek more convenient and efficient ways to move within and beyond Uttar Pradesh, IndiGo's new route connecting Lucknow and Varanasi is expected to bolster domestic connectivity significantly. Subsequently, catering to the diverse needs of passengers from various walks of life.
Stay tuned with us. Further, follow us on social media for the latest updates.
Also Read: US Airlines, Including American, United, Delta, and Southwest, want you to Dress Properly – Aviation A2Z
Join us on Telegram Group for the Latest Aviation Updates. Subsequently, follow us on Google News.