PARIS- Flag carrier of UAE, Emirates (EK), has joined forces with Extime at Paris Charles de Gaulle (CDG) Airport to introduce an exclusive lounge space in Terminal 1, just in time for the bustling summer travel season.
This collaboration allows premium travelers to indulge in a luxurious experience while Terminal 2 undergoes renovations.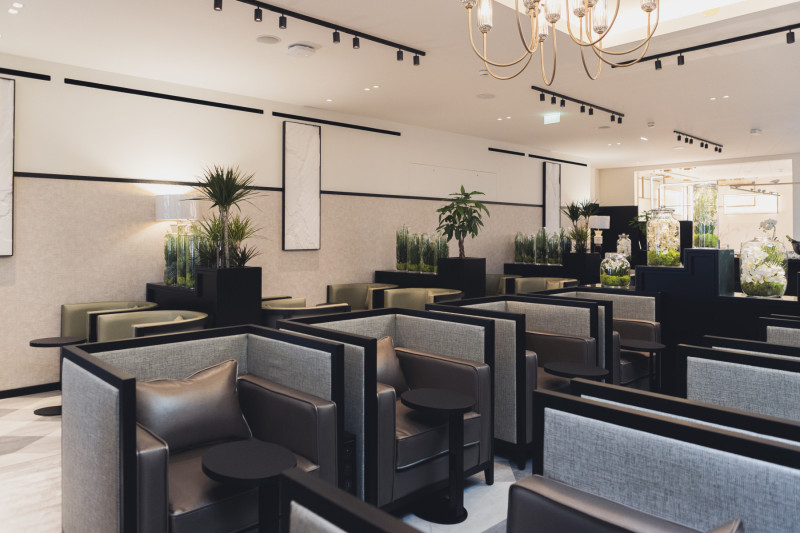 Emirates New Paris Lounge for Premium Travellers
As one of the few airlines with a dedicated space in Terminal 1, Emirates offers its passengers a sophisticated private lounge with 155 seats. Subsequently, indoor and outdoor areas and an impressive selection of food and beverages.
The lounge, serving an average of 190 customers daily, ensures the utmost comfort and refreshment until flight operations transition to Terminal 2 in July 2024, when a brand-new Emirates Lounge is set to open.
Emirates' esteemed customers can savor a wide range of culinary delights throughout the day. This includes popular French dishes like Croque-monsieur, crêpes, and French financier and international favorites such as salmon tikka, fish tajin, butter chicken, and beef stroganoff.
Experienced professionals from Haute Hospitality staff the lounge. Further ensuring exceptional service and a memorable dining experience.
With its bright and airy bistro ambiance, the chic lounge boasts stylish wood and leather accents against a backdrop of warm white tones.
Green topiary and contemporary light fixtures add to the refined atmosphere. Passengers can freshen up in showers and washrooms, stay connected with complimentary Wi-Fi, catch up on the latest news, and enjoy a generous buffet and alcoholic beverages from 6 am to 9:30 pm daily.
Furthermore, the lounge fully accommodates individuals with reduced mobility, promoting inclusivity and accessibility.
Commitment to Premium Travel
Securing an exclusive lounge within the confines of Terminal 1 demonstrates Emirates' unwavering commitment. Further, the substantial investment in delivering high-quality experiences for premium travelers and frequent flyers.
This achievement also underscores the strong partnership between Emirates and the CDG airport community.
The longstanding relationship between Emirates and Paris Charles de Gaulle began in 1992. Subsequently, this month marks the 32nd anniversary of the Dubai-Paris route.
Paris-Charles de Gaulle Airport is currently undergoing a renovation program that is expected to continue until 2024.
The project aims to expand and modernize airport facilities to accommodate a larger number of passengers and increase air traffic. With the goal of reaching an impressive milestone of 80 million passengers per year.
Stay tuned with us. Further, follow us on social media for the latest updates.
Also Read: US Airlines, Including American, United, Delta, and Southwest, want you to Dress Properly – Aviation A2Z
Join us on Telegram Group for the Latest Aviation Updates. Subsequently, follow us on Google News.