TOULOUSE- European plane maker Airbus (EPA: AIR), today, on July 10, 2023, celebrates the five years of the A220 since its induction in 2018. Further, the company bought the prototype from Canadian Bombardier and renamed them as A220s.
The earlier version of A220s are named Bombardier CS100 and CS300 jets. Subsequently, they are now anointed as A220-100 and A220-300.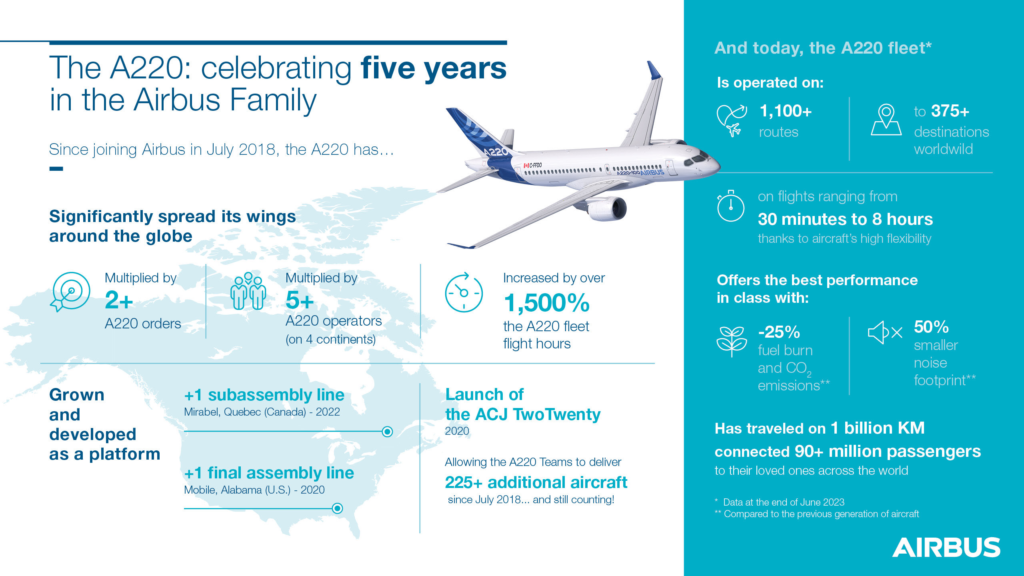 Airbus Celebrates Five Years of A220 Induction
The leading global aerospace company shared the 5 years and 5 great reasons to celebrate the arrival of the A220 into the Airbus Family.
These reasons are as follows:
First of all, they now operate two production sites for A220s. These sites are located in Mirabel, Quebec, Canada, and another one in Mobile, Alabama, USA.
Second, they now have five times more operators than ever before. Subsequently, some of the renowned A220 operators are Delta Air Lines (DL), airBaltic (BT), Air Canada (AC), Swiss International Airlines (LX), and Air France (AF). In total, there are around 20 A220 operators across the globe as of June 2023.
Third, these operators are situated across four continents and operate it in these continents.
Fourth, since the induction of the A220 into its family, it has carried more than 90 million passengers to date.
Fifth and final point, the A220 serves a total of over 1100 routes on four continents.
More About this Gamchangers
The A220 family consists of two models, namely the A220-100 and A220-300. These aircraft are specifically designed to cater to the market of 100 to 150 seats. Further providing a seamless addition to Airbus' highly popular A320neo family, offering optimal synergy.
Guillaume Faury, President of Airbus Commercial Aircraft, expressed great anticipation for this significant milestone.
He stated, "Everyone at Airbus has eagerly awaited this historic moment. Today, we are incredibly excited to embrace the A220 as part of the Airbus family and feel privileged to witness its inaugural appearance in the distinctive Airbus livery."
Faury extended his appreciation to the dedicated individuals at Bombardier and throughout the supply chain, acknowledging their tireless efforts in bringing this exceptional aircraft to the global market.
With the A220 now embarking on a new chapter in its journey, it can benefit from the full backing and resources of Airbus to further enhance its commercial success on a global scale.
Eric Schulz, Airbus' Chief Commercial Officer at the time of inducting these A220, stated: "We are enthusiastic about incorporating the A220 into the Airbus Family. I have received positive feedback from customers, and this contributes to my optimism that within the Airbus network, we will make the A220 a great commercial success."
Stay tuned with us. Further, follow us on social media for the latest updates.
Also Read: US Airlines, Including American, United, Delta, and Southwest, want you to Dress Properly – Aviation A2Z
Join us on Telegram Group for the Latest Aviation Updates. Subsequently, follow us on Google News.