AMSTELVEEN, NETHERLANDS- In response to the Dutch Ministry of Infrastructure & Water Management's proposal to reduce noise impact by 20% during the day and 15% at night, the KLM Group has presented a comprehensive plan.
The KLM Group fully supports and embraces additional measures for noise abatement. By submitting their plan, the KLM Group is committed to achieving the night-time noise reduction target as early as 2024.
These proposed measures will continue to reduce noise for local residents in the next three years and in the subsequent years.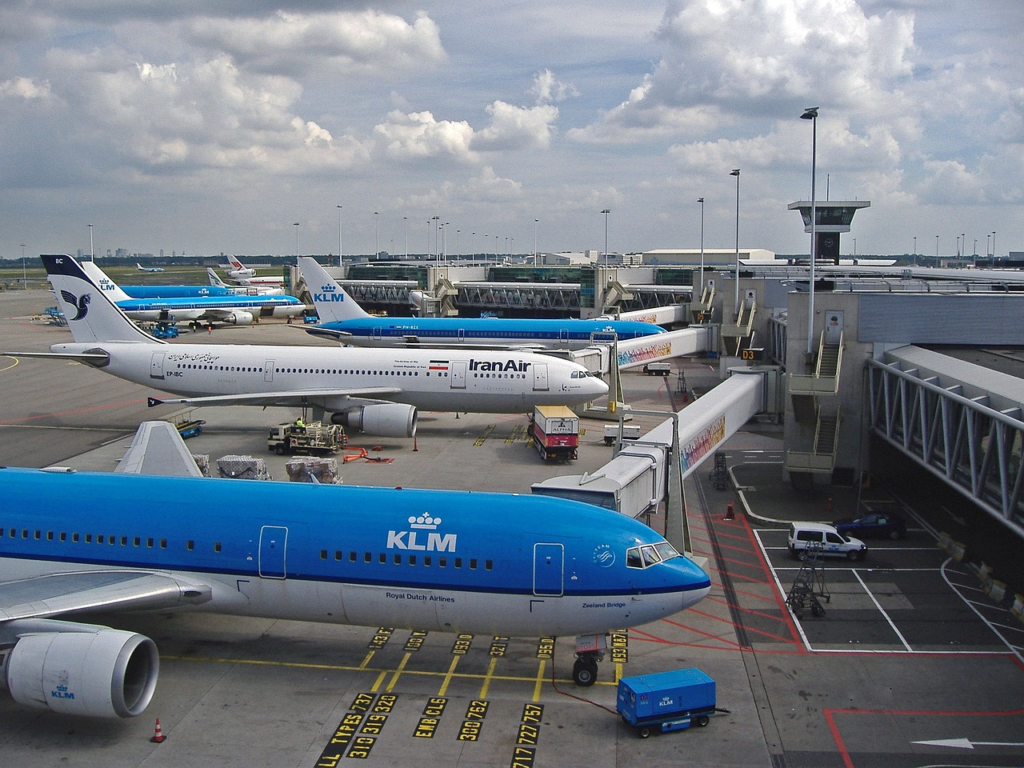 Netherland Noise Regulations
In the coming decades, the Netherlands is confronted with significant challenges that call for collective efforts to make our country greener and cleaner.
Simultaneously, there is a desire to ensure quieter conditions for individuals residing near airports. As a result, the Dutch ministry has established new noise targets.
The minister's strategy centers on a substantial reduction in the number of flights to swiftly attain these targets. Unfortunately, this proposal carries several drawbacks.
Currently, the minister's plan lacks emphasis on renewal and improvement. It fails to differentiate between newer and older aircraft, which have varying levels of cleanliness and noise reduction.
Additionally, the plan neglects to acknowledge that significant flight cutbacks will impact national assets.
KLM Presents Noise Reduce Plan
Firstly, the KLM Group intends to allocate the money earned today towards investments in cleaner, quieter, and more efficient aircraft for the future.
Over the upcoming years, the KLM Group plans to invest EUR 6 to 7 billion in this endeavor. Newer aircraft exhibit an average noise reduction of 50% compared to the aircraft they replace, resulting in a significant decrease in noise impact, as evidenced by recent data.
Secondly, the KLM Group has extensively studied and explored smarter operational processes to ensure quieter operations, leading to substantial noise reduction. This includes exploring alternative flight approach procedures that minimize aircraft time spent at lower altitudes.
Implementing such changes poses challenges for both airlines and Air Traffic Control in the Netherlands (LVNL).
However, if all operators collaborate with the KLM Group to embrace these changes, in conjunction with Schiphol, LVNL, and the government, we can collectively achieve our noise reduction targets.
Monitoring these agreements through the Human Environment and Transport Inspectorate (ILT) will help ensure compliance from all airlines.
Thirdly, the KLM Group will adjust its flight schedules to prioritize deploying the quietest aircraft during nighttime operations.
Additionally, the proposal suggests implementing higher airport fees for noisier aircraft compared to quieter counterparts at Schiphol. This incentivizes all airlines operating at Schiphol to minimize noise impact by utilizing their most silent fleet.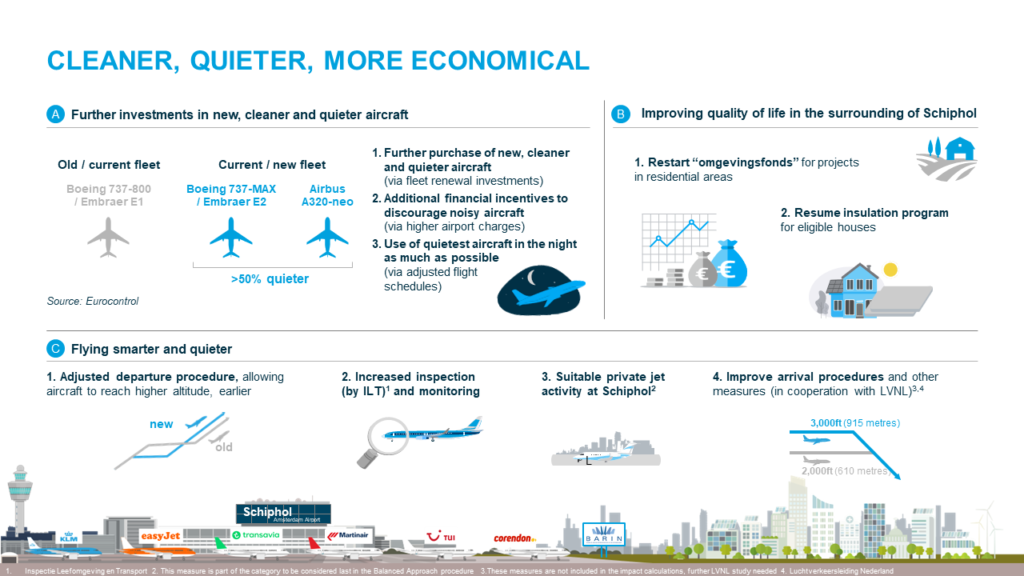 Work Together for Better Implementation of Noise Reduce Plan
Starting in 2024, we will successfully reach our noise reduction targets during nighttime operations. Furthermore, within three years, we aim to achieve our targets for the entire day, surpassing the proposed plan by the minister.
Subsequently, our plan will contribute to a more significant decline in noise impact over the following years.
Residents in local communities will experience improved results within this three-year timeframe. Ultimately, the choice lies between temporarily reducing flights or pursuing intelligent and sustainable enhancements as a long-term solution.
If everyone is willing to contribute to this challenge, our plan will result in an 18% reduction in the number of individuals affected by significant night-time noise impact by 2024.
Additionally, by 2026, our intelligent plan will ensure a 20% decrease in noise nuisance throughout the entire day. This downward trend in noise impact will persist in the following years.
Our objective is to minimize the impact on the areas surrounding airports. Merely focusing on reducing the number of flights and strictly adhering to a 2024 deadline is not the sole solution. There are alternative approaches to address this issue. Our strategy guarantees a continued decline in noise impact.
We fully acknowledge our responsibility and are taking appropriate actions accordingly. Therefore, we seek constructive engagement with all stakeholders so that we collectively opt for the most intelligent approach that will demonstrably lead to a cleaner, quieter, and more fuel-efficient resolution.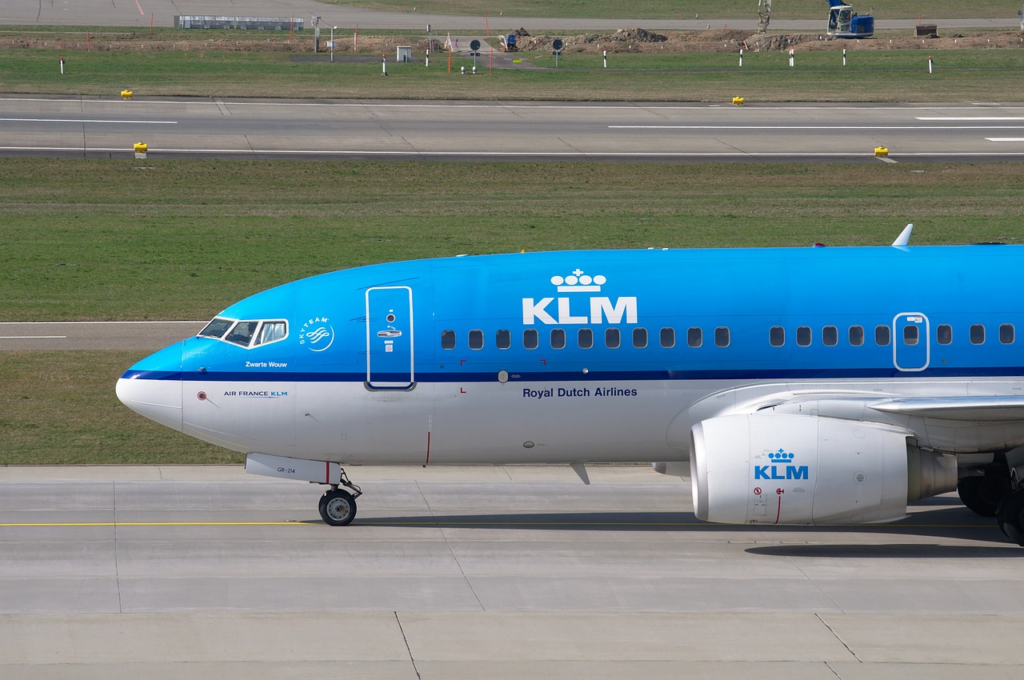 Bottom Line
Within this framework, the KLM Group, alongside other industry participants such as easyJet, TUI, Corendon, and BARIN, actively explored potential sets of measures aligned with the principles of the Balanced Approach.
As a result, a comprehensive package of measures has been formulated, satisfying the specified noise targets while achieving a more equitable, rational, and economically advantageous outcome for society's well-being and prosperity.
Stay tuned with us. Further, follow us on social media for the latest updates.
Also Read: US Airlines, Including American, United, Delta, and Southwest, want you to Dress Properly – Aviation A2Z
Join us on Telegram Group for the Latest Aviation Updates. Subsequently, follow us on Google News.