MANCHESTER, UK- The third busiest airport in the United Kingdom, Manchester Airport (MAN), is facing around 50-60 minutes delays due to storm, gusty winds, and rain.
Flight Radar 24 data shows that many flights are circling around the airport due to poor weather around the airport. Further, the flights by Emirates (EK), SAS (SK), RyanAir (FR), etc., are circling a lot around MAN.
Manchester Airport Delays
Due to the storm and heavy winds, the flights are facing delays. However, the airport staff are trying their best to keep the airport functional. Subsequently, Air Traffic Controllers are aligning flights properly.
Luckily No flights are yet diverted and are seen aligning to land as we write this article. Further flights around the aircraft are some of the most tracked flights on Flight Radar 24.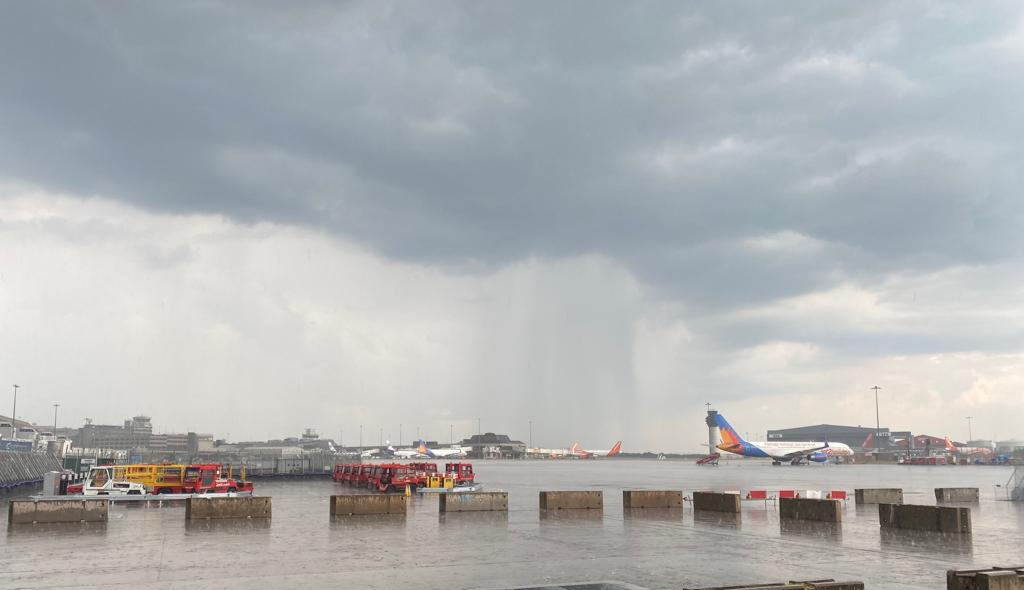 Seven of the 10 most tracked flights are inbound to Manchester Airport. This includes Emirates Dubai (DXB)-MAN, Ryanair (FR) Barcelona (BCR)-MAN, Loganair (LM), Aberdeen (ABZ)- MAN, Qatar Airways (QR) Doha (DOH)- MAN.
Further, Ryanair's other European cities to MAN flights are also one of the most tracked.
So if you are going to board from or boarding for MAN, then please expect these delays and reach the airport early.
Mumbai Airport Affected by Cyclone Biparjoy
Due to the bad weather amid cyclone Biparjoy spilling over the Arabian Sea, flight operations at Mumbai Airport were impacted last night.
As cyclone Biparjoy's intensity grew and became an "extremely severe cyclonic storm," it pummelled Mumbai with torrential rain and strong winds.
As hundreds of travelers waited for hours to board their planes, the Mumbai International Airport saw scenes of agitation and unrest. Due to the weather, many flights were delayed or canceled, and some had to abort the landing.
Late Friday night, Air India released a statement stating that some of its flights departing from Mumbai would be delayed due to poor weather and a temporary runway closure.
Flight delays cause us just as much pain as discomfort. We're only forced to adjust the schedule in this way under severely uncontrolled circumstances. Indigo responded to a passenger's tweet, "We look forward to your kind understanding.
Stay tuned with us. Further, follow us on social media for the latest updates.
Also Read: US Airlines, Including American, United, Delta, and Southwest, want you to Dress Properly – Aviation A2Z
Join us on Telegram Group for the Latest Aviation Updates. Subsequently, follow us on Google News.