DUBAI- Middle East Carrier Emirates (EK) Flight Training Academy's latest addition to its fleet, three new Diamond aircraft, has taken flight. Further, it has seamlessly integrated into the cadet training program.
Emirates Flight Training Academy (EFTA), renowned for its cutting-edge pilot training programs, recently welcomed the third Diamond DA42-VI light piston twin-engine aircraft to its fleet.
Emirates FTA Adds New Aircraft
These Diamonds have introduced the academy's multi-engine piston (MEP) training. Further, serving as a crucial link between single-engine and light jet training. Subsequently, this addition brings EFTA's training fleet to a total of 30 aircraft.
The aircraft embarked on a captivating journey from Vienna, Austria, to Dubai, Sporting the Emirates' distinctive new livery and boasting a remarkable flying range of 1,225 nautical miles.
EFTA's instructor pilots made noteworthy pit stops in Heraklion, Crete, and Sharm El-Sheikh, Egypt, creating an intriguing travel log along the way.
In addition to the existing fleet of 27 Cirrus and Phenom jets, EFTA's students can train on three distinct aircraft types before completing their studies at the academy.
This unique offering sets EFTA apart in the realm of cadet flight training. Further providing students with a rare and comprehensive training experience.
Executive Insights
Captain Abdulla Al Hammadi, Vice President of Emirates Flight Training Academy, expressed its commitment to continually enhancing its training ecosystem by investing in advanced tools, technology, and infrastructure.
The goal is to ensure cadets are equipped with the highest level of skills, capability, and competence. Further preparing them for real-world aviation challenges.
Al Hammadi emphasized the academy's dedication to maintaining a steady supply of skilled pilots for Emirates and the entire aviation industry.
The addition of the Diamond aircraft to the training fleet was highlighted as a significant milestone. Captain Al Hammadi explained that these aircraft perfectly bridge the gap between single-engine training aircraft and very light jets. Further providing cadets with valuable experience on multi-engine piston aircraft.
The inclusion of the Diamonds expands the range of aircraft types available to cadets. Thereupon offering a more diverse and comprehensive learning experience.
Liqun (Frank) Zhang, CEO of Diamond Aircraft Austria, expressed pride in being part of Emirates' aviation legacy. He commended the academy for its forward-thinking approach to adopting cutting-edge technologies for training the next generation of airline pilots.
Zhang also emphasized Diamond's commitment to industry-leading technology, cost-effectiveness, safety, and environmental responsibility. Further expressed anticipation for the success of Emirates Flight Training Academy.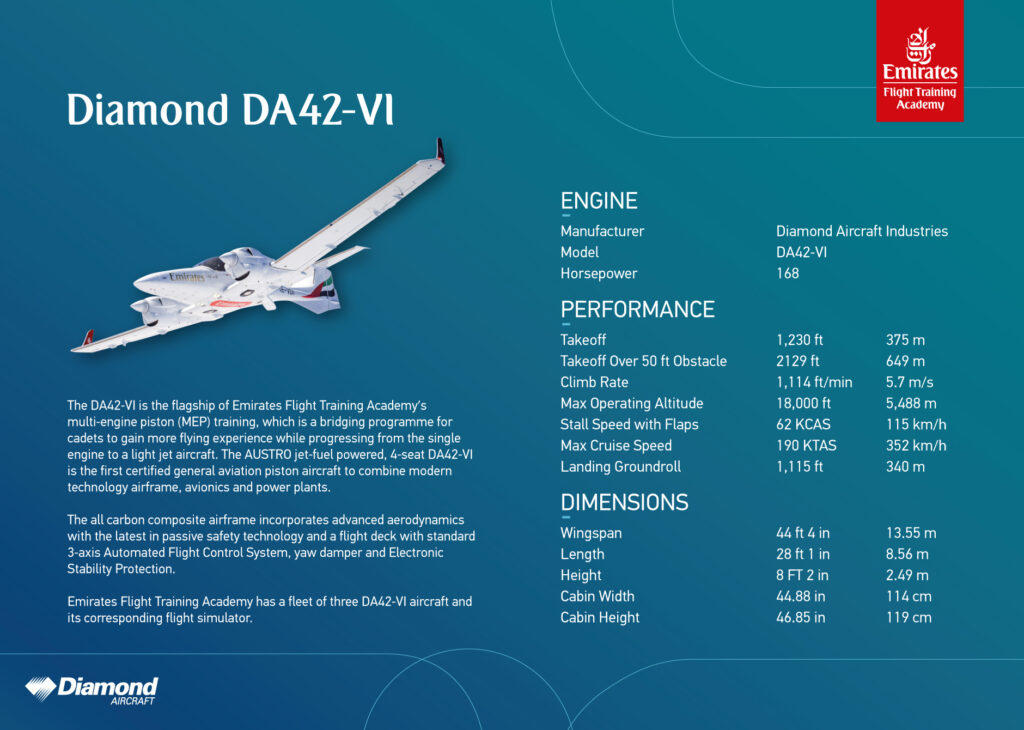 Diamond DA42-VI aircraft
In March of this year, the academy placed an order for three Diamond DA42-VI aircraft and a corresponding flight simulator. The deal's total value amounted to EUR 4 million at list prices.
The delivery of the simulator is expected to take place soon, and cadets will begin their training on the Diamond aircraft in the upcoming months.
The DA42-VI is the latest version of Diamond's technologically advanced light piston twin-engine aircraft. Further, it stands out as the first certified general aviation piston aircraft that integrates modern airframe technology, avionics, and power plants.
Designed with a focus on performance and versatility, the DA42-VI, powered by jet fuel, offers a smoother transition from single to twin-engine aircraft.
It achieves remarkable fuel savings of up to 50% compared to traditional AVGAS-powered twin-engine aircraft. Additionally, its panoramic canopy ensures excellent visibility during all flight maneuvers, enhancing the overall flying experience for cadets.
Stay tuned with us. Further, follow us on social media for the latest updates.
Also Read: US Airlines, Including American, United, Delta, and Southwest, want you to Dress Properly – Aviation A2Z
Join us on Telegram Group for the Latest Aviation Updates. Subsequently, follow us on Google News.