NEW ORLEANS- According to authorities, an aggressive and Drunk woman passenger from Kansas bites and kicked deputies from the Jefferson Parish Sheriff's Office, who had to intervene and remove her from a Southwest Airlines flight.
The incident occurred at Louis Armstrong New Orleans International Airport, leading the flight to return to the gate.
Multiple passengers recorded the arrest of Kamaryn Gibson on video during the May 29 flight. In a separate incident, a married couple from Washington was arrested by Sheriff's Office deputies four days later after they engaged in a fight during a flight to New Orleans.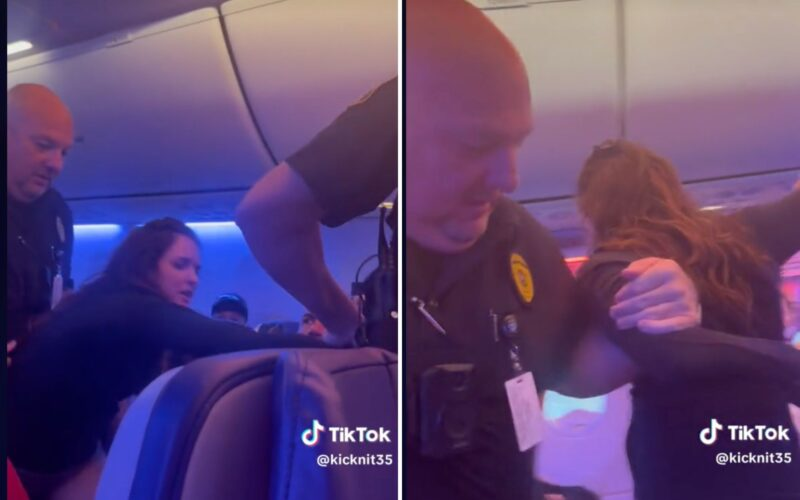 Southwest Drunk Passenger Incident
According to Capt. Jason Rivarde, spokesperson for the Sheriff's Office, Kamaryn Gibson, a 25-year-old from Olathe, Kan., exhibited signs of intoxication while on her flight. Which was originally planned to depart from New Orleans on the evening of Memorial Day.
According to authorities, she repeatedly placed her feet on the seat in front of her. Further kicking the passenger sitting there in the head.
Despite the authorities' instructions, Gibson refused to remove her feet. Prompting the pilots to bring the taxiing plane back to the gate, as explained by Rivarde.
Sheriff's Office deputies attempted to convince Gibson to leave the aircraft voluntarily. Further informing her that if she didn't comply, everyone would have to disembark, or she would be forcibly removed.
"Even after multiple requests, she refused to leave the plane," Rivarde stated.
In a video recorded on a cell phone, applause can be heard as the deputies apprehend Gibson, escort her down the aisle, and handcuff her.
After continued resistance, Gibson had to be placed in a wheelchair and transported to the airport police office for further handling. Rivarde stated that she was subsequently arrested. Further charged with three counts of battery of a police officer. For disturbing the peace while intoxicated, two counts of resisting an officer, and criminal mischief.
On May 30, she was released from the Jefferson Parish Correctional Center in Gretna after posting a bond of $6,000.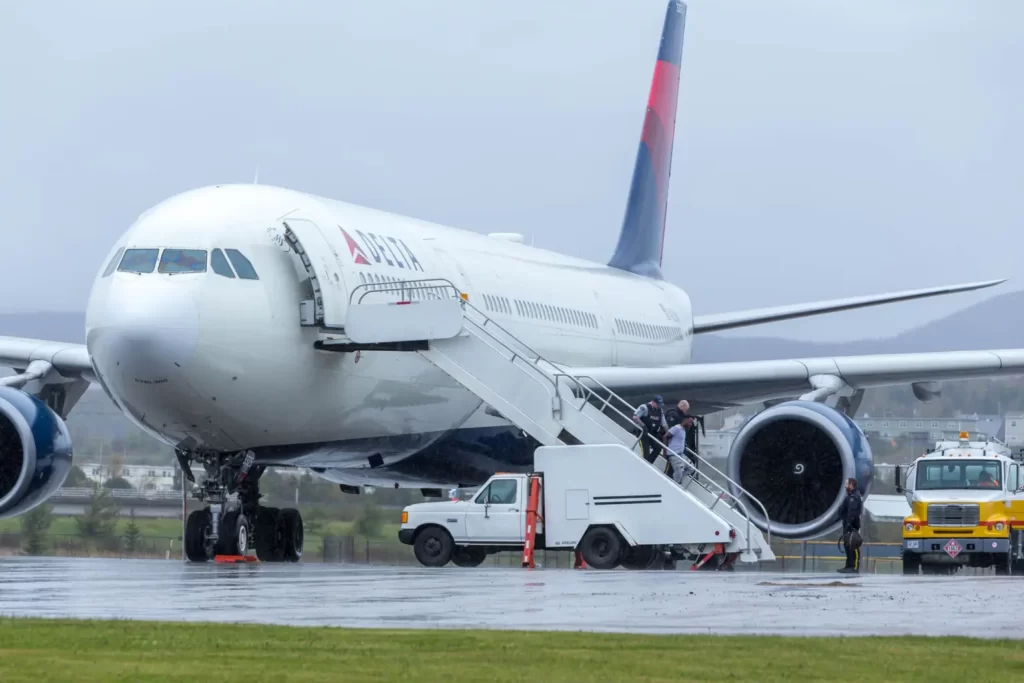 Similar Incident
Passengers aboard a Delta Air Lines (DL) flight took swift action when a restrained and unruly traveller, described as "violent," managed to break free, causing chaos onboard.
The incident occurred during an international flight departing from Paris and headed to Detroit, Michigan. In response to the disruptive behaviour shown by a 34-year-old passenger, a Delta flight was diverted to a Canadian airport.
According to reports by wxyz, the individual instilled fear among fellow travellers and the airline crew, prompting immediate intervention. Witnessing the unsettling situation, passenger Dena Haddad shared her concerns, stating, "Someone was being violent, and they wouldn't calm down. We wanted to get here as soon as possible. It was scary for a little bit."
Airline staff promptly restrained the unidentified man, whose erratic behavior led to the intervention. Nicolas Fougere, a passenger onboard the flight, recalled that his seatmate observed a heated argument between the suspect and another traveler, ultimately resulting in the crew restraining the individual.
Stay tuned with us. Further, follow us on social media for the latest updates.
Also Read: US Airlines, Including American, United, Delta, and Southwest, want you to Dress Properly – Aviation A2Z
Join us on Telegram Group for the Latest Aviation Updates. Subsequently, follow us on Google News.