UNITED KINGDOM- Crawley-based Virgin Atlantic (VS) has unveiled its latest plans for expansion, introducing new routes spanning three continents and utilizing newly acquired aircraft.
This strategic network growth is a response to the ongoing and consistent demand for international travel, presenting customers with an enhanced experience through the availability of over 250,000 extra seats across Virgin Atlantic's network compared to 2019.
Virgin Atlantic New Routes
Following last week's announcement of the airline's plans to reinstate seasonal summer flights between Manchester and Las Vegas. Henceforth its return to Dubai for operations from October to March, the company has now unveiled another exciting development.
The latest addition to their offerings is introducing a new service. Further expanding their route network and providing enhanced travel options to passengers.
Flights to Sao Paulo
Virgin Atlantic is expanding its international route network by venturing into South America. With a daily flight from London Heathrow to São Paulo, Brazil.
São Paulo, known for being one of the world's most populous cities, offers a thriving business environment. Further making it an attractive destination for corporate customers and business travellers seeking the renowned Virgin Atlantic experience.
Leisure travellers will also be captivated by the city's vibrant culinary scene and abundant arts and cultural experiences. São Paulo's significance as South America's leading import and export country will establish the route as a popular choice for cargo transportation.
Further enabling the regular shipment of car parts, pharmaceuticals, food, and agricultural products, contributing to the £7.7 billion** annual trade between the two nations.
As a crucial hub for Virgin Atlantic's codeshare partner, LATAM, São Paulo provides seamless connections to 12 domestic airports in Brazil, including Rio de Janeiro, Salvador, and Florianopolis.
This partnership also allows Flying Club members to earn and redeem rewards. Furthermore, passengers travelling from São Paulo to London Heathrow will have convenient connections to Virgin Atlantic's global destinations via Terminal 3, home to the airline's acclaimed Clubhouse. This enables easy access to Tel Aviv, Delhi, and Shanghai destinations.
Flights to Bangalore
As a clear indication of their expansion plans in the country, Virgin Atlantic is set to add Bengaluru (Bangalore) as its third destination in India. Further marking their fourth daily service to the country.
With a remarkable 250% increase in capacity to India since 2019. This region has become the airline's largest growth area outside the United States.
The new route is scheduled to launch in the summer of 2024 and will contribute to 500,000 seats annually between the UK and India. Virgin Atlantic's growing codeshare partnership with IndiGo (6E), India's leading airline, will also offer connections to 34 destinations nationwide.
Bengaluru, a thriving tech hub and one of India's major corporate markets, will attract business and leisure travellers. The city's rich culture and beautiful gardens will captivate adventurous tourists.
The new service will provide seamless connectivity and a premium long-haul experience for passengers connecting via London Heathrow to various North American destinations. Including Seattle, San Francisco, and New York JFK, through the partnership between Virgin Atlantic and their transatlantic joint venture partner, Delta Air Lines (DL).
"We are extremely pleased to broaden our services in India, as it is a destination that both our employees and customers thoroughly enjoy. Bengaluru, often referred to as India's Silicon Valley, is a city experiencing rapid growth, presenting us with an incredibly exciting opportunity. This expansion allows us to enhance connectivity for our customers, not only between Bengaluru and the UK but also to major technology hubs in the United States, such as Seattle, San Francisco, and Los Angeles."

Juha Jarvinen, Virgin Atlantic's Chief Commercial Officer, expressed his enthusiasm for the airline's expansion in India
Last Week Announced Virgin Atlantic Routes
To cater to customers seeking premium winter sun getaways, Virgin Atlantic recently revealed its return to Dubai, operating seasonally from October to March, four times a week. Anticipating a strong response from leisure travelers, the airline aims to meet the rising demand for high-quality vacations in sunny destinations.
In addition to passenger flights, Virgin Atlantic will also offer 20 tonnes of cargo capacity on each flight, facilitating the transportation of goods such as fresh produce and high-tech products between the Middle East, the UK, and the US. This fast cargo service opens up new opportunities for businesses engaged in import and export activities.
The Dubai announcement comes in conjunction with other recent route updates. Including new services to the Maldives and Turks and Caicos, as well as inter-island flights in the Caribbean. Further connecting Barbados with Grenada and St Vincent and the Grenadines.
Manchester Airport, serving as the airline's base in the North, will benefit from new flights as well. Virgin Atlantic will reintroduce seasonal summer services between Manchester and Las Vegas, operating three times a week.
This commitment to serving popular leisure destinations reflects the airline's dedication to meeting the travel needs of its customers in the North of England and beyond. Henceforth it continues to expand its route network.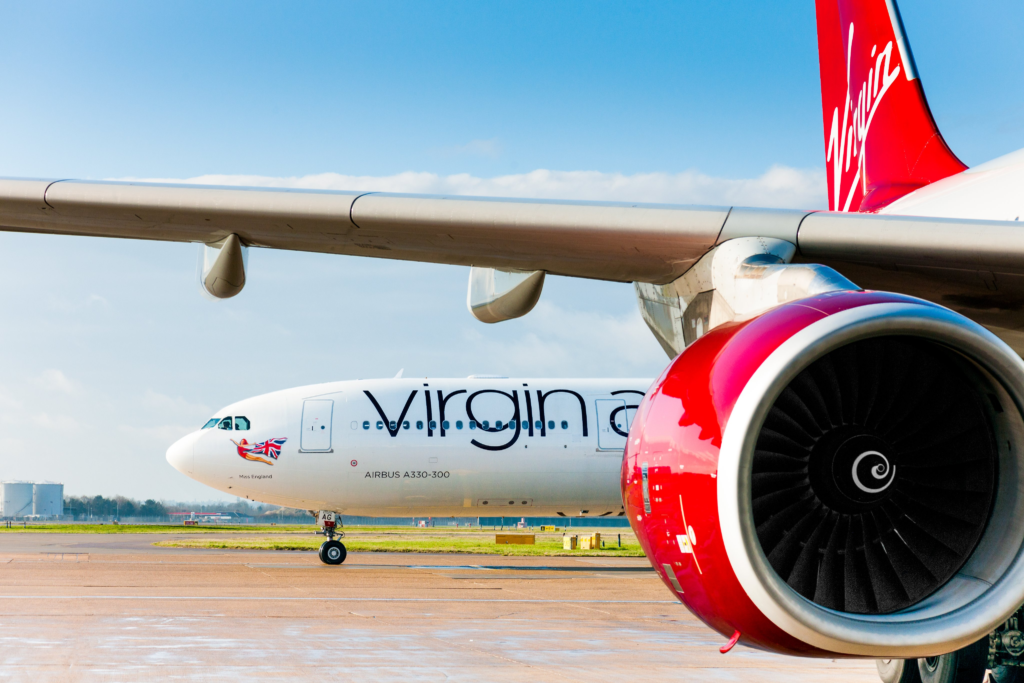 New Aircraft Addition
With a strong emphasis on customer connectivity, Virgin Atlantic prioritizes collaborations with world-class partners. In addition to expanding joint venture partnerships with Delta Air Lines, Air France, and KLM. The airline became a member of the SkyTeam alliance in March 2023.
This membership allows customers to enjoy a seamless and consistent travel experience across a vast network of 1,000 global destinations in over 170 countries. Furthermore, Virgin Atlantic recently announced a codeshare partnership with Korean Air. Further enhancing its connectivity options for customers.
Simultaneously, as the airline continues to grow its route network, it has welcomed two new aircraft models, the Airbus A350 and A330neo. These additions contribute to an average fleet age of just 6.5 years. Reflecting VS's commitment to maintaining a modern and efficient fleet.
The A330neo offers exceptional fuel efficiency. It is being 11% more fuel-efficient than the aircraft it replaces. It showcases the future direction of Virgin Atlantic's fleet. Further providing passengers with a premium and personalized experience.
Subsequently including the redesigned Upper Class cabin featuring the innovative Retreat Suite and game-changing wireless charging capabilities.
By the end of 2024, Virgin Atlantic plans to receive the complete order of 12 Airbus A350s and four additional A330neos, solidifying its commitment to fleet modernization.
To support these operations, the airline will be recruiting an additional 350 cabin crew members, further strengthening its renowned frontline team and ensuring the delivery of exceptional customer service.
Virgin CEO Insights
We are thrilled to unveil a diverse range of new routes spanning three continents. Further offering our customers the opportunity to travel in style with Virgin Atlantic.
With our entry into South America, expansion in India, and the continued growth of our premium sun destinations, there is something for everyone to enjoy.
Through our strong partnerships and the introduction of our Airbus A350 and A339 aircraft. Passengers can trust Virgin Atlantic to connect them to their desired destinations. While enjoying an exceptional customer experience delivered by our exceptional crew.
Our strategy is yielding positive results, positioning us for a return to profitability in 2024.
Stay tuned with us. Further, follow us on social media for the latest updates.
Also Read: US Airlines, Including American, United, Delta, and Southwest, want you to Dress Properly – Aviation A2Z
Join us on Telegram Group for the Latest Aviation Updates. Subsequently, follow us on Google News.