According to Australian flag carrier Qantas (QF), its Boeing 787-9 Dreamliner has demonstrated its capability to enhance profitability by offering distinctive point-to-point travel options and opportunities to launch new destinations.
In the most recent investor presentation, Qantas highlights several possible new destinations for its operations, such as Seattle, Chicago and Paris.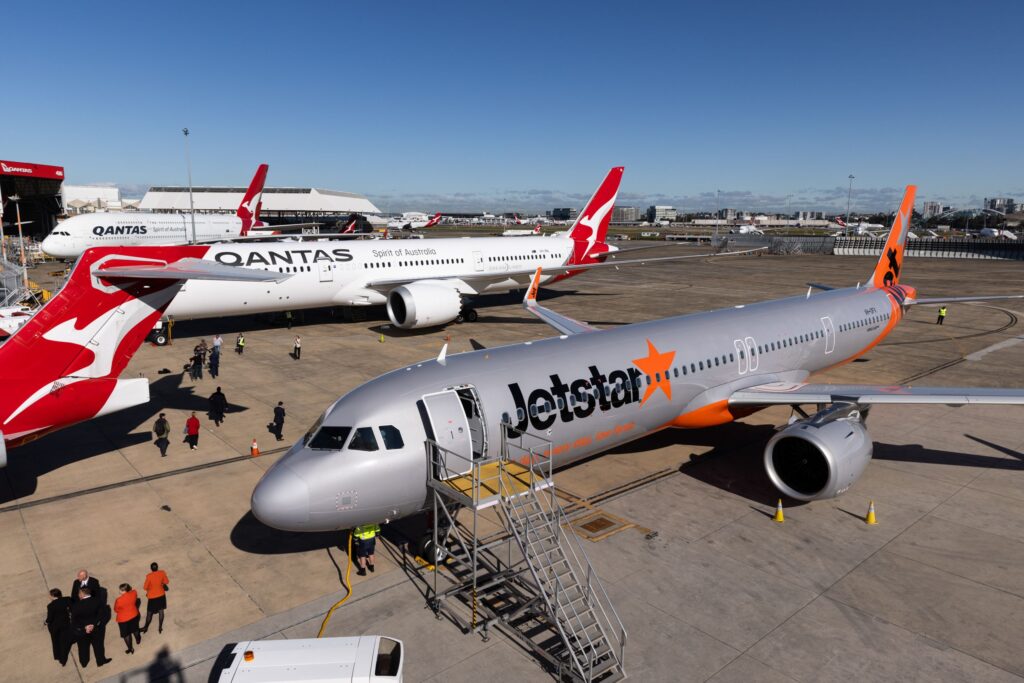 Qantas New Destinations
Qantas had initially intended to commence the Brisbane to Chicago route in 2020. But due to the impact of COVID-19, the plans were disrupted.
There have been indications of Qantas considering Paris as a potential destination. Particularly in connection with Project Sunrise and the use of A350 aircraft from Sydney and Melbourne. However, it is more likely that the 787 Dreamliner would operate the route from Perth to Paris.
The Group also revealed its strategy to uphold margin targets for the flying businesses in FY24. Further, unveiled new earning targets for Qantas Loyalty and Project Sunrise until FY30.
Qantas Fleet Optimization
The implementation of new fleet technology is paving the way for long-term structural advantage and promising future earnings.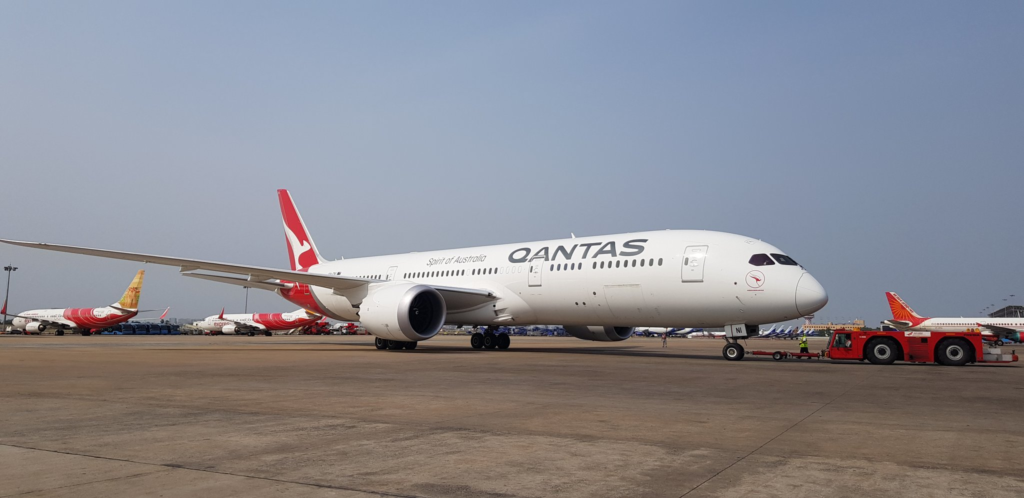 Boeing 787 Dreamliner
One of the world's oldest carriers will have a new fleet of Boeing 787, Airbus A350 and Airbus A321XLR and A220. Subsequently, with this, Qantas eyes new routes, diversified routes, Increased fleet stability and flexibility and sustainable growth.
The Boeing 787 Dreamliner has structurally changed the profitability of its London route. Earlier, QF used to deploy its Airbus A380, which was loss-making. Further, the operation has transitioned to a split model, with 787-9s flying via Perth and A380s operating via Singapore.
The 787 also Enhances earnings on long-haul routes. This includes Perth-Rome, Melbourne-Dallas, Sydney-Johannesburg, and Auckland-New York. Furthermore, Qantas expect to take delivery of three more 787s in Q4 of this year.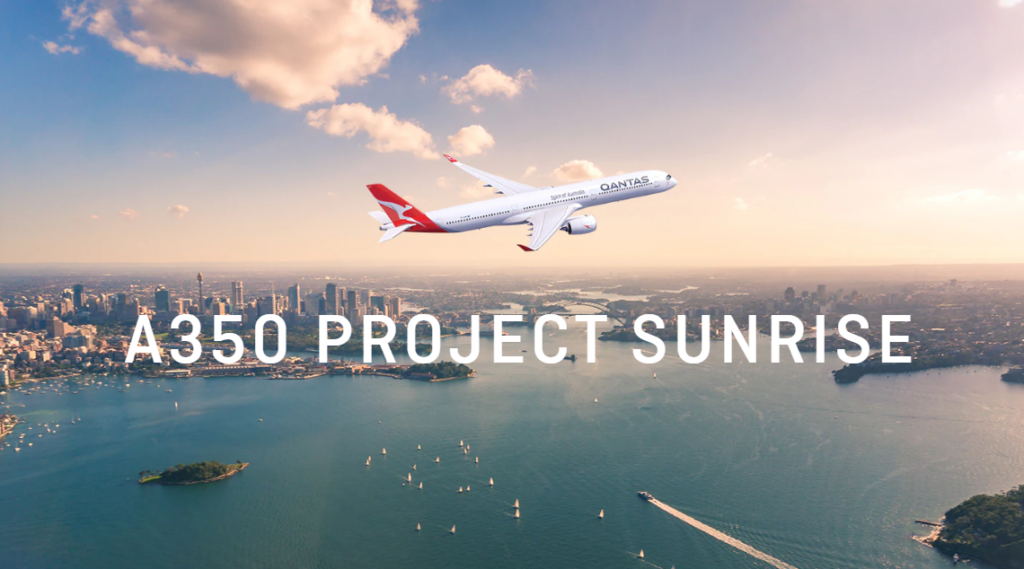 Project Sunrise and A350
The implementation of Project Sunrise and the utilization of A350 aircraft is creating an unparalleled structural advantage.
Customers' willingness to pay a premium for non-stop flights is reinforced by the enhanced mix of premium cabins and an optimized travel experience across all cabins for long-haul journeys.
The establishment of point-to-point connections between major markets, which is a key aspect of Qantas' customer base, builds upon the successful example of the 787-9 service to London.
This strategy enables the redeployment of the 787-9 fleet and further optimization of the international freight offering, providing broader benefits to both Qantas Domestic and Qantas Loyalty. The unique and aspirational nature of Project Sunrise contributes to these advantages.
Short haul Int'l flying with A321XLR and A220
Introducing A321XLRs and A220s brings about an enhanced range and aircraft size combination, catering to various markets. These efficient and versatile aircraft suit domestic and short and medium-haul international operations.
The A321XLR offers a larger capacity than the 737, resulting in lower unit costs. On the other hand, the A220 enables increased network frequency at a competitive unit cost compared to the 737.
The extended range capability of these smaller aircraft allows profitable entry into previously inaccessible routes. This opens up new opportunities for Qantas to serve previously underserved markets.
Qantas aims to configure its fleet in a targeted manner to meet the specific requirements of customers and routes, ensuring optimal efficiency and customer satisfaction.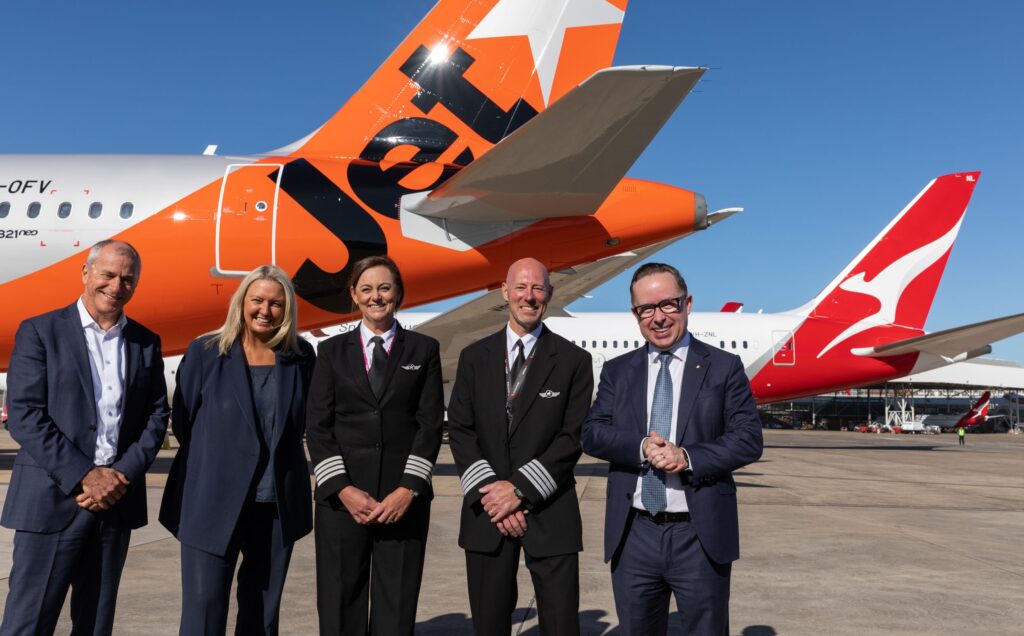 CEO Insights
Qantas Group CEO Alan Joyce stated that the business has undergone structural changes since the COVID pandemic, operating in a transformed market.
The company is well-positioned to capitalize on the opportunities arising from these changes, as demonstrated by the strategy outlined.
Implementing new technology is a key aspect of the plan, with the arrival of next-generation aircraft that will revolutionize the network in the coming years.
This advancement will enable Qantas to enhance the customer experience, reduce operational costs through improved efficiency, and establish new competitive advantages.
Qantas has a track record of ongoing transformation and strong revenue projections, demonstrating its ability to invest in both people and technology while delivering robust returns to shareholders.
This aligns with the company's vision of being a national carrier that excels in these areas, providing exceptional service to its customers. Mr Joyce emphasized the commitment to invest in people, technology, and profitability simultaneously.
Stay tuned with us. Further, follow us on social media for the latest updates.
Also Read: Indian Students Deported Back to Delhi from USA on Delta Flight – Aviation A2Z
Join us on Telegram Group for the Latest Aviation Updates. Subsequently, follow us on Google News.