In honor of International Tea Day on May 21st, Gulf carrier Emirates (EK) pays tribute to the sustainable origins, therapeutic attributes, and meticulous service of artisan tea provided onboard their flights to 140 global destinations.
As tea consumption has witnessed a growth of over 10% in recent years, Emirates recognizes the significance of this beverage and aims to celebrate its cultural and sensory appeal for passengers worldwide.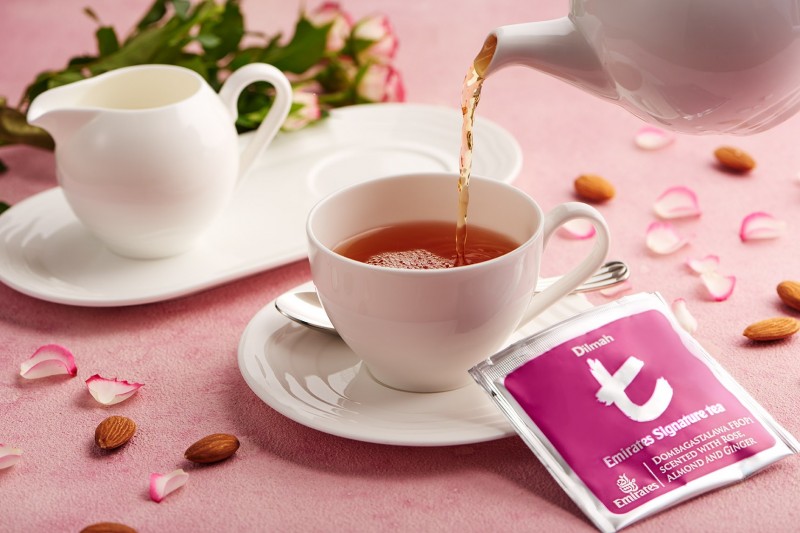 Emirates Celebrates International Tea Day
Every year, Emirates prepares more than 33 million cups of tea for passengers during their flights. Furthermore, it offers various teas in Emirates' airport lounges worldwide.
With a consistent increase of over 10% in tea consumption onboard, many passengers have embraced a wellness-focused lifestyle. Tea, known for its numerous health benefits and healing properties, provides a ritualistic moment that enhances comfort and tranquility.
Emirates presents a diverse selection of 12 gourmet tea blends to cater to different preferences. These include the invigorating Original Earl Grey and the soothing Pure Chamomile Flowers that aid digestion. Further, the healthy and antioxidant-rich Sencha Green Extra Special and the Turmeric, Coconut, and Vanilla blend are known for their relaxing and anti-inflammatory properties.
Additionally, options such as Natural Green Tea and Ceylon Black Tea represent pure forms of tea. The digestion-friendly Moroccan Mint, the energizing Breakfast Tea, and the exclusive Emirates Signature Blend, crafted with marigold, safflower, rose, and hints of almond and ginger, symbolizing the flavors of the UAE, complete the exceptional tea collection offered by Emirates.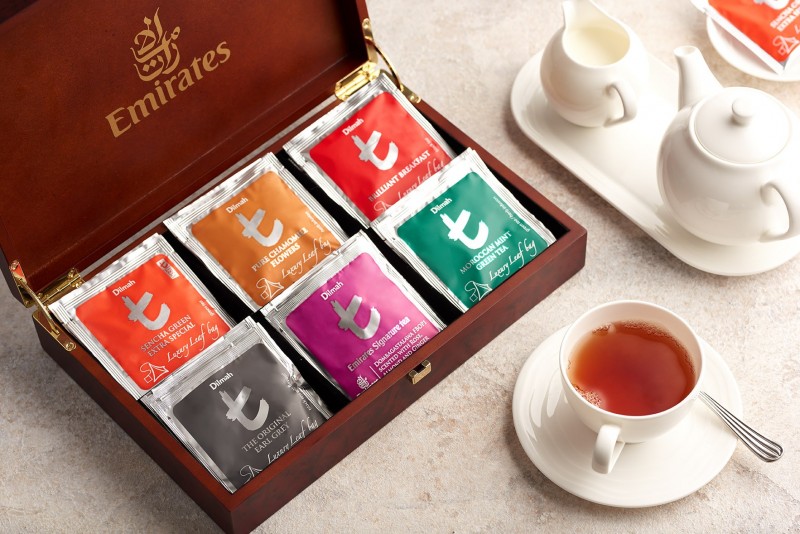 Tea Offerings in Sky
Among the tea selections offered onboard Emirates, Moroccan Mint Green Tea is highly favored by passengers in First Class. In Business Class, passengers enjoy a combination of Moroccan Mint Green Tea and Chamomile Tea, while the popular choice in Economy Class is the traditional Ceylon Black Tea.
Emirates has an exclusive partnership with Dilmah Tea, which emphasizes the health benefits of natural teas, particularly green and black tea.
These teas contain polyphenols like catechins and flavonoids. This is an antioxidant safeguarding the body against free radicals that can cause cellular damage and contribute to chronic diseases.
Tea also contains caffeine, which enhances mental alertness, focus, and concentration. However, the caffeine content in tea is generally lower than that in coffee. Subsequently providing a more moderate and sustained energy boost without causing jitteriness.
This makes it ideal for passengers traveling across different time zones. Chamomile tea, known for its mildly sedative properties, can assist passengers in achieving restful sleep during long-haul journeys.
Additionally, certain herbal teas like peppermint can aid digestion and alleviate symptoms such as bloating and nausea. Which can be challenging when adjusting to new routines while traveling.
Emirates Tea Training
Emirates places great importance on serving tea, considering it a ritual that demands attention and care.
To ensure a memorable tea experience, Emirates Cabin Crew undergoes specialized training. Which includes learning about the sustainable origins of Dilmah tea, exploring unique flavors, mastering the art of brewing the perfect cup, and enhancing the taste with various accompaniments such as fresh mint, honey, and lemon.
In First Class, passengers who prefer sweetness in their tea can enjoy natural superfood honey sourced locally from UAE brand April. First Class passengers can sip their tea from exquisite Royal Doulton fine bone teacups or mugs. Subsequently, Business Class passengers are served in Royal Doulton fine bone china mugs.
Emirates also places importance on the quality of water used for tea preparation. Further, ensuring regular monitoring of water tanks, transportation equipment, and supply lines to maintain a supply of perfectly potable water through disinfection, maintenance, and audits.
Emirates Cabin Crew also receives training on tea and food pairing. Subsequently enabling them to offer valuable recommendations to passengers.
For instance, green tea is suggested as a complement to seafood, soft cheeses, and sushi. While black tea pairs well with beef, game, sweet desserts, or hard cheeses.
Additionally, floral teas like Chamomile can be combined with dishes that have a citrus or tart flavor profile, such as Emirates' new vegan dish, the Zucchini tart.
Emirates Tea History

Emirates has been committed to partnering with the dedicated, family-owned Dilmah Tea for over three decades.
Established in 1985, Dilmah Tea is a pioneering Sri Lankan tea company and the world's first producer-owned tea brand. With a focus on cultivating, handpicking, and packaging the tea at its origin. Dilmah ensures the preservation of its natural goodness, making it one of the finest teas globally.
Nestled amidst breathtaking landscapes of cascading waterfalls, majestic mountains, and lush surroundings, the Dilmah tea estates produce exceptional Ceylon Tea. This renowned tea is crafted from the finest tea leaves grown in pristine estates at high elevations.
The unique flavors and characteristics of Ceylon Tea are derived from the rich biodiversity of the surrounding forests. Handpicked in the central hills of Sri Lanka, the tea leaves undergo processes such as withering, rolling, fermentation, and firing, resulting in a tea with exquisite aromas, flavors, and textures.
From the plantation to cup, Dilmah tea maintains its purity, earning it the affectionate nickname "nature's gift of goodness" by its founder, Merrill Fernando.
Stay tuned with us. Further, follow us on social media for the latest updates.
Also, read Several flights are delayed as a result of storms across the United States – Aviation A2Z
Join us on Telegram Group for Latest Aviation Updates. Subsequently, follow us on Google News.