MUMBAI- Air France-KLM is interested in establishing a codeshare agreement with IndiGo for international travel to destinations in India's neighboring countries, such as Nepal, Bangladesh, and Sri Lanka.
India is making strides towards developing its own aviation hubs. Large airports such as Delhi laid the foundation for such endeavors. Additionally, major Indian airlines are being courted by foreign carriers for last-mile connectivity.
Essentially, the plan is to transport passengers between these countries through India (utilizing IndiGo's services). Subsequently, to and from the airline's hubs in Paris and Amsterdam (via AF and KLM). While also providing connections from these two locations.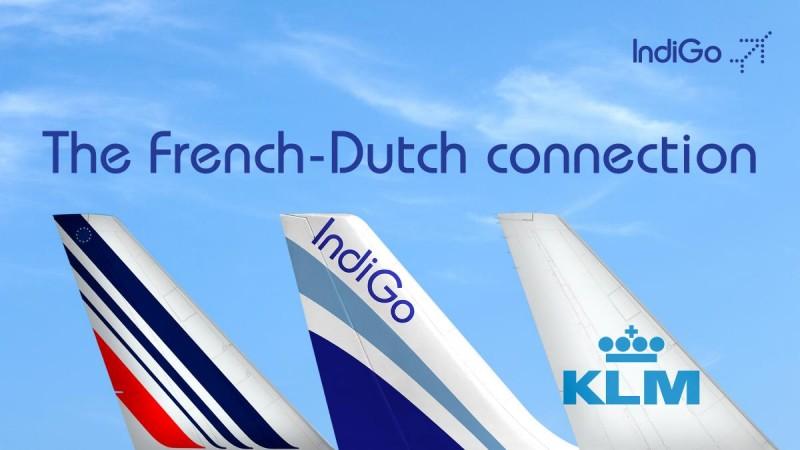 Air France-KLM IndiGo Triplets
Air France-KLM's General Manager for the Indian subcontinent, Claude Sarre, recently announced plans for an international codeshare agreement with IndiGo for neighboring countries such as Nepal, Bangladesh, and Sri Lanka.
This comes after a domestic codeshare agreement between the two airlines was established last summer. Which covered 30 destinations within India. However, the international codeshare is still subject to approvals and agreements.
IndiGo's CDO is Pieter Elbers, who previously served as KLM's president and CEO. According to Sarre, India is a thriving market, and all airlines are working to meet the increasing demand.
The technical personnel of Air France-KLM in India have played a significant role in overcoming the global shortage of personnel. Subsequently, including aircraft maintenance engineers.
Sarre further added that the India team has been sending its personnel to Amsterdam to address this shortage.
Air India in Talks with Air France-KLM for AIESL
Air India is reportedly in discussions with Lufthansa Technik, a prominent German aircraft maintenance company and the engineering unit of Air France-KLM, to compete for AI Engineering Services Limited (AIESL) during the government's divestment.
According to Kapil Bhardwaj, the line maintenance manager of Air France-KLM, the company already provides maintenance services for over 25 international airlines in India. It serves as a component supplier for both IndiGo and Akasa.
Bottom Line
Air France-KLM operates 46 weekly flights to four cities in India, including Delhi, Mumbai, Bengaluru, and Chennai. The company is considering adding Hyderabad to its network, but no decision has been made yet.
Air France-KLM's General Manager for the Indian subcontinent, Claude Sarre, stated that they are always looking to increase their flight frequency to India and currently have 22% more flights than they did last summer. However, the airline has no current plans to invest in an Indian carrier and is solely focusing on expanding codeshare agreements at this time.
Despite the pandemic's impact on the industry, the company is investing heavily in new planes and improving the passenger experience.
Air France-KLM is currently investing in new Airbus A350s and A220s, mainly for Air France, and Boeing 787s, mainly for KLM. Sarre made this statement while introducing the new premium economy seats on Thursday.
Stay tuned with us. Further, follow us on social media for the latest updates.
Also, read FIRST LOOK: Air India Airlines New Possible Branding, Livery, Logo and More | Exclusive – Aviation A2Z
Join us on Telegram Group for Latest Aviation Updates. Subsequently, follow us on Google News.