The flag carrier of UAE, Emirates (EK), has announced today about relaunching its well-liked My Emirates Boarding Pass program. Beginning on May 1, 2023, and concluding on September 30, 2023, the My Emirates Summer Pass will provide customers with a five-month period to enjoy exclusive offers at hundreds of locations throughout Dubai and the United Arab Emirates.
Emirates travellers who fly to or transit through Dubai can avail the benefits of My Emirates Pass, which offers exclusive discounts for five months at numerous retail, dining, and leisure outlets, spas, and famous attractions in Dubai and the UAE.
To enjoy these discounts, passengers can present their Emirates boarding pass and a valid form of identification at the participating outlets.
Those who have checked in online can access their mobile boarding pass through the Emirates App or Wallet and must take a screenshot to display it at participating venues since it disappears once they land.
Benefits of Emirates Boarding Pass
Dubai Summer Surprises is the city's grandest shopping and entertainment event. Further, it includes cultural events, raffles, and fireworks displays, among other things.
You can take advantage of My Emirates Pass offers and enjoy Dubai Summer Surprises at the same time. When you fly to Dubai between July 29th, 2023, and September 3rd, 2023.
Emirates offers a range of options for visitors to explore more of Dubai this summer. Visitors can experience private pools to cool off and family entertainment at indoor theme parks.
Further, water parks, sun-soaked beaches, cultural activities, world-class hospitality and leisure facilities, and more. Whether you are a leisure or business traveler, Dubai offers something unique.
Other Benefits
Dubai Experience: Emirates now offers customers the ability to create their own custom itineraries for their trip to Dubai and the UAE through the Dubai Experience platform, including flights, hotel stays, visits to key attractions, and dining and leisure experiences, all with unique benefits.
Emirates Holidays: Customers can book their holiday to Dubai through Emirates Holidays with flexible booking options. Further, a dedicated 24/7 On Holiday Service team to support holidaymakers during their trips.
Skywards partners: Emirates' loyalty program, Skywards, allows members to earn Miles on everyday purchases at retail outlets in the UAE during their stay, which can be redeemed for reward tickets, upgrades, as well as tickets for concerts and sports events.
Skywards every day: UAE-based customers can download the Skywards Everyday app to earn Skywards Miles on the go by linking up to five Visa or Mastercard credit or debit cards in the app. Further, earning Miles automatically from participating partners across shopping, dining, beauty and wellness, leisure and entertainment, pharmacy, and grocery.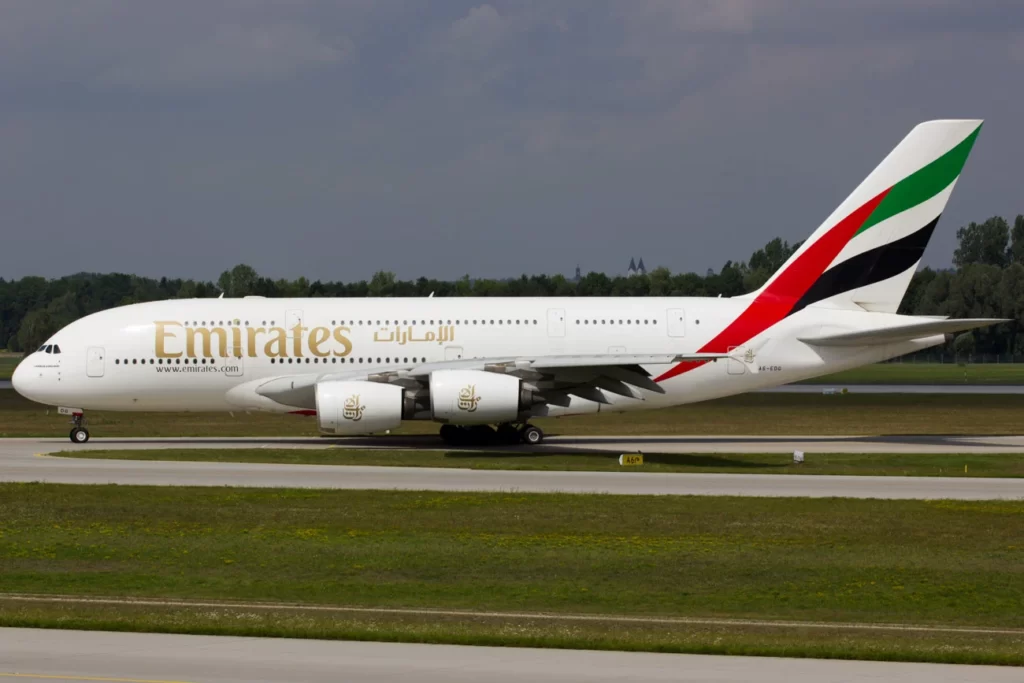 Emirates Deploys 5 More A380s for Summer
The Dubai-based carrier is optimistic about a strong recovery in the upcoming summer season. It expects to see full occupancy rates on many flights across its global network of destinations.
Dubai's global airline announced that it is incorporating 5 additional Airbus A380s into its summer flight plan to cater to more destinations, leveraging the sustained growth in customer demand following the Covid-19 outbreak.
Emirates' Chief Commercial Officer, Adnan Kazim, confirmed that customer demand remains strong. Further, he predicts that 2023 will see a robust recovery that surpasses 2022 levels.
Speaking to Emirates News Agency (WAM) during the Arabian Travel Market (ATM 2023) event in Dubai, Kazim revealed that Emirates has a fleet of 85 A380s. Likewise, they expect that to increase to 95 during the summer peak season by the end of the next financial year in March. Further, the large wide-body airliner will operate flights to 43 destinations in the summer schedule.
Emirates has resumed its operations in over 130 destinations spanning six continents. Further, ensuring the safe and secure transportation of passengers.
Stay tuned with us. Further, follow us on social media for the latest updates.
Also, read FIRST LOOK: Air India Airlines New Possible Branding, Livery, Logo and More | Exclusive – Aviation A2Z
Join us on Telegram Group for Latest Aviation Updates. Subsequently, follow us on Google News.