In March 2023, Griffin Global Asset Management (Griffin) completed the purchase of two Boeing 737 MAX 8 aircraft, which are now on long-term lease to Aeromexico (Aerovías de México, S.A. de C.V.)
Michael Lombardi, the Vice President of Marketing at Griffin, expressed enthusiasm for the new partnership with Aeromexico. Further, he anticipates working closely with the Aeromexico team as they pursue their fleet renewal program in the coming years.
Lombardi acknowledged the significance of these two Boeing 737 MAX 8 aircraft to Aeromexico's expanding MAX fleet. Subsequently, their dedication to promoting sustainable travel.
Max Alvarez, the Senior Vice President of Fleet and Business Development at Aeromexico (AM), expressed satisfaction with the initiation of a partnership with Griffin, citing it as a testament to Griffin's confidence in Aeromexico's future prospects.
Alvarez also highlighted the significance of this alliance, which allows Aeromexico to expand its lessors base of B737 MAX aircraft.
With the support of strategic partners like Griffin, Alvarez reaffirmed Aeromexico's commitment to continuing the growth of their already expansive fleet. Further, they provide their customers with exceptional experiences aboard the most advanced, secure, comfortable, and environmentally friendly aircraft.

AeroMexico Boeing 737 MAX Fleet
According to Planespotters, the AeroMexico currently has a total fleet of 106 aircraft. This includes 86 Boeing 737 family airliners. Furthermore, it has 33 Boeing 737 MAX 8 and 17 Boeing 737 MAX 9.
In 2023, the Mexican flag carrier took the delivery of four Boeing 737 MAX 9. Likewise, the addition of these two new 737 MAX 8 will make it six for this year.
AeroMexico's plan to induct the Boeing 737 and 787 are likely to be affected due to problems with the 737 MAX and delays in 787 deliveries.
About AeroMexico
Grupo Aeromexico, S.A.B. de C.V., operates as a holding company with a diverse range of subsidiaries that engage in commercial and cargo aviation services in Mexico, as well as training, assistance, and maintenance of aircraft.
The company is also responsible for managing its passenger loyalty program, known as Aeromexico Rewards, and oversees operations for several additional subsidiaries, including Aeromexico, Aeromexico Connect, Aeromexico Cargo, Aeromexico Formacion, and Aeromexico Servicios. As Mexico's primary global airline, Aeromexico's primary hub is located at Mexico City International Airport.
Its extensive network of destinations includes Mexico, the United States, Canada, Central America, South America, Asia, and Europe. The company's current fleet is composed of Boeing 787 and 737 jet airliners and Embraer 190 models.
Additionally, Aeromexico is a founding member of the SkyTeam airline alliance. Which is celebrating its 23rd anniversary and provides services to 184 countries through its 19 SkyTeam airline partners.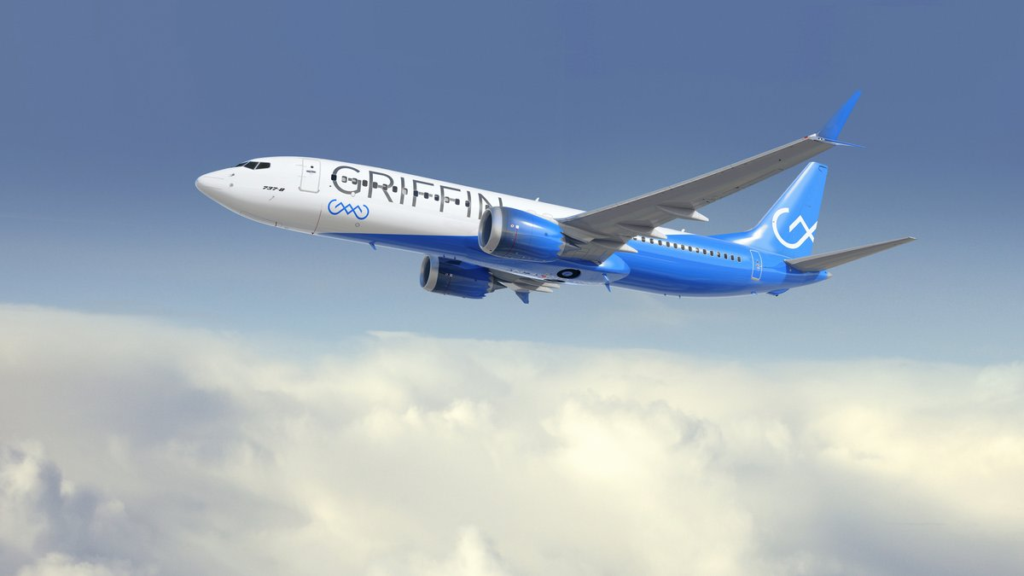 About Griffin
Griffin is a global commercial aircraft leasing and alternative asset management business with offices situated in Dublin, Ireland, Puerto Rico, and Los Angeles, CA.
With a team of seasoned aviation professionals, Griffin collaborates closely with airlines, OEMs, and financiers to offer bespoke fleet solutions and inventive financing products tailored to airlines' diverse needs worldwide.
Stay tuned with us. Further, follow us on social media for the latest updates.
Also, read FIRST LOOK: Air India Airlines New Possible Branding, Livery, Logo and More | Exclusive – Aviation A2Z
Join us on Telegram Group for Latest Aviation Updates. Subsequently, follow us on Google News.