Etihad Airways Airbus A350 aircraft were only put into service last year, in March 2022, despite being three to four years old.
The jets were parked in long-term storage before being delivered to the airline with its headquarters in Abu Dhabi as they waited through the epidemic and the travel restrictions that prevented the type from entering service.
We look at where Etihad is currently stationing its A350s after they have been in service for a little more than a year. It appears that Etihad is deploying its A350s to seven locations worldwide, according to flight schedule information from reporters.
The aircraft will now fly between two cities in North America, two cities in Europe, two in India, and one in Southeast Asia.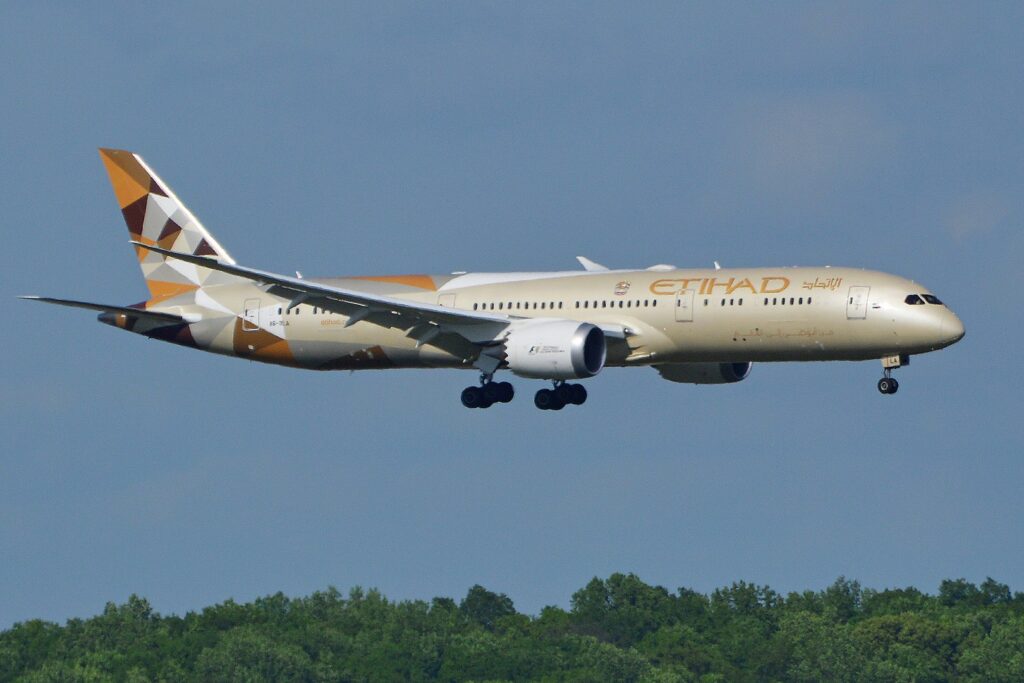 The following cities are reachable by flight from the airline's hub in Abu Dhabi:
Chicago O'Hare (ORD)
New York John F. Kennedy (JFK)
Dublin International (DUB)
London Heathrow (LHR)
Delhi's Indira Gandhi International (DEL)
Mumbai's Chhatrapati Shivaji Maharaj International (BOM)
and finally, Bangkok's Suvarnabhumi (BKK)
Etihad Airways Flights
EY150/151, which travels to and from Chicago O'Hare, is the longest of these services. FlightRadar24.com states that the average flight time for EY151 from Abu Dhabi to Chicago is 14 hours, compared to the return flight's average time of 12 hours and 55 minutes.
The average travel time from New York to Mumbai, EY204, is only two hours and twenty-eight minutes. The average flight time from New York to Mumbai, EY203, is two hours and forty-eight minutes.
For some routes, at least during the first week of May, Etihad only uses the A350, while on other routes, it coexists with other aircraft types.
Etihad Airways Airbus A350
You can bet on boarding the A350-1000 for the airline's thrice-daily service to Chicago O'Hare and its late-night services to London and Delhi. You'll need to look into airline timetables a little more thoroughly for the other locations, though.
The Boeing 787-9 is the main aircraft used on Etihad's two daily routes to New York JFK. The Boeing 787-10 is considerably more likely to be used for the airline's once-daily route to Dublin.
An A350 may fly the early morning flight from India to Delhi, but it's much more likely to be a 787-9 or -10. When it comes to Mumbai's three daily flights, you'll see a 787-9 or -10 in the early morning and an Airbus A320 in the late afternoon. While the A350 may be present for this late-night flight, your chances of boarding a Dreamliner are marginally better.
The Boeing 777-300ER, 787-9, 787-10, or Airbus A350-1000 are all possible options for the daily flight to Bangkok; it simply really depends on the day.
Business and economy classes are available on each of Etihad's five Airbus A350-1000 aircraft. 371 seats are available in total, with 44 in business class and 327 in economy.
Stay tuned with us. Further, follow us on social media for the latest updates.
Also, read, assaults flight attendants & tries to open the door on a United Airlines flight (aviationa2z.com)
Join us on Telegram Group for Latest Aviation Updates. Subsequently, follow us on Google News.