An Air India Delhi-San Francisco Flight, flight AI173 scheduled to fly from Delhi to San Francisco experienced a technical problem before takeoff and returned to the airport on Monday morning.
The plane was replaced, and the flight took off for San Francisco.
According to the sources, there were slightly more than 200 passengers on board.
Due to a technical issue, the plane pushed back and returned to the stand before takeoff. The passengers were later accommodated in another aircraft.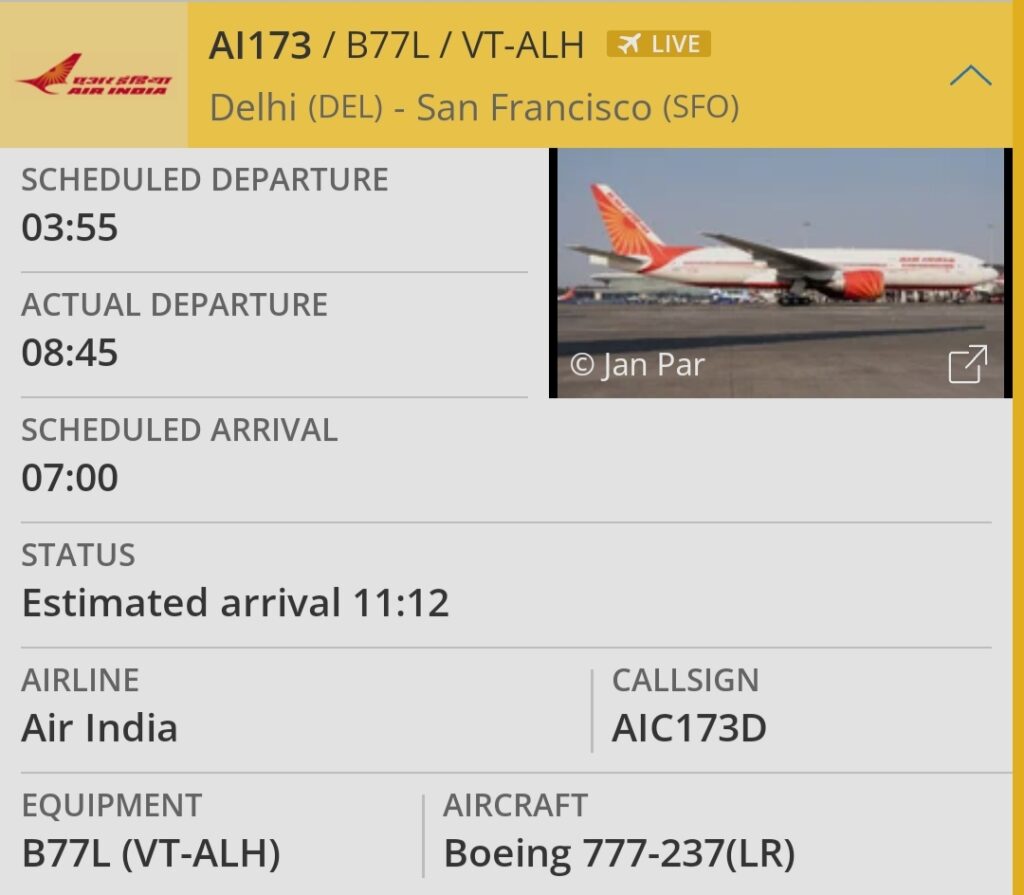 Air India Delhi to London Flight Returned Midway
Tata-owned Air India (AI) flight AI-111 from Delhi to London was forced to return to the origin airport after takeoff. Due to an "unruly" passenger who allegedly had an altercation with the flight crew mid-flight.
India Today sources have reported that a passenger on board Air India's Delhi-London flight became fierce and hit two cabin crew members in mid-air, leading to the flight's return to Delhi.
The incident occurred shortly after take-off from Indira Gandhi International Airport (IGIA). Furthermore, the flight with 255 passengers on board landed back in Delhi.
The Delhi Airport Police have received a complaint against the passenger, which is currently being held at the Delhi Airport police station.
According to Flight Radar 24, Air India operated the Boeing 787 for AI111. The aircraft has the registration VT-ANE. Furthermore, the flight takeoff from Delhi Int'l Airport (DEL) at 6:52 AM. However, the pilot has to make a comeback amid rude passenger behavior.
The aircraft landed back at Delhi Airport at 11:30 AM and is being rescheduled. However, the unruly passenger deboarded, and FIR was loaded.
The Indian airline regularly operates the DEL-LHR AI111, but such incidents are unpredictable. The return of the flight led to confusion and delays for other passengers, also losses for airlines.
Air India Spokesperson, in a statement, said, "Air India flight Al 111, scheduled to operate Delhi-London Heathrow on April 10, 2023, returned to Delhi shortly after departure due to the serious unruly behavior of a passenger on board."
"Not heeding verbal and written warnings, the passenger continued with unruly behavior, including causing physical harm to two of the cabin crew members. The pilot in command decided to return to Delhi, and the passenger was handed over to the security personnel upon landing."
"An FIR has also been lodged with the police. Safety, security, and dignity of all on board are important to us at Air India. We are providing all possible support to the affected crew members. We regret the inconvenience caused to the passengers and have rescheduled the flight to depart for London this afternoon."
Also read:
Air India Fleet Insured For $10 Billion By Tata AIG And Others | Exclusive
US Airlines Are Cutting Thousands Of Flights From Summer Schedule | Exclusive
Follow us on Google News for latest Aviation Updates
Join us on telegram group
Stay tuned…