MUMBAI, 24th December, On Tuesday the Central Industrial Security Force (CISF) personnel saved the life of a passenger who was travelling with Indigo airlines from Ahmedabad Airport, the life Saviour work was also admired by Jeet Adani, the younger son of Gautam Adani.
As seen in video shared by CISF on twitter. The passenger seen unconscious and the CISF guards are trying the CPR to regain the consciousness of the traveler.
CISF Saved the Indigo Passenger life at Ahmedabad Airport
In tweet CISF Stated, "Service to Humanity – Beyond the Mandate. Prompt response by CISF personnel saved the precious life of a passenger by administering CPR @ Ahmedabad Airport."
The passenger seen fainted and unconscious while CISF personnel are seen giving CPR. After few minutes he regain the consciousness and his life was saved.
According to source, the person was travelling with indigo airlines. His son also thanked the CISF and Indigo staff to help his father and saved his life.
Admiration to CISF
Many people on twitter admired the CISF for their life saving duty. The video also went viral on twitter and got 400K= views as of now. The tweet also saw 6k+ likes and 100+ comments.
One user in admiration tweeted, "Another life saved by Security Forces…I think basic medical education knowledge need to be included in High school textbooks & Programs need to conduct for teachers, bank, private employees, labors extensively… This helps common people in adverse situations…"
Another User wrote, "BRAVO!! CPR training should be made compulsory to everyone." One more user also tweeted, "No award can take place such generous action by Jawan … Salute, Love and Respect. Mostly people knows but those who act are heroes."
Few users also said that a correct training should be provided to CISF personnel and other Airport staffs.
CISF jawan gets admiration by Jeet Adani
Jeet Adani, a younger son of Billionaire and Worlds third richest person Gautum Adani also admired the CISF for their Life Saviour practice at Ahmedabad Airport.
He tweeted, "We at @ahmairport are grateful for this @CISFHQrs jawan's quick thinking and going beyond his call of duty by saving a passenger's life. The jawan showed us the true meaning of 'Service to Humanity."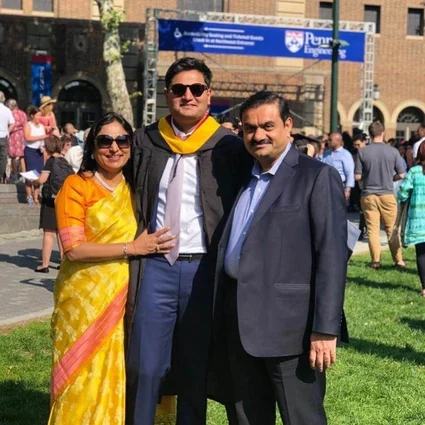 Jeet Adani is a Vice-President of Adani Group finance division. He joined the Adani Group in 2019, after attending the University of Pennsylvania – School of Engineering and Applied Sciences. He started his career in the Group CFO's office, looking at Strategic Finance, Capital Markets and Risk & Governance Policy.
Bottomline
The CISF jawans are always seen doing such lifesaving and brave job at various places. They should get admired for all their work. We are happy to share their work to all of you and we thank them for their greatness.
Also Read, Also Read, Air India received its First B777-200 LR and named "VIHAAN" | Exclusive – Aviation A2Z
We will keep you posted about the Aviation related updates. so, make sure you click on the bell icon.
Join Our Telegram Group for Latest Aviation Updates: –https://t.me/aviationa2z. Also Follow us on Google News for Breaking news.
Stay connected with Aviation A2Z!