Jet Airways shared a throwback to the old days when they used to serve Imli candy on their Flights. The Airline on Thursday afternoon shared a pic of Imli candy on its social media handles.
Airline Wrote on their social media and shared a pic of Imli Candy,
It sure is! Your favourite 'imli candy' is coming back soon on all Jet Airways flights! Tell us what's your 'imli candy' story?

Jet Airways social Media Post
Some users commented,
Many old travellers remembered it. But what about others, for them here's a detailed story on Why they used to serve it?
Why did Jet Airways use To Serve Imli Candy on their Flights?
Well, it is known that tamarind is full of good health properties. Tamarind helps prevent digestive difficulties and throat infections. It helps those having stomach discomfort. It works also as an antidote to heat stroke. Moreover, tamarind is a good source of vitamin C. Tamarind intake curbs airsickness during long-haul flights, according to leading health experts. Undeniably, these reasons are good enough for Jet Airways to add sweet tamarind candies in inflight meals.
Motion sickness is familiar to some travellers during takeoffs and landings. It causes a sinking feeling in the stomach. Preventing motion sickness is among the health benefits of tamarind intake. In addition to this, tamarind reduces nausea, which is also a common symptom of inflight sickness.
Why sweet tamarind candies are served on Jet Airways flights has another strong reason. Tamarind is good for the prevention of retraction that is bulging eardrums. Some travellers experience it during takeoff and landing. The difference in air pressure levels outside the ear and the middle ear cavity causes bulging of eardrums, at changing altitudes during a flight. Sweet tamarind candies trigger salivation, thereby causing frequent swallowing, which helps equalize air pressure levels between the outside ear and the middle ear cavity to prevent retraction.
Some inflight chefs opine that passengers of Jet Airways flights are given sweet tamarind candies instead of mouth fresheners because tamarind is cheaper than any good quality mouth freshener cost-wise. Since travellers began to like the tangy and sweet flavour of tamarind candies, it was made an integral part of all meals on Jet Airways flights.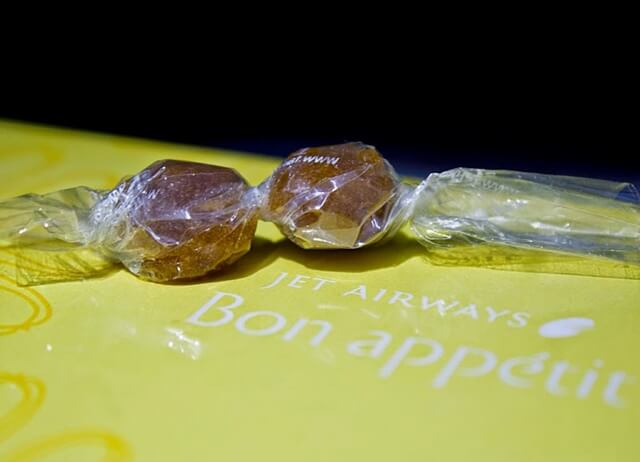 Sweet tamarind candies were previously given to travellers on Air India Flights and other airlines in India. I found this detailed post on Quora by Indian Eagle.
Summary
Overall the User had some unique experiences with these candies and enjoyed them during their flights. Tamarind has lots of scientific benefits and is also tasty for consumption
The Jet Airways CEO Sanjiv Kapoor and other travellers have refreshed the memories of all others who have experienced this on Jet Airways flights. If you have experienced this then do let us know in the Comment Section Below !!
We will keep you posted about all the Jet Airways-related updates, make sure you click on the notification bell.
Also read, Jet Airways CEO Sanjiv Kapoor travels on an Air India flight and discusses his experience | EXCLUSIVE – Aviation A2Z
Stay connected with Aviation a2z!