Emirates has scheduled its flagship Airbus A380s on flights to and from Kuala Lumpur starting on December 1st later this year.
The Dubai-based carrier is currently deploying its Boeing 777-300ERs on its flights to Kuala Lumpur. Currently, Emirates operates two daily flights on its Dubai – Kuala Lumpur route.
Emirates A380 to Operate Daily Flights to Kuala Lumpur
Emirates will deploy its superjumbos daily on the EK 345/346 rotation replacing the Boeing 777s. The carrier is planning to deploy its superjumbos configured in a three-class configuration.
Keeping in mind the gradual increase in demand for air travel, Emirates has been adding capacity on busier routes. The addition of A380s on flights to Kuala Lumpur will heavily boost its capacity. Around 10,000 roundtrip seats have risen for sale on the route in December alone.
Emirates last flew its A380s on flights to Malaysia almost three years ago. At that time, the carrier was flying thrice daily on this route. Starting 1st December, Emirates will operate as follows: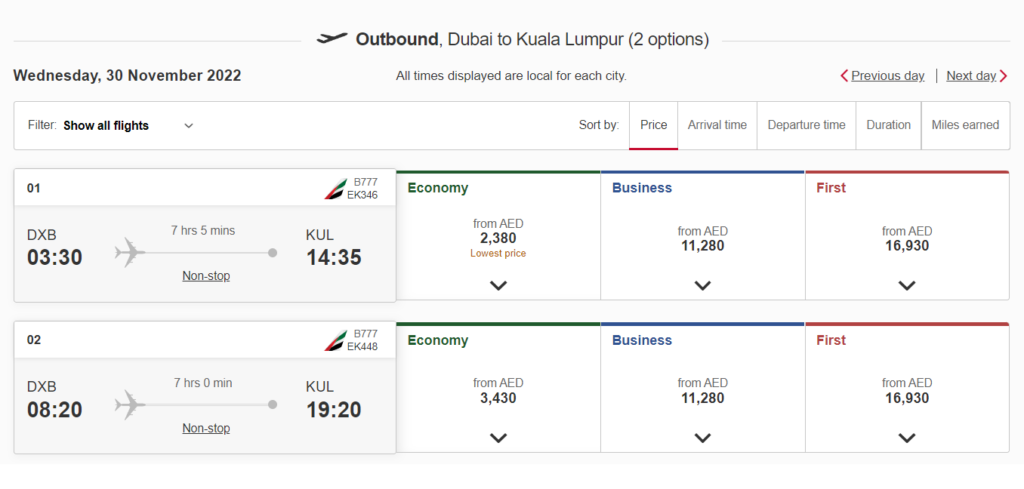 Currently, Emirates has 119 A380s in its fleet, of which 74 are active in service. The airline is looking forward to bringing all A380s back in service by spring 2023 to cope with the increasing demand.
Emirates A380 Return on Flights to Houston and Bengaluru
Emirates Airlines has also announced that it will deploy A380s on its flights to Houston and Bengaluru.
The Dubai-based carrier will deploy its superjumbos daily on the EK 568/569 rotation to and from Bengaluru starting the 30th of October, 2022. Similarly, the A380 will return on the Houston – Dubai route starting 1st of December later this year.
The deployment of A380s on busier routes explains that the aviation industry is recovering well after the COVID-19 pandemic.