Akasa Air first flight took off on the 7th of August from Mumbai and here is an Exclusive review after reading various posts and articles.
We also provided Live and Latest updates through our blog on our website.
So here's a detail of the first flight Review of the Akasa Air Mumbai-Ahmedabad flight.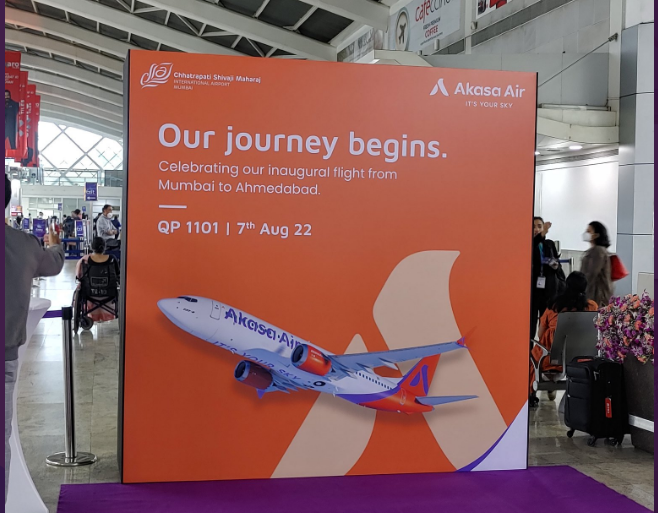 Akasa Air First Flight launch
The Akasa Air hosted a celebration summary at Mumbai International airport. There lighted a lamp and cut cake with its first passengers and co-founders.
After that, they hosted a Live Green flag-off ceremony with the ministry of civil aviation, India. The Indian Aviation Minister, Shri Jotiraditya Scindia flagged off the First flight of the airline on Sunday.
The Live ceremony lasted for a few minutes and it also include Maharastra Deputy CM, Devendra Fadanvis's pre-recorded message on Aviation Industry.
After that, Airlines CEO Vinay Dubey requested everyone to start the boarding procedure for their first flight.
Let's start our Journey
Akasa Air Boeing 737 (VT-YAA) was waiting at Gate 24 for its First ride from Mumbai to Ahmedabad.
Then passengers and Aviation Enthusiasts across the planet started boarding flights with their cameras to capture a historical glimpse of the journey.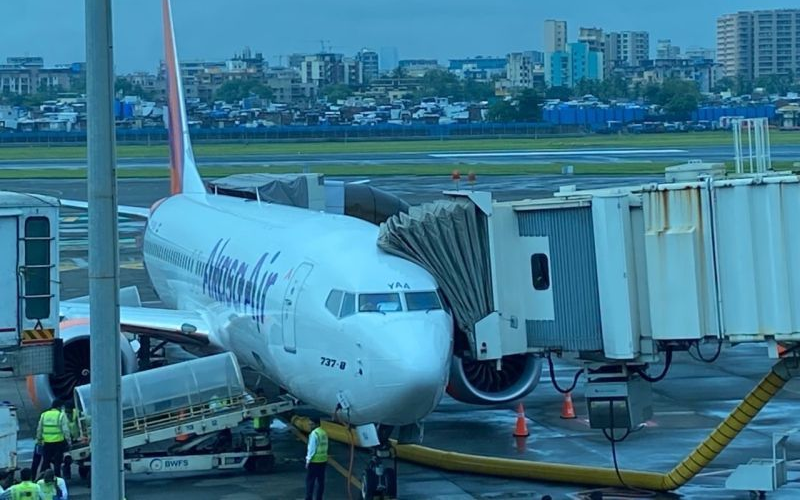 Aviators started taking pictures and shooting videos and they shared them on social media, especially on Twitter.
Here are some chosen tweets to give you that same experience as this Avgeeks has experienced.
After boarding, the door closed, Aerobridge disengaged and the journey started towards having a new experience with New Airlines.
The Engineering staff carried out required maintenance and checked for faults and after certifying the flight fit to fly, the plane was ready to roll down.
Pilots and Cabin crew prepared the aircraft for flight and the flight was ready to Takeoff officially for the first time.
Due to morning traffic at CSMIA the flight got delayed for 29 minutes and takeoff at 10:34 Am instead of 10:05 Am.
Akasa Air First Flight Into the skies
After a smooth Takeoff, the cabin crew unfastened their seat belts and started showing their hospitality.
Because of Akasa Air's Inauguration flight, they provided complimentary (Yes FREE) meals to all its passengers.
The meal included Veg croissant, and, Pomegranate Juice of Paperboat along with water in Environment-friendly packaging.
The Avgeeks and Planespotters showed their love for Akasa Air's first flight and captured their video of Takeoff,
The passengers were pretty happy with onboard service, meals, crew gestures, pilots' skills, and the airline staff's hard work behind this journey.
One passenger stated,
"The cabin is so much quieter and the overall experience was pretty Amazing. Will fly with them again soon."

Akasa air first time flyer
Successful Landing at Ahmedabad Airport
The plane land on time at Sardar Patel Ahmedabad Airport despite the delay in takeoff at Mumbai airport.
The aviation community and passengers deboarded the plane with smiley faces and a lifetime memory.
A journey didn't end there as there was some surprise for all first-time travelers, A Scale-model of Akasa Air Boeing 737 max plane, a Bag tag with a message reading "FIRST TO FLY AKASA AIR 7-AUG-2022" and a Certificate with flight details and thank you message.
Akasa Air First Flight Review by Aviation A2Z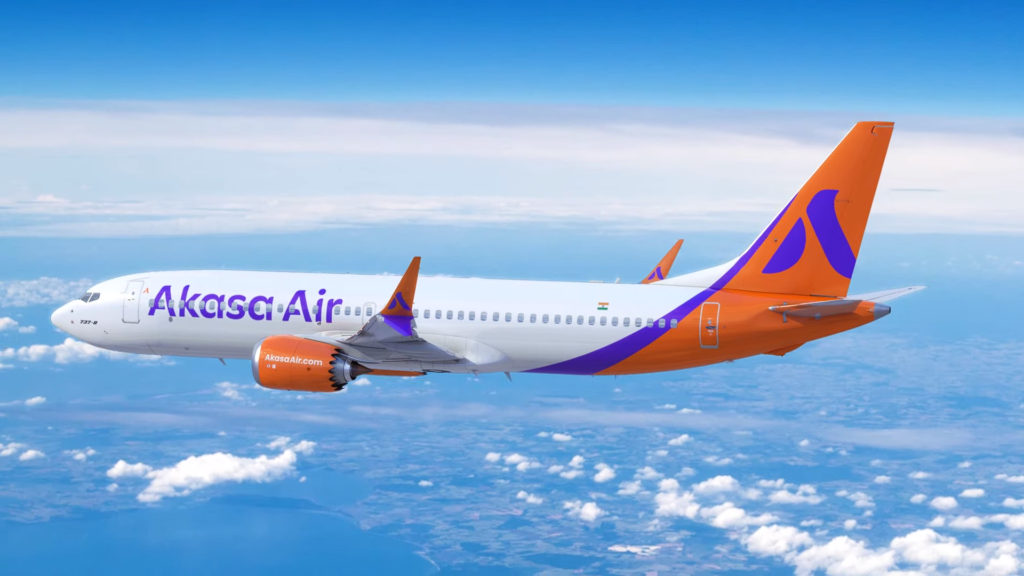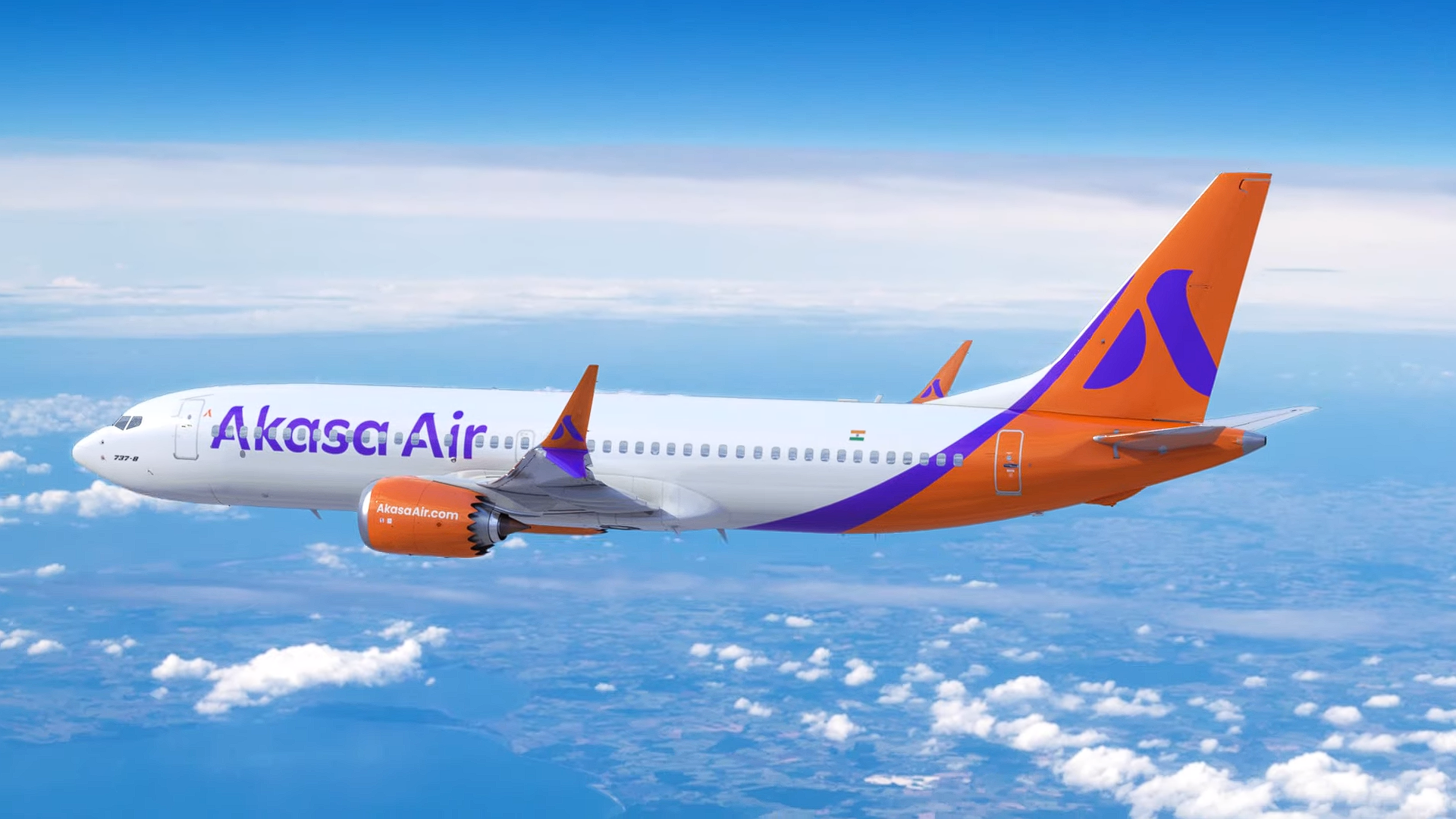 We think Akasa Air is bringing a new revolution in Low-cost carriers standards and Indian people will choose them over other carriers for their sweet gesture and international quality Onboard services.
Also, its mission towards sustainability and you come first policy despite low-cost carrier will make this airline reach greater heights rapidly.
Overall it's pretty easy to say that the airline has a bright future if they continue to treat everyone with generosity.
The airline is expanding rapidly with its fleet and route networks. According to an insider, the airline is looking to expand its operation on the south and central India routes and later on all India operations.
We will soon bring the latest and exclusive interviews with Akasa Air employees and bring their perspectives, so stay tuned and keep reading our blogs.
We greet and wish them all the Best for their future operations and hope they bring glory to Indian Aviation Industry.
Aviation A2Z will keep you posted about all the Akasa Air Airlines-related updates, make sure you click on the notification bell.
LIVE UPDATES: Akasa Air First Inauguration Flight | LIVE & Exclusive Updates – Aviation A2Z
Stay connected with Aviation A2Z!
Join Our Telegram Group for Latest Aviation Updates:-https://t.me/aviationa2z