Akasa Air flight is shown the green flag for the first time by Jyotiraditya Scindia at Mumbai Airport today.
The airline is flying from Mumbai International Airport to Ahmedabad International Airport.
The flight takeoff at 10:05 AM IST and is on the way to touch down at Ahmedabad at 11:25 AM.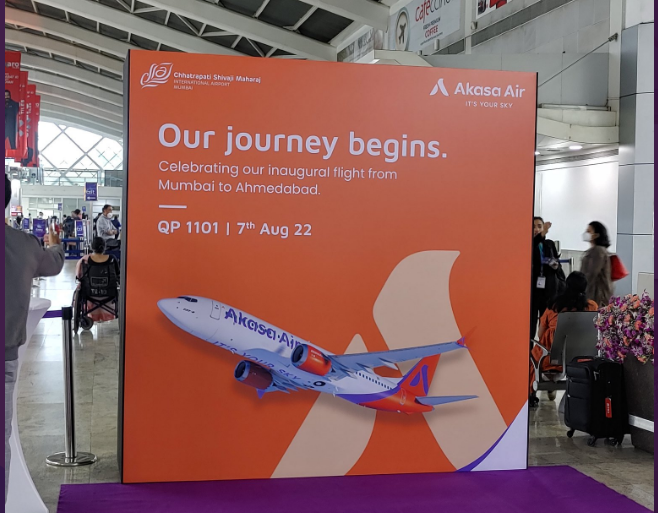 Akasa Air First Flight
The flight full of Aviation enthusiasts, Aviators, Media personnel, and Ministers takes off for the first time from Mumbai airport.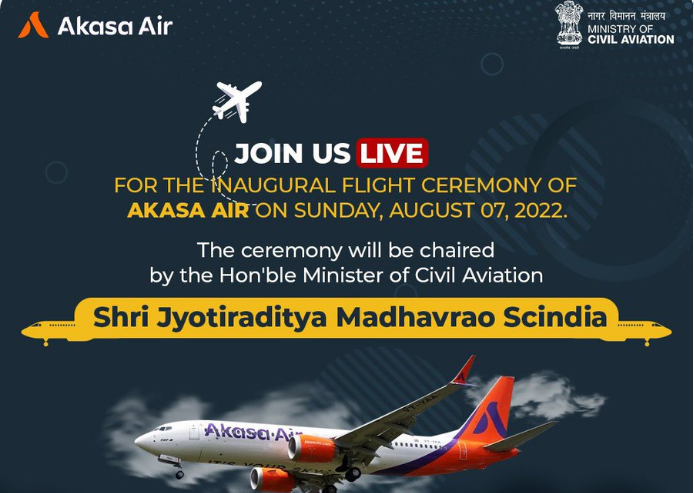 The Maiden flight is always special as it begins a new journey for the airline and its travelers.
Akasa Air is owned by Rakesh Jhunjunwala and founded by CEO Vinay Dube and Co-founded by Aditya Ghosh
The flight is having Flight number QP1101 (QP is IATA Code and 1101 is the number). The aircraft used is Boeing 737 MAX 8 with registration VT-YAA.
The Second flight will also takeoff from Mumbai with Flight number QP1102 and will take off at 12:05 Pm.
The Scindia inaugurates the first flight of any airline in his tenure and its Akasa Air Maiden flight.
Akasa Air is the third Indian airline to operate the Boeing 737 MAX type in Indian Skies.
The Flight takes off at 10:05 Am from Mumbai airport with 180 people onboard, 100% load factor !!
Airlines Milestones till Today
In march 2021, the brick of the Airline was laid down as Vinay Dubey founded Akasa Air with other important board members.
In July 2021, Rakesh Jhunjunwala backed the airline with a 40% Stake in Akasa Air.
On October 21, the airline received AOC from DGCA and the Ministry of Civil Aviation.
November 21, the airline placed the order for 72 Boeing 737 MAX aircraft.
On December 21, Akasa Air Unveiled its Brand name and logo with the tagline, "Its Your Sky."
Then the airline went for approvals for commencing its operations.
From July to August they have taken approvals, received aircraft, unveiled flight and ground crew uniforms, disclosed flight booking sites and routes, and are ready to rule the Indian skies.
The airline schedule for upcoming First flights from respective cities as of 7th August,

We greet and wish them all the Best for their future operations and hope they bring glory to Indian Aviation Industry.
We will keep you posted about all the Akasa Airlines-related updates, make sure you click on the notification bell.
LIVE UPDATES: Akasa Air First Inauguration Flight | LIVE & Exclusive Updates – Aviation A2Z
Stay connected with Aviation A2Z!
Join Our Telegram Group for Latest Aviation Updates:-https://t.me/aviationa2z