From January through June, the number of passengers carried by domestic airlines increased by 66.73 percent annually, from 343.37 lakh to 572.49 lakh, DGCA stated.
According to the Directorate General of Civil Aviation (DGCA) statistics, this too demonstrates a 237.65% monthly growth.
In the month of June, IndiGo had a passenger load factor of 78.6%, SpiceJet had an occupancy rate of 84.1%, Vistara had an occupancy rate of 83.8%, Air India had a rate of 75.8%, GoFirst had a rate of 78.7%, Alliance Air had a rate of 66.9%, Fly Big had a rate of 54.2%, and Star Air had an occupancy rate of 81.8%.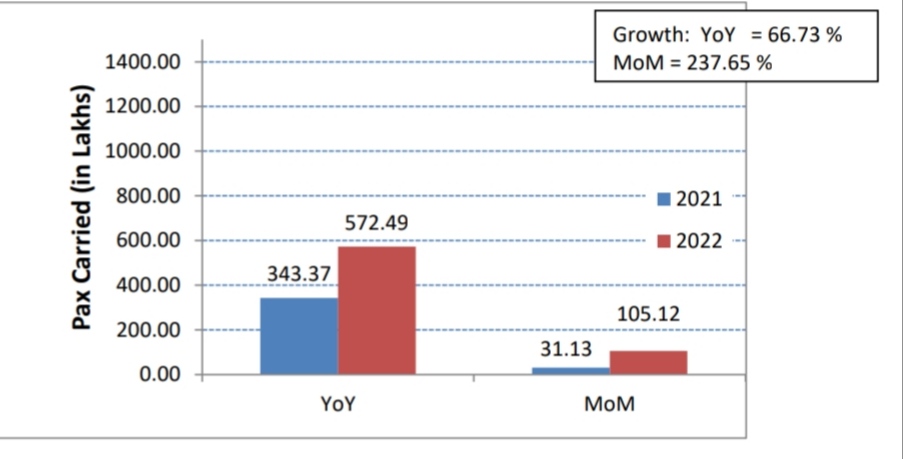 The overall domestic scheduled airline cancellation rate for the month of June 2022 was 0.59 percent.

According to the DGCA data
In the months of April through June, IndiGo held the biggest market share (56.3%), followed by Go First (10.4%), SpiceJet (9.7%), Vistara (8.9%), and Air India (7.5%).
The domestic carriers got a total of 570 complaints in June. The study also stated that "during the month of June 2022, there were approximately 0.54 complaints per 10,000 passengers carried."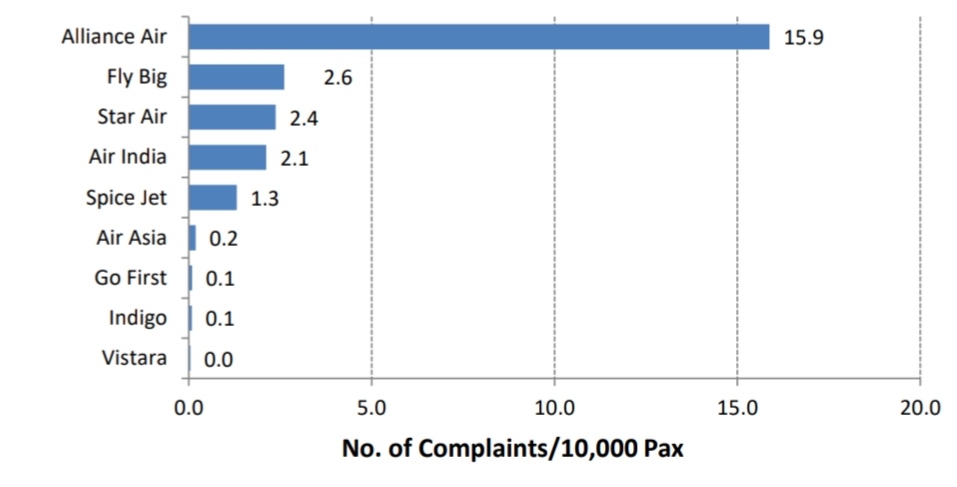 Alliance Air received the most complaints, while Vistara received the fewest.
The overall cancellation rate of scheduled domestic airlines for the month of June
2022 has been 0.59 %.
Various reasons of cancellations were-
Operational
32.8%
Technical 31.3%
Weather 28.2%
Misc 5.6%
Commercial 2.1%
The On-Time Performance (OTP) of domestic scheduled airlines for Bangalore, Delhi, Hyderabad, and Mumbai's four metro airports revealed that AirAsia's OTP was at 89.8% for the month of June, followed by Vistara at 86.4%, IndiGo at 84.5%, Air India at 83.18%, SpiceJet at 79.4%, Go First at 76.6%, and Alliance Air at 66.48%.
Also read:
Indian startup ePlane Company to launch a flying taxi by 2023
Join our telegram group for latest Aviation Updates:-
Stay tuned…