Akasa Air after Receiving its Air Operator Certificate (AOC) on 7th July is now Officially an Airline.
To Celebrate this Milestone, Akasa Air showed a sweet and Beautiful Gesture toward its Employees.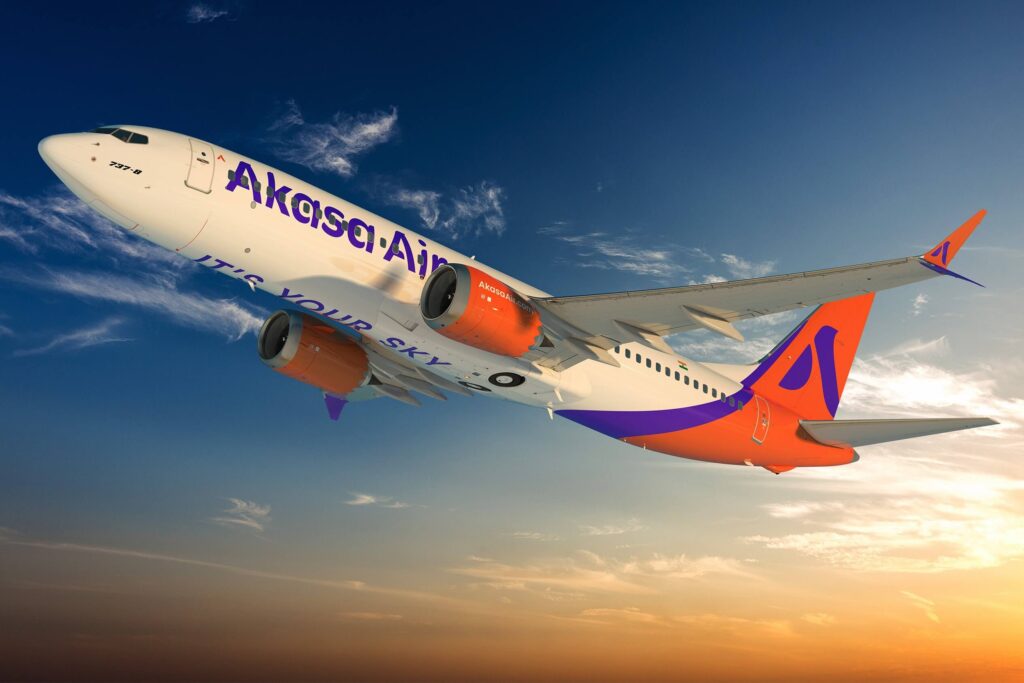 Akasa Air is India's newest airline and is taking off in End of July 22 with the greenest and youngest fleet in India.
With this AOC they can sell flight tickets and scheduled flights in India.
Akasa Air's Sweet Gesture
The Airlines Have Proved its Policy where "Employees Comes First" by Sending them A box of sweets along with Thank you letter.
The Box contains a Premium sweet and A printed letter having the title,
"Congratulations To All and Thank You For Your Efforts."

Akasa Airlines sweet Gesture
And letter Continued with, "Dear Akasians…..."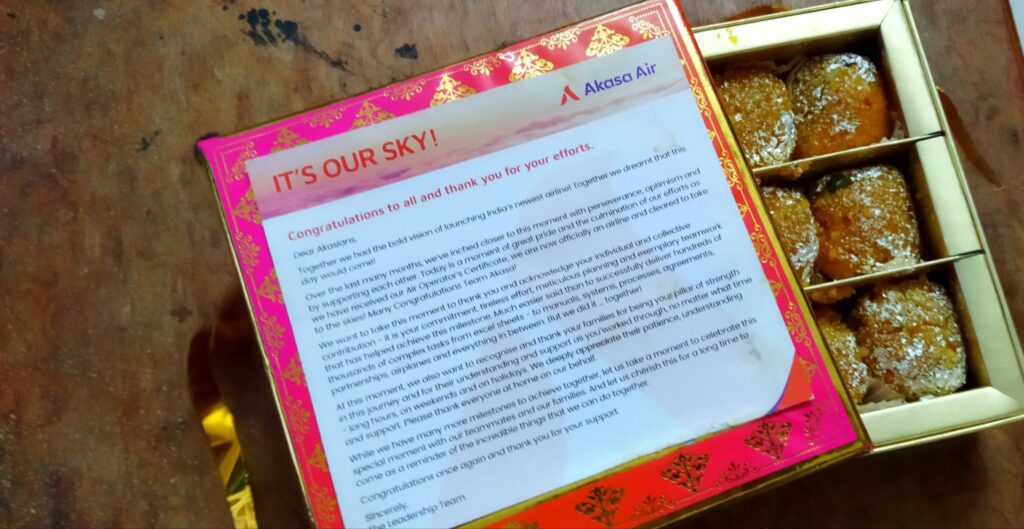 Such Gestures by Airline will not only inspire employees but also make them feel respected and welcomed.
We are Eager to fly with such a dependable airline and enjoy their Quality services.
They not only speak about their values but take action to prove them.
We hope and wish them Good Luck and they become India's most Trusted Airlines.
Uniform Introduction
The upcoming Indian Carrier Akasa Airline Revealed its Airline Crew Uniform on Monday.
Uniform is accompanied by a youthful and modern design, with colors that reflect the warm, friendly, and cheerful personality.
It Becomes the first airline to introduce Custom Wear for its airline crew uniform.
According to Akasa Air's statement, the uniform is Inspired by its core belief of Employee centric and sustainability.
Fleet Update
To lease Five Boeing 737 Aircrafts the Airline has partnered with Griffin Global Asset Management,  
a commercial aircraft leasing and alternative asset management business with offices in Dublin, Ireland, Puerto Rico, and Los Angeles, USA. 
Griffin Global Asset Management also posted Boeing 737-8 Max Plane on their Twitter account on 9th June
The Airline inked a contract with Boeing on November 26, 2021, to purchase 72 Max jets.
We will keep you posted about all the Akasa Airlines-related updates, make sure you click on the notification bell.
Stay connected with Aviation a2z!
Check Out :Exclusive: Akasa Air Reveals its Flight Crew Uniforms | First Airline to do so in India? – Aviation A2Z
Check out this post:- On track to receive the first 737 Max plane by mid-June, launch commercial operations by July
Join Our Telegram group for Latest Aviation Updates:-https://t.me/aviationa2z