Jet Airways India's First Private Airline is all set to restart again after more than 3 years.
DGCA has given the airline that was suspended due to financial difficulties an Air Operator Certificate (AOC).
Jet Airways said in a statement that it plans to resume commercial operations in July-Sep of 2022.
The procedure ended with the airline successfully conducting a series of proving flights with senior DGCA officials on board between May 15 and 17, 2022.
Jet Airway's New Website
They have created a Brand new website with a Home page featuring, "The Joy of Flying is Back"
They have included sections like, "India's most-loved airline is taking to the skies again." and "The glorious past." stating,
We are creating history as we prepare to re-launch India's most-loved airline with the promise of bringing back the warmth, understated elegance, and efficient operations that Jet Airways was synonymous with for more than 25 years.

Website blogs
Launched in 1993, Jet grew to become synonymous with premium air travel for discerning travelers in India.

It eventually flew to over 65 destinations in India and across the world, including Europe, the Middle East, Southeast Asia, and North America, with hubs in Mumbai, Delhi, Bengaluru, and gateways in Amsterdam, and Paris, London, and Abu Dhabi.

It flew 124 narrow-body and wide-body aircraft on nearly 1000 domestic and international routes before it suspended operations in April 2019.

Jet's Glorious past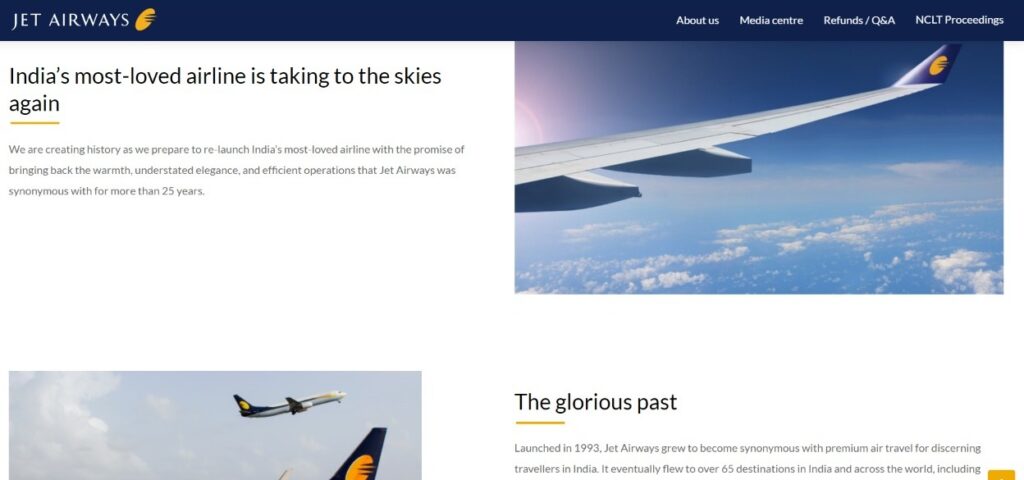 Jet Airways 2.0 Careers
On the official Twitter Account, Jet has put forward many Requirements including senior management roles and Cabin crew.
Jet is also inviting applications from its former Employees to rejoin them stating,
We are guided by values and principles, and not by some 'rigid' rulebook.

Our people are empowered to make decisions, guided by our values, principles, and common sense.

We are looking for people who understand small things make a big difference, and those who follow the Golden Rule: do unto others as you would have them do unto you.

Looking for People who take ownership, are responsible, responsive, respectful to all, fair, courteous, and who are focused on achieving results.

Join us on our journey | Jet Aiways Careers
Jet Airways Refunds / Q&A
The Airline has also added a Q&A section for people who have been waiting for their airfare refunds.
The questions include,
I had booked tickets to fly on Airline, but the Company canceled the flight and suspended its operations. How do I get my refund for the canceled flight?
I had paid by card for booking the tickets. Can I get a refund in cash?
For more information visit the official website here:- Jet Airways Refunds / Q&A.
End Note
Airbus SE has emerged as the front-runner to win an aircraft order from Jet Airways India Ltd. valued at up to $5.5 billion.
Final discussions with lessors are ongoing and aircraft OEMs, and we will announce our fleet and aircraft selection plan after we've made a choice

Jet Airways official
Read Also:- Akasa Air Gets Green Light in form of AOC from DGCA to start flying at the end of July 22 | Exclusive News
Stay connected with Aviation a2z!
Join Our Telegram group for Latest Aviation Updates:- https://t.me/aviationa2z