ATR sees an opportunity to grow its Japan fleet and keep remote and island communities connected to the main cities.
Turboprop manufacturer ATR is increasing its presence in Japan, looking to capitalize on the demand for more regional connections in the post-COVID environment.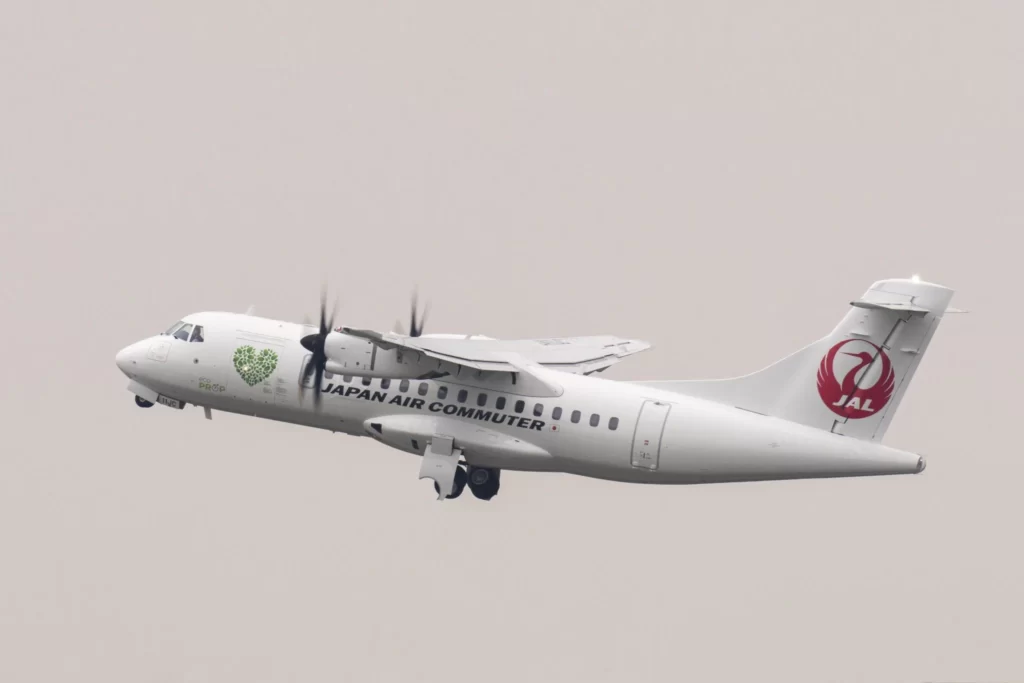 ATR aircraft have been flying in Japan for six years, and there are currently 15 in operation with three airlines. The biggest operator is Japan Air Commuter (JAC), which ch-aviation.com data shows have a fleet of 11, made up of nine ATR 42-600 and two ATR 72-600 aircraft.
JAC welcomed its latest ATR 42-600 in May, with the first leg of the France-Japan ferry flight using a blend including sustainable aviation fuel (SAF). Japan is engaged in reducing CO2 emissions and preserving its biodiversity, and ATR supports that by connecting communities and businesses across the Japanese archipelago sustainably and responsibly.
The new ATR has a specific livery representing the leaves of Kaikouzu, the tree of the Kagoshima Prefecture. The leaves are Japan's symbol of the preservation of nature and represent JAC's commitment to connecting areas that coexist with nature. The airline flies to several World Natural Heritage sites in Japan, including Yakushima, Amami Oshima, Tokunoshima, and Okinawa, as well as many other areas rich and diverse in wildlife.
Japanese airlines operate ATRs, Amakusa Airlines
Two other Japanese airlines operate ATRs, Amakusa Airlines with one ATR 42-600 and Hokkaido Air System (HAS), part of the Japan Airlines Group, with three ATR 42-600 aircraft. While the current ATR fleet is small, ATR CEO Stefano Bortoli says he can see 100 ATRs flying in Japan in a few years. He says that "Air transport is crucial for the archipelago where air routes are essential for domestic travel and transportation," adding:
"We want to aid assure that aviation contributes to a prosperous future for Japan by connecting its regions ever more sustainably and affordably. Most of the new ATRs will return older, less efficient models and will connect islands and remote regions with the major cities."
Toki Air with two ATR 72-600 aircraft
Japan has two regional airlines with ATRs on order, Oriental Air Bridge (ORC) with two ATR 42-600 and Toki Air with two ATR 72-600 aircraft. Toki Air plans to fly to Sado Island, off the coast of Niigata, which has a runway of just 890 meters (2,900 feet). Toki is discussing taking the new ATR 42-600S, the ATR short take-off and landing (STOL) version that can land on runways as short as 800 meters.
Also, read
ATR tells there are ten airports in Japan with short airstrips that the turboprop STOL variant can land at and keep those communities connected to the rest of the country.
Japan's sustainability plan is to cut emissions by 46% by 2030. With the ATRs burning 40% less fuel and emitting 40% fewer emissions than a regional jet, turboprops can play a primary role in achieving the national goal. ATR said introducing the new Pratt & Whitney PW127XT engine, which provides a 3% improvement in fuel efficiency, and the potential to use 100% SAF, means the sustainability gains will be even more significant.
Turboprops have played a major role in keeping remote communities connected during the pandemic, particularly in the Asia-Pacific regions.
Many remote communities and small islands only have air connections and rely on airplanes, particularly turboprops, for their needs. Keeping them connected sustainably is a bonus, and ATR has the right aircraft to do that, and so will Embraer when its new turboprop comes.
Thank you
Stay updated with aviationa2z. com
Join our Telegram group for latest updates