Evelyn Bryan Johnson, a record-breaking pilot born just six years after the Wright brothers' inaugural flight, died at the age of 102.
Johnson, who started flying in 1944, holds the Guinness World Record for the most hours clocked by a female pilot with almost 57,000.
Johnson not only had an impressive flying record, but she also assisted many other pilots in obtaining their licences.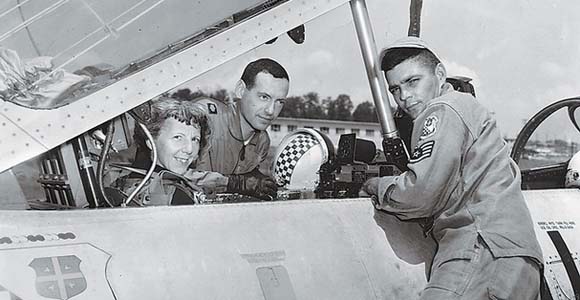 Johnson earned the nickname Mama Bird after one of her students called her that while she was giving instruction and FAA flight examinations to thousands of pilots.
Johnson had a lasting impact on aviation, training 5,000 pilots, many of whom are still flying commercial jetliners and freight planes today, according to her own estimation.
She told NPR's Scott Simon in 2003 that "two of them turned out to be vice presidents of US Air."

"One of them was a FedEx pilot for 30 years; another flies for American out of New York; and others fly for United and Delta.

There are many of both girls and guys."
Johnson was the longstanding manager of the Moore-Murrell Airport in Morristown, Tennessee, a position she held well past her 100th birthday and up until her death on Thursday.
"In 2007, Johnson was honoured by the National Aviation Hall of Fame in Dayton, Ohio.

She had been flying for 55 years and had flown for the equivalent of seven years at the time."
There was the time she flew in a race from Washington, D.C. to Havana, Cuba; the two times her engine failed, forcing her to land in fields; and the flight that went off without a hitch despite an engine on fire.
Johnson was also one of the first female helicopter pilots, joining a group known as the Whirly Girls.
Jonson was honoured by the Carnegie Hero Fund in 1958 for her fast actions after witnessing a helicopter disaster.
When Johnson climbed beneath the whirling blades to cut off the machine's motor, the injured pilot was still in the debris.
To avoid an explosion, she sprayed the wreck with a fire extinguisher.
Johnson had flown more than any other living pilot at the time of her death.
On the occasion of her 94th birthday, she chatted with Scott Simon about how flying aeroplanes always helped her clear her mind of life's troubles.
"It's a completely different universe than the others.

Everything is so gorgeous when you get up there and fly about. That's how fantastic it is "Scott was informed.
"Then you forget about your worries while you're up there. 

You still have them, but it doesn't matter because you've taken a break from them. It's really an amazing thing."
Johnson's hundredth birthday was six years away at the time of the interview, which she claimed she was looking forward to. Johnson told Scott about her plans for the day.
"Here's what I'd like: Willard Scott will tell about me becoming 100," she explained.

"However, I wouldn't hear him since I'd be up in the air."
Stay Informed with us! Subscribe us to get notified on your fingertips.