Interested in studying aviation in Canada and becoming a pilot? If yes, read on to know the 10 best flying Schools in Canada.
Canada has several aviation schools offering aviation programs for students like you.

 You will learn the practical skills you need to work in aviation, gain the necessary experience and even improve your language skills.
Requirements to enroll:
Below are the requirements every student must meet before they can enroll in the Canadian colleges offering international student aviation programs.
Students must be at least 18 years old or have reached the age of 18 in the first semester of their studies.
Must be fluent in English.
You may need to take a test to show that you are very familiar with both reading and writing in English.
However, many schools offer this test online.
Schools may also require students to have the equivalent of a high school diploma.
Cost Of Studying Aviation In Canada
Many of those who enroll are adult students who want to change careers or those who did not have a chance to go to school at a younger age.
Others are younger students with a passion for flying.
The total cost of the program often depends on whether it is a diploma/certificate program or a program that ends with an actual degree.
Flying programs are often more expensive and require students to pay for their materials and textbooks.

Airline programs in the country can cost between $ 5,000 and more than $ 20,000 per year.
Top 10 Flying Schools are as follows:
10- The British Columbia Institute of Technology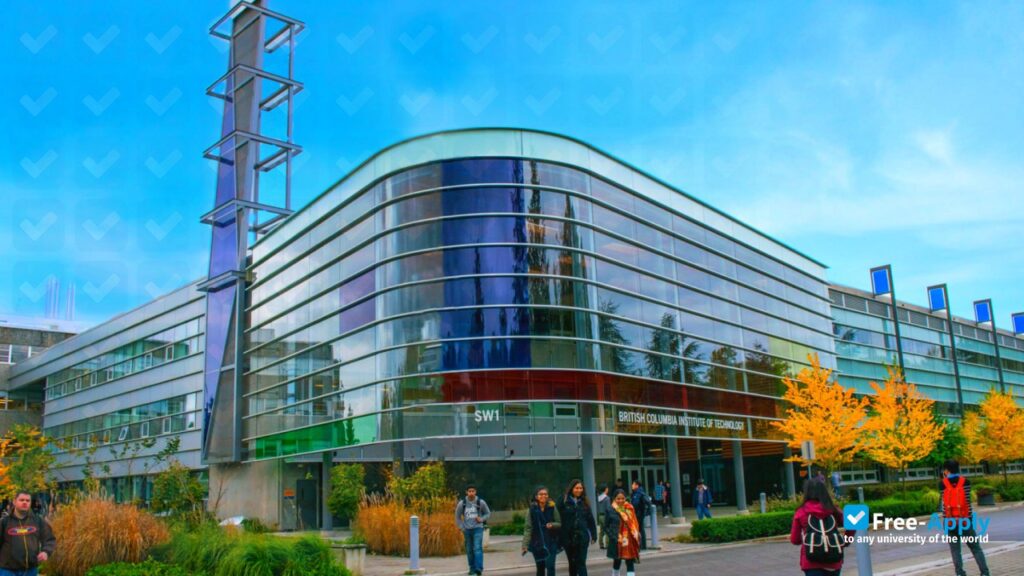 BCIT, one of Canada's largest aviation training schools, and Pacific Flying Club, one of Western Canada's premier flight-training schools, have combined their resources and expertise to offer a unique training opportunity for men and women who wish to become airline pilots with a strong skill set of aviation industry knowledge.
It is a fully integrated program that combines flying training with industry focused academic training.
Learners receive training required to qualify for a Private Pilot Licence (PPL), Commercial Pilot Licence (CPL), Multi Engine Rating, Instrument Flight Rating, and a Diploma.
The Diploma is designed specifically to meet the professional growth needs of an aviator in the exciting aviation business.
09- University of Waterloo
At Waterloo Wellington Flight Centre we strive to be the top flight training school in Canada by delivering excellence in training, providing access to the most current equipment, and offering welcoming facilities.
In partnering with one of the largest flight schools in Canada, University of. Waterloo students have access to a diverse fleet of aircraft, state of the art equipment, a modern flying training facility, and the opportunity to train at one of Canada's busiest airports.
08- University of Fraser Valley
In partnership with renowned flight training companies, UFV offers a two-year Aviation diploma to help you kick start your career in this expanding industry.
UFV's Aviation diploma mixes classroom studies, in-air flight training, and simulator training.
You earn your commercial pilot license certified by Transport Canada and undergo multi-engine and instrument training.
Once you graduate, you have both the technical skills and business background required to attract the attention of potential airplane employers or on-demand aviation service providers, both in Canada and worldwide.
Or you may decide to pursue a Bachelor of Business Administration in Aviation to increase your potential for career advancement, if you wish to become an operations manager or a senior airline or airport administrator.
07- Western University, Canada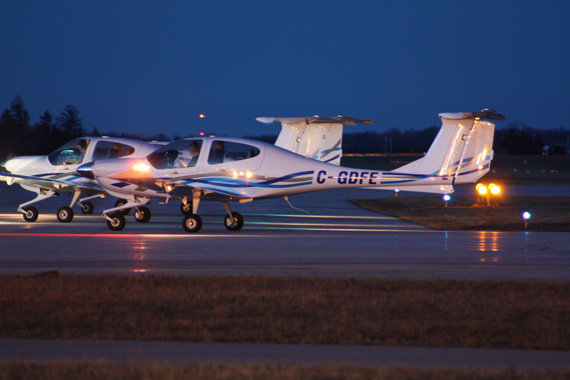 The University of Western Ontario, founded in 1878, is one of the Canada's oldest universities
Western consistently ranks among the best universities in the world
Western will provide you with the best student experience
The Western is dedicated to research: support for research projects totals nearly $190 million per year
Western is committed to quality in teaching
Western is the first Canadian university to offer an aviation management program and the only university to offer a 4 year university degree in Aviation Management
An ideal preparation for employment in both private and public sectors of the aviation industry
The BMOS Degree is a stepping stone to MBA programs, law or other professional schools
06- Sault College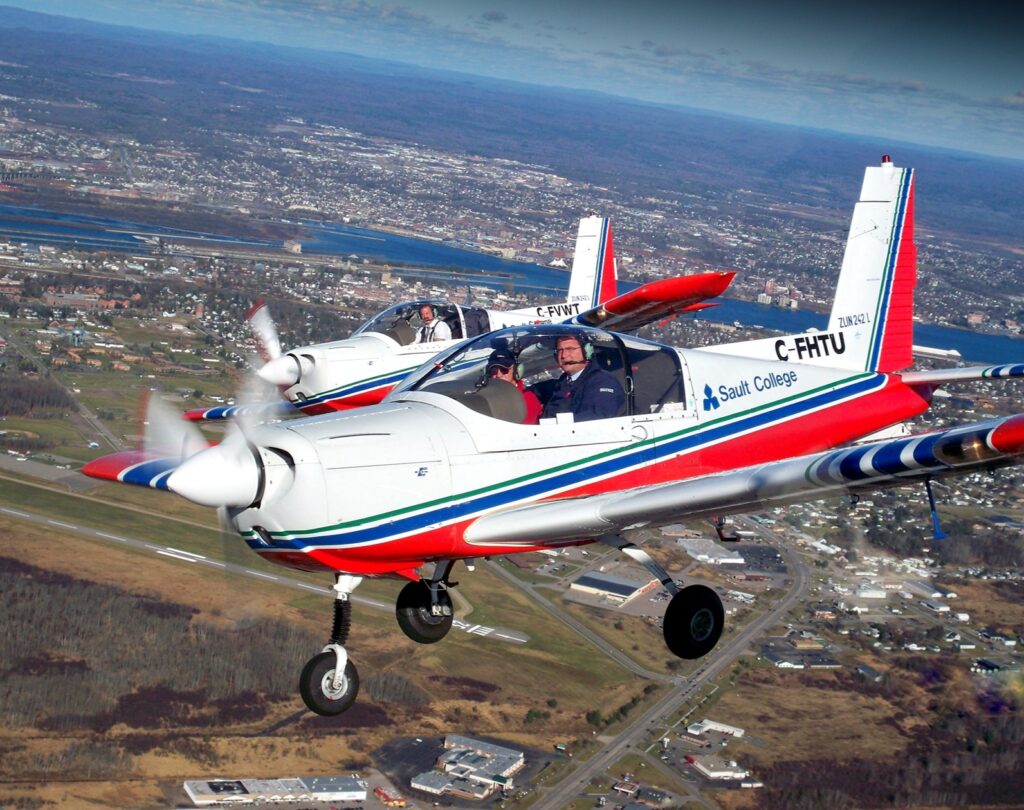 Considered one of the best flight schools in Canada, Sault College`s Aviation. Technology – Flight program will prepare you for an exhilarating career as a professional pilot with positions available around the globe.
Graduates of the program who meet qualification criteria established by Transport Canada, will have successfully completed the requirements for the Integrated Commercial Pilot License Aeroplane, including the multi-engine instrument rating (CPL(A)IR).
This licence meets all the requirements for you to be a commercial pilot.
Individuals with previous flight training start with a modified flight training program in the beginning; however, all students will be at the same level by second year.
Students gain hands-on training with our impressive fleet of aircraft, includingten Zlin and two Seminole Piper planes complemented by new state-of-the-art flight simulators, that will provide you with a realistic experience that closely replicates flying in one of our College`s airplanes.
Each aircraft includes advanced radio navigation systems and real-time aircraft tracking systems.
05- Seneca College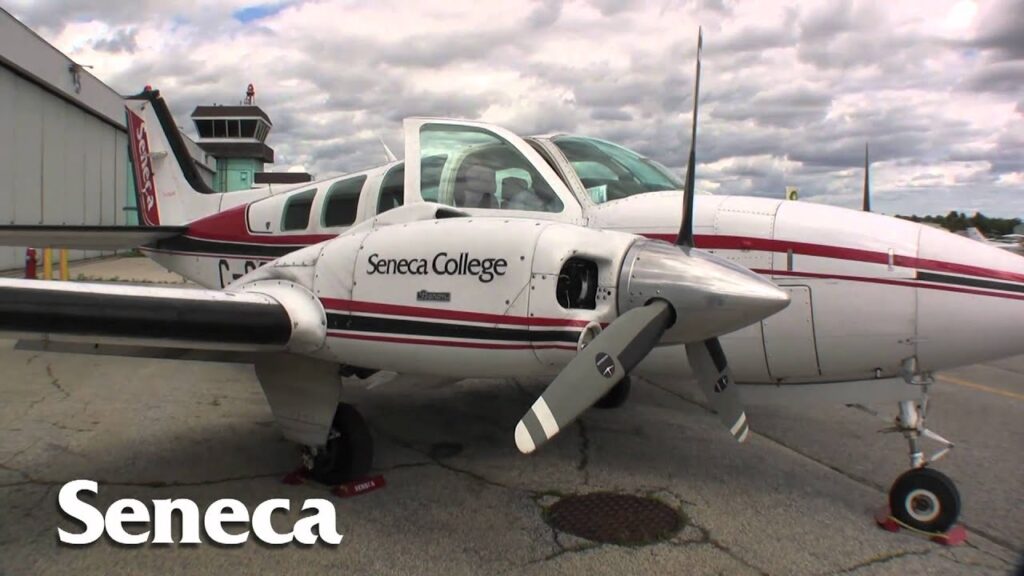 Seneca is one of Canada's premier aviation schools and a national leader in aviation education.
Renowned internationally for quality graduates, expert faculty and strong industry partnerships.
Whether your goal is a career in flight, airline operations, safety flying management or quality assurance, you will have the skills to become a highly regarded professional in the aviation industry.
The Seneca School of Aviation will continue to be leaders in the education and training of aviation professionals for the global aviation industry, focused on advancing aviation safety and utilizing innovative flight instruction methodology.
04- Confederation College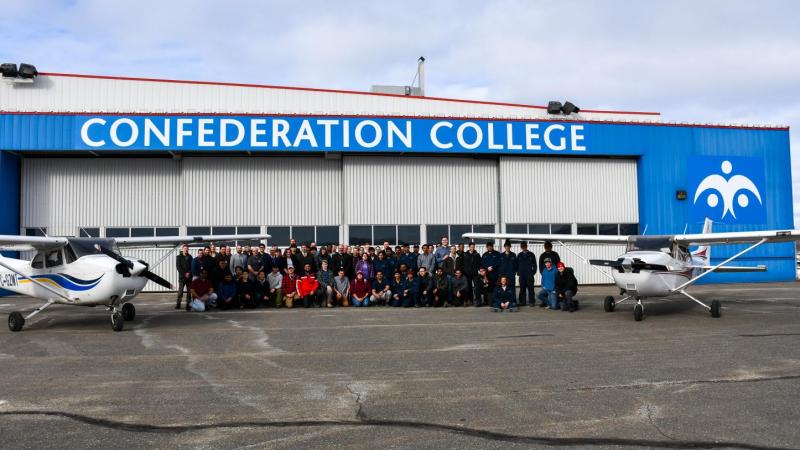 With Confederation College's Aviation – Flight Management consecutive 21-month advanced diploma program.
Your private pilot flight training begins the first week of first semester right from our hangar at th.e Thunder Bay International Airport.
You'll also receive training on some of the most advanced simulators available, learning to react to many situations in different weather scenarios.
From your first flight through to your graduation, we give you all the skills you need to land your first aviation job.
Our veteran flight instructors at Confederation College's state-of-the-art Aviatio. Centre of Excellence (ACE) will give you a solid foundation for a long and successful career.
You're flying in the first semester
Learn and work in our dedicated Aviation Centre of Excellence (ACE) building, located at the Thunder Bay International Airport
13 aircraft
Three flight simulators • Industry-based instruction – you learn the skills required to work as a commercial pilot
03- Moncton Flight College
MFC Training first left the ground in 1929 and has since grown to become one of the largest and most experienced flight training schools in Canada.
The MFC Training graduates over 350 or more fully trained commercial pilots every year for many of the world's airlines.
MFC Training Campus(s) provides all levels of pilot training for both domestic and International markets
From Recreational Pilot Permits through to our Professional Commercial Pilot and Instructor Programs, MFC Training is able to meet your training needs with a fleet of over 50 aircraft.
MFC Training Aviation Career Pilot Programs provide all of the required flight hours and examinations to graduate with a Commercial Pilot License, Multi-Engine and Instrument ratings.
This program structure is designed to achieve maximum learning efficiency by ensuring that both flight training and in-class content is integrated through all training phases.
These programs allow future pilots to move through the modules in a condensed time frame and provides a quicker transition to becoming a Captains.
In order to work for an airline, a commercial pilot needs a final license called an Airline Transport Pilot License (ATPL).
The Integrated programs are an option with Transport Canada where the ATPL ground school and written exams needed for the ATPL are completed on course and offer a 3 year extension on the written exams from 2 years to 5 years.
This allows the pilot 5 years to build the required experience needed for sign off with Transport Canada with the exams already completed. All of our professional programs with full options fall into this category.
Diploma in Aviation Technology
Bsc Degree
Bcomm Degree
Integrated Commercial Pilot Course (ICPC)
Life in Flight Program
02- Fanshawe College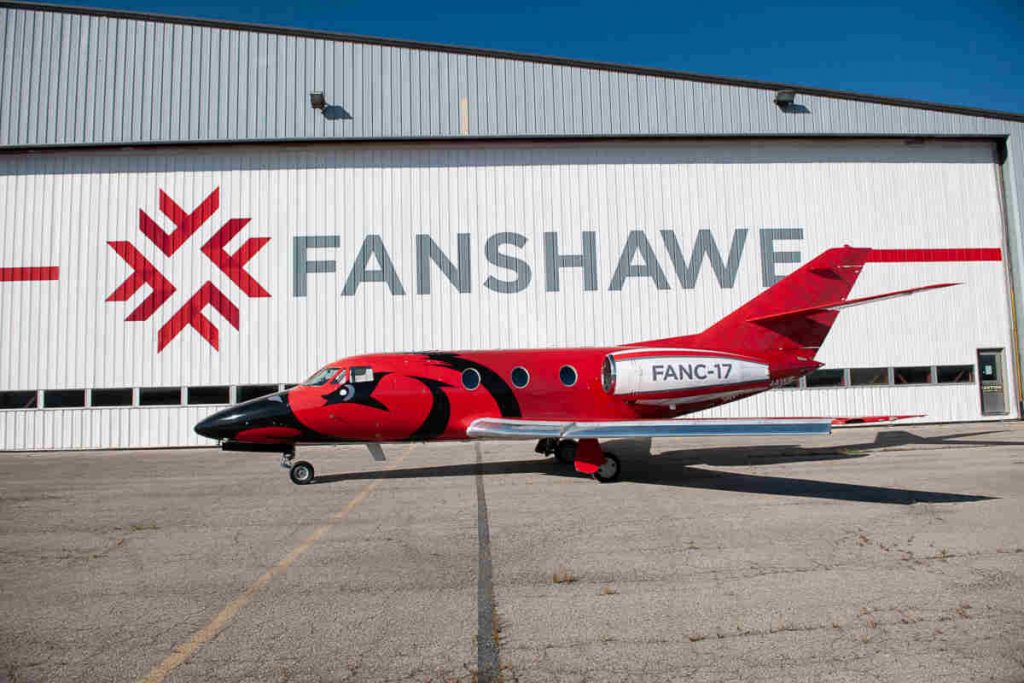 Commercial Flight and Aviation Leadership is a three-year Ontario Flying college advanced diploma program for students interested in becoming a pilot.
Students will study safety management systems, air regulations, flight operations and logistics, and airline operations.
Students will train on flight simulators and log approximately 205 hours of flight training in the aircraft. Take your career to the skies with Fanshawe's flight school!
Become a leader in the booming aviation industry.
Industry dictates that there will be 804,000 global aviation jobs by 2038 and this three-year advanced diploma will provide you with a strong background to take a leadership position.
Study safety management systems, Canadian air regulations, flight operations and logistics and airline operations, all while completing a Fixed-wing Canadian Private and Commercial Pilot license with Multi Engine and Instrument Ratings.
Learn to fly in new aircraft;
Gain experience in the classroom, hangar and in the cockpit;
Train on modern flight simulators.
Collaboration with Diamond Flight Centre London Inc
Our program includes the option to complete a Canadian Private and Commercial Pilot's License, including night, instrument and multi-engine ratings.
Graduates can seek opportunities in varied aviation flight operations and business ventures.
The flight training is delivered by Diamond Flight Centre London Inc, located at the London International Airport.
The tuition and fees for this program are calculated in two parts: academic (Fanshawe) and flight training (DFC London). The Fanshawe costs are eligible for OSAP funding, however, the flight training is not.
01- Georgian College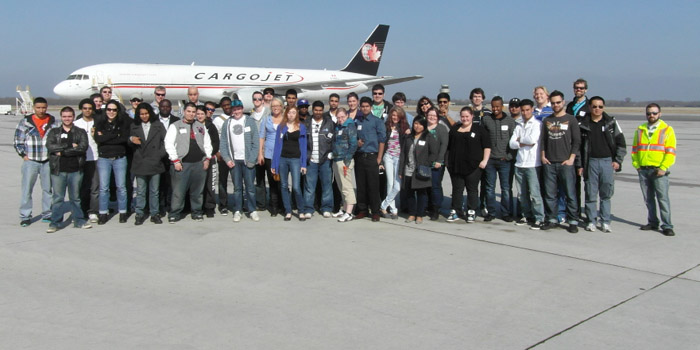 Georgian College, a huge Ontario school with seven campuses and 12,500 students, offers a three-year Aviation Management Diploma course from the Barrie campus in scenic Kempenfelt Bay.
It is among the best flying schools in Canada.
The course, which is run by the Canadian Aviation Institute (CAvI) in Georgia in 1986, aims to provide students with a combination of theoretical understanding and practical aviation and management experience.
There is also a compulsory component for work experience in the industry.
Graduates receive a diploma qualification and can study abroad for an additional year to obtain either a Bachelor of Science degree from the Embry-Riddle Aeronautical University of Florida, a Masters in Aviation Management fromGriffith University in Australia, or a Masters in Transportation Policy at Loughborough University to acquire in the United Kingdom.
Stay Connected with Aviation a2z for more updates!