Start-up airline Norse Atlantic Airways has obtained an Air Operator's Certificate (AOC), allowing the newcomer to commence passenger operations connecting Oslo, Norway, and the United States.
The low-cost airline, which plans to begin transatlantic operations as soon as spring 2022, received an AOC from the Norwegian Civil Aviation Authority on December 29, 2021.
Norse Atlantic Airways gets its AOC
Norse Atlantic Airways is on track to launch its transatlantic services to the US after the Norwegian Civil Aviation Authority granted it its AOC. The carrier plans to launch flights out of Oslo Airport to three initial destinations in the US – Fort Lauderdale International, Stewart International, and Ontario International.
"We would like to thank Norway's Civil Aviation Authority for a constructive and professional process. We are now one important step closer to launching our attractive and affordable flights between Europe and the US in spring next year."
The airline said that the certification was completed on December 29th. However, for its transatlantic services to begin, it will also need its foreign air carrier permit approved by the US Department of Transportation (DOT).
Norse Atlantic submitted its application to the DOT in September, despite attempts by the Biden Administration to block Norse Atlantic from conducting US flights.
"We've had a good and constructive dialogue with Norse throughout the process of issuing a Norwegian AOC. We wish them the best of luck and look forward to a continued fruitful relationship going forward."
Hoping for a Spring 2022 launch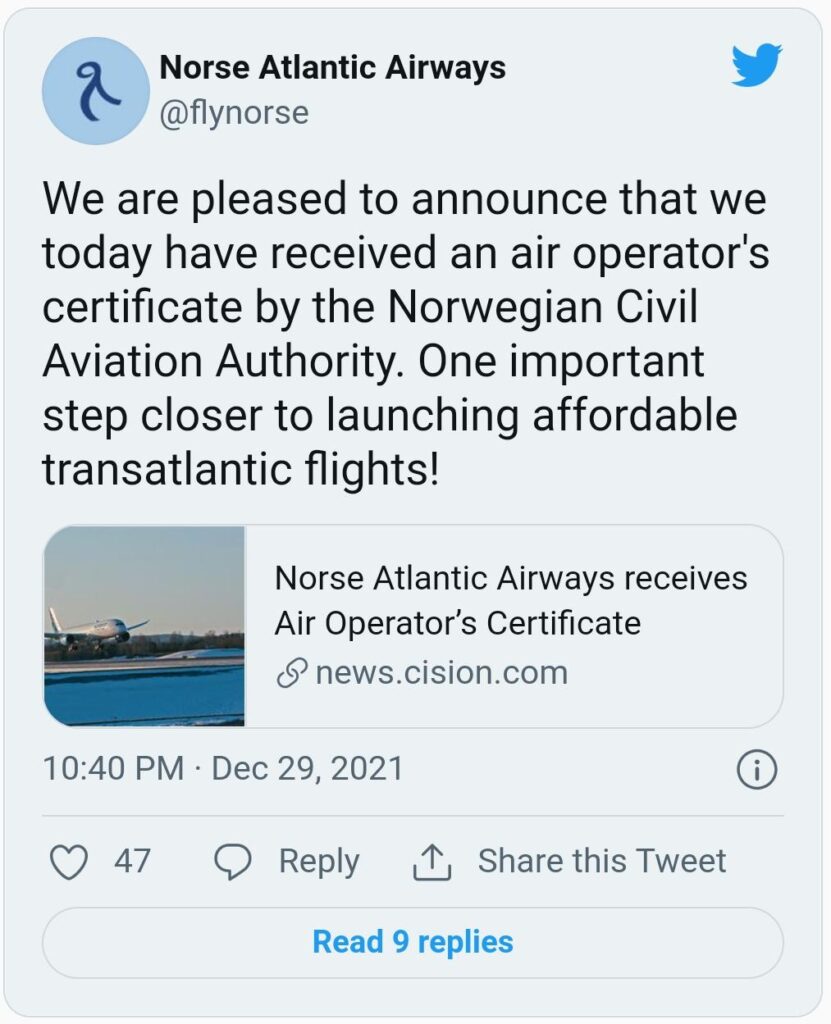 Norse Atlantic is set to launch its US flights in Spring 2022 and will operate with a fleet of 15 Boeing 787 Dreamliners. All flights will be based out of Oslo Airport as Norse Atlantic looks to take over the gap left by Norwegian.
The airline has earmarked three initial airports – Fort Lauderdale (FLL), Stewart International (SWF) and Ontario International (ONT) – which will serve the Miami, New York and Los Angeles areas, respectively.
"I would also like to commend my colleagues at Norse for their outstanding efforts getting the important AOC in place."

Bjørn Tore Larsen
stay tuned and updated with Aviationa2z.